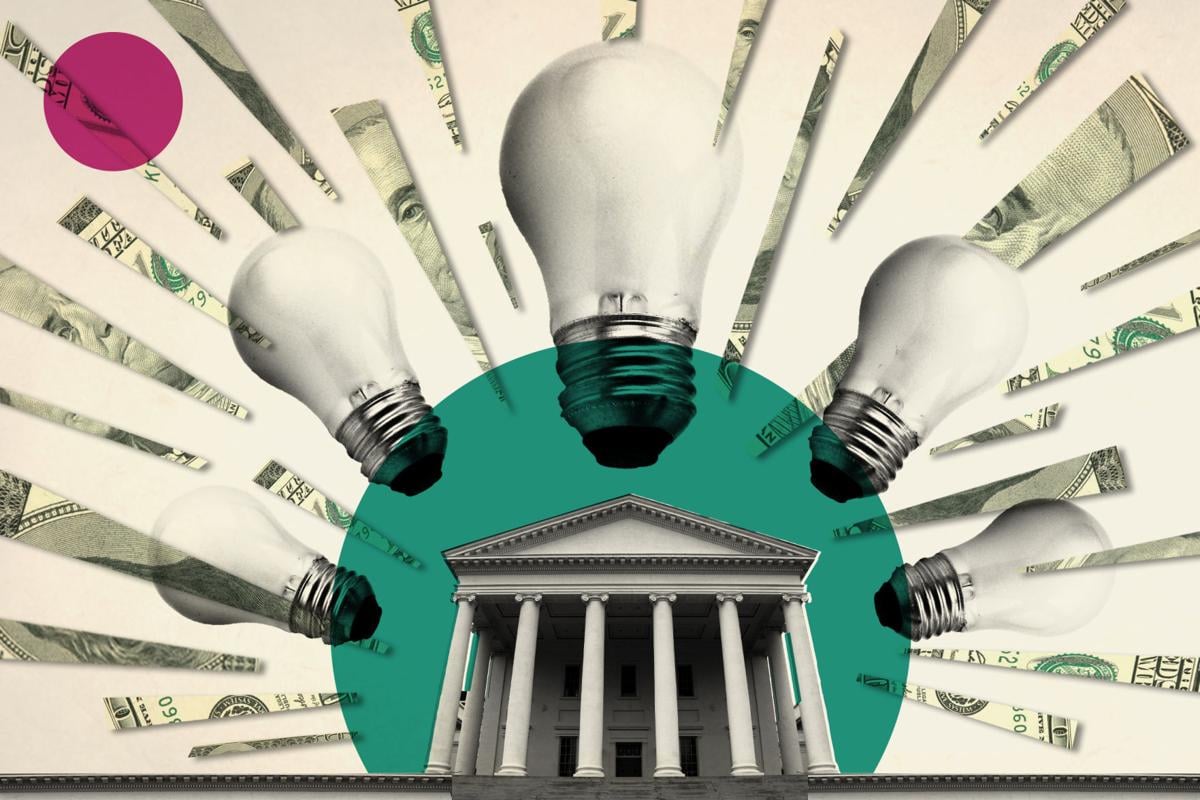 Touting its reliable service and safety record, Dominion Energy filed an application to state regulators Wednesday asking for a large increase in profit. Critics immediately protested.
The request is part of Dominion's application for what's known as a "triennial review." The Virginia State Corporation Commission will spend the coming months examining Dominion's books, accounting and reported earnings from 2017 to 2020.
Depending on the findings, the commission might be able to reset rates or order partial refunds if it finds Dominion earned more than the profit allowed by law in exchange for its monopoly.
The filing "details Dominion Energy Virginia's success in providing outstanding electric utility service during the 2017-2020 review period," Ed Baine, president of Dominion Energy Virginia, wrote to the commission. "Owing to the combined efforts of nearly 7,400 employees, the Company has fulfilled its responsibilities under Virginia's regulated framework by supplying safe, reliable, and increasingly environmentally responsible electricity.
"This proceeding will demonstrate that prudent operational and financial management has resulted in significant value delivered to the 2.6 million customers in the Commonwealth which the Company is privileged to serve."
Dominion is asking the commission to increase the return on equity, or profit, Dominion is allowed to earn on its assets from 9.2% to 10.8% . That would mean increased customer costs.
Baine wrote that the profit increase would be adequate in the utility market, especially considering Dominion's large, planned expenditures on clean energy.
The company has been under fire in recent years for earning hundreds of millions above the profit allowed by law and convincing the state legislature to pass legislation that helps Dominion hold on to the money or spend it.
In 2019, the commission rejected a request by Dominion to raise its profit margin to 10.75%.
Clean Virginia, an advocacy organization that opposes Dominion's clout in the state legislature, issued a press release attacking the proposals.
"Dominion has gotten away with ripping off families and small businesses and pocketing money that should be refunded back to customers — and now it wants more," executive director Brennan Gilmore said.
Will Reisinger, an energy lawyer in Richmond and a former assistant attorney general, said utilities generally ask for unreasonably high profit margins in hopes of getting some kind of increase.
"This is part of the game, that utilities come in high," he said.
After months of testimony from Dominion, the Virginia Attorney General's Office and interested parties, the State Corporation Commission will issue findings by Nov. 30.