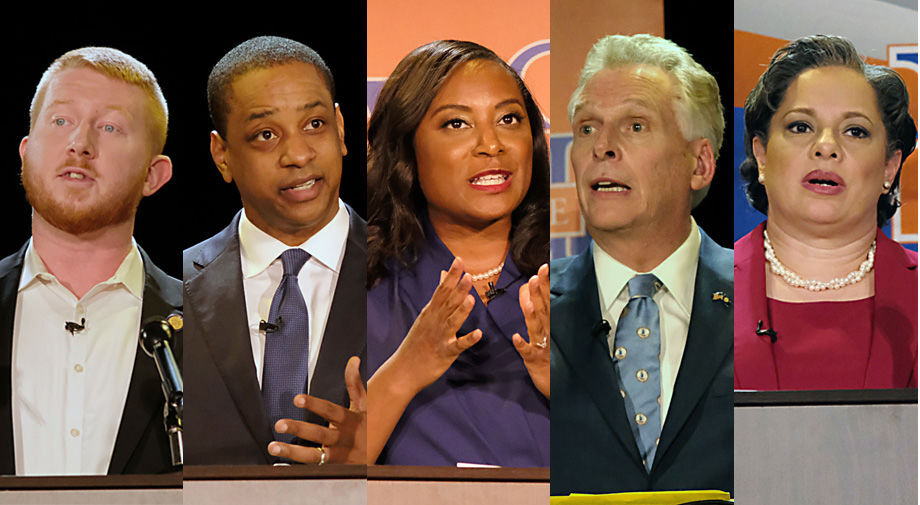 The crowded Democratic primary for governor will come to an end in less than two days, which will feature a flurry of campaign activity focused on getting voters to the polls.
Dozens of campaign stops across the state come a week after Gov. Ralph Northam lifted COVID-19 restrictions in Virginia, bringing a change of scenery to a primary that had focused on small events and Zoom gatherings.
A video from Portsmouth on Saturday shows former Gov. Terry McAuliffe dancing, maskless, next to local Sen. Louise Lucas, a co-chair of his campaign.
On Sunday, former Del. Jennifer Carroll Foy started the day speaking to a Baptist congregation in Virginia Beach after a year of limited in-person religious gatherings across the state.
The Democratic nominee will face Republican Glenn Youngkin. The race will draw national interest and dollars as a test of Democrats' hold over the state and will be a bellwether for the 2022 midterm congressional elections.
Vying for the Democratic nomination are McAuliffe, Carroll Foy, Sen. Jennifer McClellan of Richmond, Del. Lee Carter of Manassas and Lt. Gov. Justin Fairfax.
Already, 114,600 voters have cast ballots in the race, nearly five times the number that had voted early in the 2017 primary, according to data from the Virginia Public Access Project. That's largely because Democrats ushered in expanded early voting in Virginia.
But if the turnout this year matches that of the 2017 Democratic primary — 550,000 — it means that only about 1 in 5 primary voters have cast their ballots. The job for campaigns is getting the rest to the polls by Tuesday night.
In the Richmond metro area, about 16,000 people had voted as of Saturday.
McAuliffe, governor from 2014 to 2018, looms large over the race. With high name recognition and fundraising figures, he's benefited from the trappings of incumbency, though Virginia does not let its governors serve consecutive terms. While polls give him a significant lead, McAuliffe's last day on the campaign trail will see him start off in Bristol in Virginia's southwest and make stops in Richmond, Roanoke and Norfolk.
A poll out Friday from Roanoke College showed McAuliffe had the support of 49% of likely primary voters; Carroll Foy was at 11%, followed by McClellan at 9%, Fairfax at 5% and Carter at 1%. The poll surveyed 637 likely Democratic primary voters between May 24 and June 1. Its margin of error was plus or minus 3.9 percentage points.
In Richmond, McAuliffe will try to usher voters to the polls with an event in the early evening at Hardywood Park Craft Brewery near Scott's Addition.
Carroll Foy and McClellan of Richmond are challenging McAuliffe, saying Virginia needs to bring a new perspective to the governor's office; either would become the first Black woman elected governor in the U.S.
The historic campaigns come at a pivotal time for Virginia: The blackface scandal that nearly toppled Northam's administration in 2019 and the summer 2020 protests in Richmond over police brutality prompted state leaders to grapple with the legacy of the state's racist past.
Carroll Foy and McClellan have taken few shots at each other throughout the primary but have tussled over support from advocacy groups that want to see women and people of color in power in Virginia.
Carroll Foy is pitching herself as a progressive candidate who would usher in needed change, and has leaned heavily on the role of the state to improve the lives of working-class Virginians. She will hold a get-out-the-vote rally Monday night near Fairfax County's Huntley Meadows Park, south of Alexandria.
McClellan, a legislator since 2006, has leaned on her decades of experience as a policymaker to make the case that she would bring both historic diversity and steady leadership to the post. She will spend her last full day of campaigning turning out votes in her home turf of Richmond.
On Monday morning, McClellan will rally and canvass with Care in Action, an advocacy group focused on domestic workers, at Smith Peters Park.
Carter, who identifies as a socialist, has urged voters to help make Virginia a more progressive state, standing against incentives to big corporations and redefining the role and scope of law enforcement. He is not doing any in-person campaigning out of concern that COVID-19 isn't yet in the rear-view mirror.
Fairfax spent the weekend campaigning in Hampton Roads. He faced two sexual assault allegations in 2019, and while he denied them and remained in office, he watched his political influence wane.
Fairfax has emphasized the need to make Virginia a more equitable state by improving access to health care and school infrastructure. Fairfax's campaign could not be reached about his plans for the final days of the race.
(804) 649-6254
Twitter: @MelLeonor_