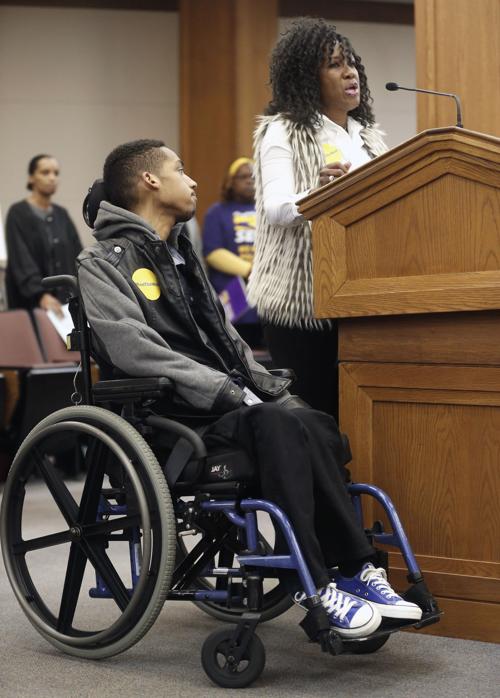 Yolanda Ross was happy to receive a check she had long awaited from Virginia's Medicaid program as hazard pay for working as a home health worker during the COVID-19 pandemic.
But Ross, who makes less than $10 an hour while caring for her disabled adult son in their home in Henrico County, had expected a check for $1,500.
After taxes, she received $971 — a 35% bite.
'It was a little surprising how much got taxed on it," Ross said.
The first checks began arriving early this month, almost three months after Gov. Ralph Northam promised the one-time payments to more than 43,000 home health workers who care for Medicaid recipients in their homes instead of institutions.
The Virginia Department of Medical Assistance Services, which runs the state Medicaid program, has distributed $48 million in federal aid under the CARES Act to more than 29,000 personal care attendants who work directly for recipients, including family members like Ross' son. The money covers about 90% of the consumer-directed attendants eligible for hazard pay.
Northam allocated a total of $73 million in CARES Act funds for the attendants and employees of home health agencies who cared for Medicaid patients from the beginning of the public health emergency on March 12 through the end of the state fiscal year on June 30.
"We are continuing to work to complete payments to eligible consumer-directed attendants, and we are working with agencies that employ personal care aides to ensure that their eligible employees receive their hazard payments," spokeswoman Christina Nuckols said.
The state Medicaid agency had told home health workers that the hazard pay would arrive sometime in January and reflect the deduction of income taxes, Nuckols said.
"Hazard pay is taxable income," she said. "The Virginia Department of Medical Assistance Services partnered with the agencies that employ these personal care attendants, and each agency is required to withhold income taxes and is responsible for calculating the appropriate amount."
The union that represents the consumer-directed attendants and advocated for the hazard pay said the money is well-spent.
"Obviously, in this economy, it's tremendously helpful to get money into the hands of people who have been on the front line," said David Broder, president of Service Employees International Union Virginia 512.
But Broder said Virginia still needs to do more to help home health workers by boosting Medicaid reimbursement rates for their services, giving them paid sick leave, ensuring they have the proper gear to protect them from the still-raging novel coronavirus and providing additional hazard pay for the work they continue to do during the pandemic.
"We're very glad to see these payments," he said. "They're literally a down payment on what home care workers need."
The process of getting the hazard pay to workers has taken time because it's a complicated business, the state said.
Some workers are employed directly by Medicaid recipients and their families. Others work for agencies. Some worked for both at different times during the nearly four months in which they were eligible for hazard pay, while others are no longer employed by the same Medicaid recipient or home health agency for whom they worked last year.
Nuckols said the state agency developed processes "to ensure that each eligible individual received a single hazard payment and to make sure all other appropriate fiscal protections were in place for expenditure of these public dollars.
"We are aware some agencies did not submit the required data needed for verification of their employees' eligibility, and we are discussing options at this time," she said.
Nuckols said the state also "was aware from the beginning that this process would require coordination with the employer agencies, payment processing agencies and the state tax department, all of which have their own processes and schedules."
"We were able to accurately determine when the payments could begin, and we are continuing our work to complete this important initiative," she said. "We value our personal care aides and attendants for the work they have done to ensure that our members had access to care during this critical time, and we are conducting an orderly process to make sure that eligible individuals are recognized for their contributions to this important mission."
Ross, in Henrico, said she is grateful for the payment, but reminded that it came "after we asked for it and after we fought for it."
Broder, at SEIU, said the fight for compensation and benefits isn't over because the pandemic hasn't ended.
"These workers are still on the front line," he said.