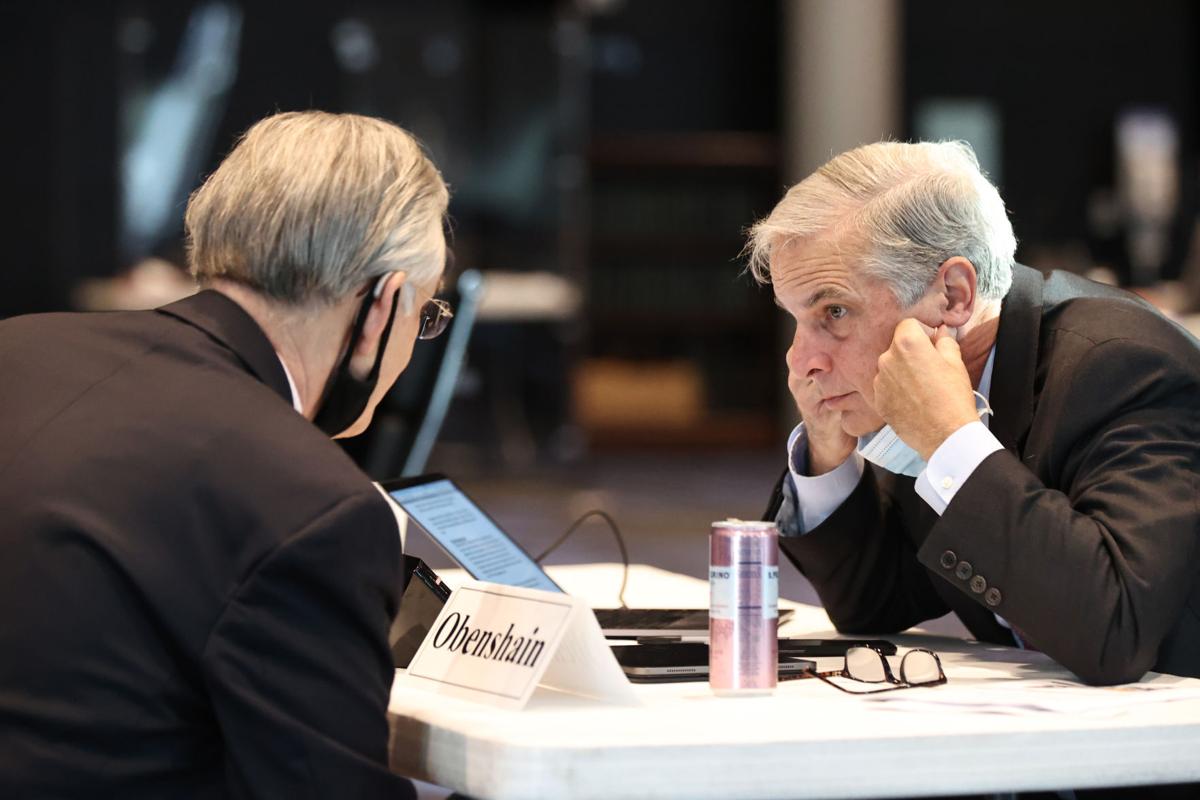 The General Assembly all but ended the strangest legislative session in modern memory on Friday by fulfilling the two central purposes for calling legislators to Richmond 60 days earlier — adopting a budget to cope with the economic meltdown caused by the COVID-19 pandemic and approving criminal justice reforms after a summer of protest over police conduct.
The two missions came together on the final day of the special session with the adoption of a legislative compromise to create a new system of responding to people in psychiatric crisis without police force and a revised two-year budget to pay for it.
It also came the day after what would have been the 27th birthday of Marcus-David Peters, a high school biology teacher who was fatally shot by a Richmond police officer during a mental health crisis in May 2018. His name, a rallying cry for protesters in Richmond during a summer of unrest, will be memorialized by the Marcus Alert system that Virginia will begin to create in the next 14 months with $14.9 million included in the budget to carry out legislation adopted by both chambers.
"Although it has taken a number of weeks to get here, this is still a great budget for the people of Virginia," said Senate Finance Chair Janet Howell, D-Fairfax, who championed the spending plan for responding to the public health emergency, accompanying "economic upheaval" and social unrest sparked by the death of George Floyd in police custody in Minneapolis at the end of May.
But it's still not over. The assembly recessed the special session but did not adjourn, giving time for voters to decide the fate of a constitutional amendment on political redistricting and for Gov. Ralph Northam to propose budget language to enact it if the measure passes.
The special session was conducted under the shadow of the COVID-19 pandemic, which has infected four legislators — two of them during the session, all of them recovered. After convening the first day at Virginia Commonwealth University's Siegel Center in Richmond, the House conducted all of its business online, while the Senate convened its floor sessions and many of its committee meetings at the Science Museum of Virginia.
"I am proud to say, the House of Delegates has met the challenges of the moment," House Speaker Eileen Filler-Corn, D-Fairfax, said before declaring the House in recess at 7:30 p.m.
The $141 billion budget passed the Senate and House of Delegates without debate, two months after Northam proposed a spending plan projected to have $2.8 billion less revenue than the budget the assembly adopted on March 12, the same day the governor declared the public health emergency. The vote was 23-15 in the Senate and 63-35 in the House.
The budget includes $46 billion in the general fund, financed by state income, sales and other taxes to pay for core public services such as education, public safety and health care. Those investments include spending on behavioral health to reduce pressure on Virginia's overcrowded mental hospitals and bolster community-based services across the state.
It provides almost $23 million for criminal justice reforms adopted by the assembly, provides a $500 bonus for law enforcement officers and $7.5 million for police departments to recruit and retain officers.
The budget uses a new tax on electronic skill games to replace lost sales tax revenue for local school divisions, provides $60 million to colleges and universities to keep tuition stable, and sets priorities for spending more than $1.2 billion in federal CARES Act funding.
The budget restores a portion of the $2 billion in new spending that Northam had proposed to cut after the economy almost shut down because of the pandemic. Net new spending would increase by $240.3 million, which the assembly would pay for with a combination of savings and $187.3 million in cash the governor had left unappropriated to hedge against economic uncertainty.
However, the assembly eliminated hundreds of millions in proposed contingency funding, except for almost $98 million to pay for bonuses for state employees, adjunct college faculty and state-supported local employees if revenues are sufficient at the end of the fiscal year on June 30.
House Appropriations Chair Luke Torian, D-Prince William, said the spending plan addresses legislative priorities in a fiscally responsible way that protects Virginia's coveted AAA bond rating and serves the public "in these very difficult times for the commonwealth."
The Marcus Alert system, sponsored by Del. Jeff Bourne, D-Richmond, and Sen. Jeremy McPike, D-Prince William, would bring together state behavioral health and criminal justice agencies to establish guidelines for police in responding to and interacting with people in psychiatric crisis or who have a developmental disability, such as autism.
Funding for the new system will come from different parts of the budget to create protocols for state and local law enforcement agencies to adopt by mid-2022 to participate in regional crisis response networks. Those networks will include mobile crisis units and crisis stabilization centers for short-term care rather than potentially deadly confrontation with law enforcement.
The first five networks — one in each region — would be rolled out by December 2021. Five additional ones would be rolled out by July 2023. All localities would be served by one by July 2026.
"Frankly, this is a bill that is going to save people's lives," McPike said before the Senate voted 26-12 to approve the legislative compromise on Bourne's bill.
The Senate later voted 25-13 to approve the same compromise on McPike's bill. The House already had approved the compromise on Thursday.
The Marcus Alert system will build on STEP-VA, an ongoing state initiative to provide resources to community services boards across Virginia to serve people with mental illness or other behavioral disabilities. The budget would restore $30 million to the initiative, including $6.8 million for mobile crisis services and $4.7 million for crisis dispatch that will help create the Marcus Alert system.
"We're still waiting for people to come to us," said Sen. Jen Kiggans, R-Virginia Beach, a nurse practitioner who was among a handful of Republicans who supported the bill. "This gets help to people who need it."
The only drama on the final day came in a Senate showdown over legislation proposed by Sen. Joe Morrissey, D-Richmond, to allow criminal defendants to ask for sentencing by a judge after trial by jury.
Morrissey, a criminal defense lawyer, said the legislation would end what he called "the jury penalty" that defendants risk when they are convicted and sentenced by jury, which can recommend sentences that he and other critics say far exceed what they would have received under sentencing by judges under sentencing guidelines.
For example, Morrissey said that in Hanover County a jury "could light you up for 30 years in a New York minute."
House Majority Leader Charniele Herring, D-Alexandria, said, "Many Virginians are taking plea deals because there really are no good options."
But other lawyer-legislators said the legislation would disrupt Virginia's court system and require major state investments that the budget does not include, such as electing more judges, prosecutors and public defense lawyers.
"What we're doing here is wrong," Sen. Mark Obenshain, R-Rockingham, told the Senate.
The House Appropriations Committee had included a re-enactment clause that would require the assembly to pass it again before it could be signed into law, but the House and Senate reached a compromise that would delay the effective date until July 1.
However, Torian said he now supports the bill because money has become available to pay for it. He said Northam has pledged to support the compromise, which passed the House 55-43 and the Senate 22-16.
Editor's Note: This story has been updated to reflect the correct age Marcus-David Peters would have been on his 27th birthday; and the correct votes of the House on the budget.