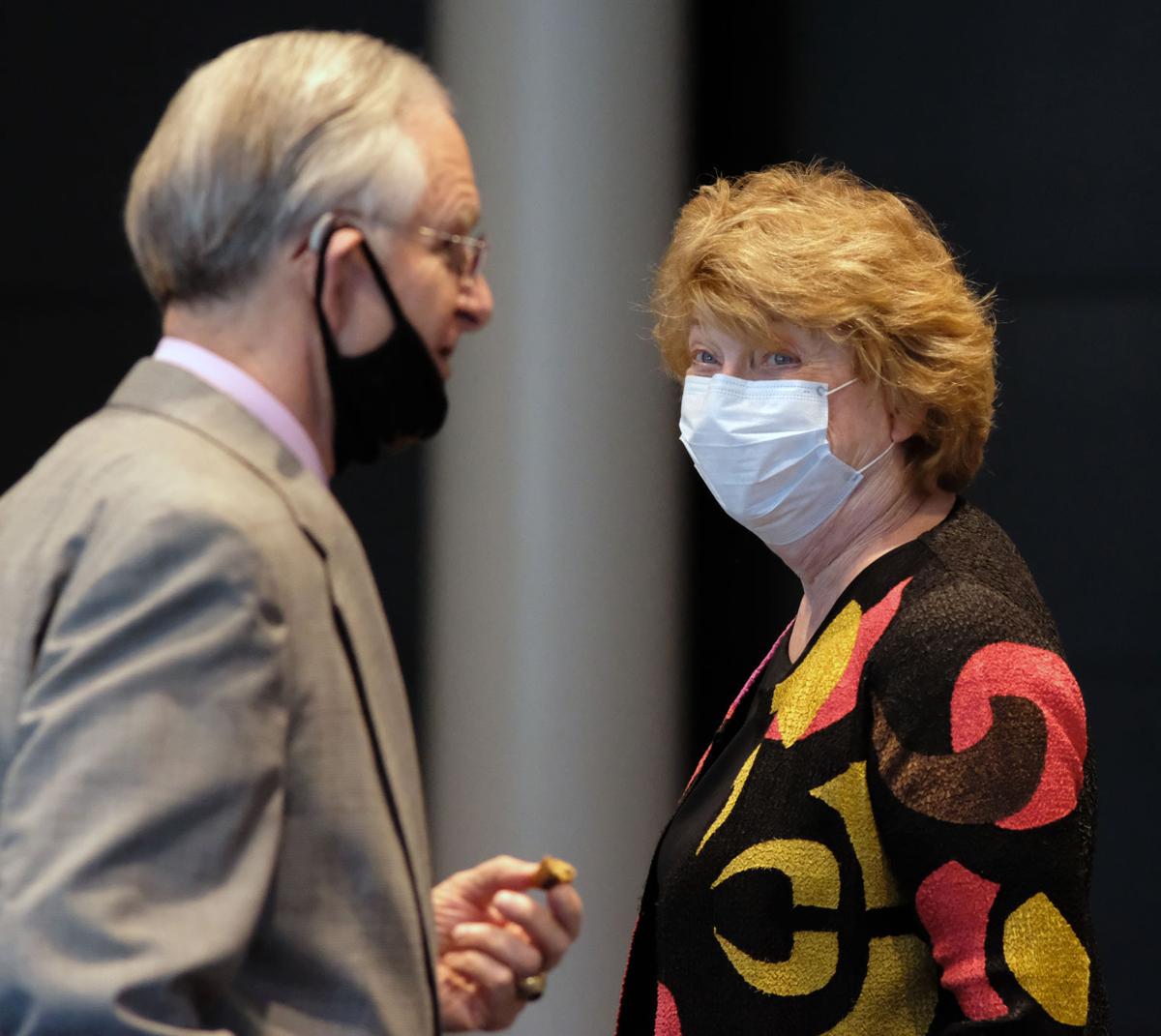 General Assembly budget leaders say they are near an informal agreement on a revised two-year state budget, but Gov. Ralph Northam warned them on Wednesday that he would not sign the spending plans the House of Delegates and Senate approved last week without major changes to preserve the state's flexibility to respond to the COVID-19 public health emergency.
House Appropriations Chairman Luke Torian, D-Prince William, and Senate Finance Chairwoman Janet Howell, D-Fairfax, said in a joint interview on Wednesday morning that they are close to a final budget deal, but they still expect to go through the formal process of moving the two spending plans into conference committee for final action next week.
"We're making a lot of progress," Howell said. "There are some outstanding issues, but hopefully we can finish today."
Senate Minority Leader Tommy Norment, R-James City, said one of the remaining issues is a Senate proposal to establish guidelines in the budget for an independent redistricting commission under a proposed constitutional amendment that is before voters in the election. House Democratic leaders oppose the redistricting amendment and any budget language to help implement it.
The Senate Finance & Appropriations Committee voted 13-2 on Wednesday to substitute the budget the Senate adopted last week for the House budget bill, which is the first step in putting the budget legislation into a conference committee to reconcile differences. Sens. Steve Newman, R-Lynchburg, and Frank Ruff, R-Mecklenburg, voted against the amended budget.
Howell and Torian said their committee staffs and leaders have been working closely together for four of the last five days to reach a compromise they say is imminent.
"We're just a few days away," Torian said.
However, Northam sent General Assembly leaders — including the budget leaders, House Speaker Eileen Filler-Corn and Senate Majority Leader Dick Saslaw, both Democrats from Fairfax County — a letter on Wednesday morning that made clear he does not support legislative proposals to include contingency funding that would commit cash he had proposed to leave unspent because of uncertainty over the pandemic. He called on them to wait for the next legislative session in January before committing the state to hundreds of millions of dollars in spending priorities.
"I need to be clear I want to sign the budget you send me," the governor told them. "But that is not yet possible."
Northam's two-page letter is the first public suggestion that he won't support the budgets the two chambers have produced in a special session now in its eighth week. Northam called the special session primarily to deal with a projected $2.8 billion revenue shortfall, as well as legislation related to the COVID-19 pandemic and criminal justice reforms.
Secretary of Finance Aubrey Layne reiterated in an interview on Wednesday the position he took before the budget committees on Aug. 18 after the governor presented his budget proposal: "We do not need a new budget for financial purposes."
At Northam's request, the assembly agreed in its reconvened session last April to freeze more than $2 billion in proposed spending in the budget adopted on March 12, the same day the governor declared a public health emergency. The administration had expected a revenue loss of up to $1 billion in the fiscal year that ended June 30, but instead collected about $234 million less than predicted.
"I am writing today because it is important for Virginia to take emergency special-session budgetary actions now only if they reflect extensive public input that acknowledges the long-term consequences of those decisions," he said. "Otherwise, we should preserve financial options for the 2021 regular session, when public health and economic conditions could allow us to make longer-term spending commitments that reflect the people's input."
"Right now, the best course is to address the pandemic and the recession by preserving cash and continuing to building capacity to respond if the economy declines further," Northam said. "Doing otherwise threatens to erode the Commonwealth's ability to weather the current pandemic economy without making budget cuts, reducing services, or laying off state workers."
The governor raised specific concern about legislative proposals to include hundreds of millions of dollars of contingency spending that would proceed if the state's revenues do not decline steeply before he presents his next revenue forecast and budget on Dec. 15. The House budget would pay for that spending by reducing the $490.5 million unappropriated balance in the governor's budget by $186 million, while the Senate plan does not reflect its proposed contingency spending in the uncommitted balance.
Northam also asked them to maintain his flexibility to respond to the public health emergency, including how Virginia uses more than $1 billion in uncommitted federal funds under the CARES Act.
"An emergency response needs less bureaucracy, not more," he said. "As an Army veteran, I know that wars fought by committee are losing battles."
The governor completed a new revenue forecast in August that predicted a two-year shortfall of up to $2.8 billion, but included almost a half-billion dollar unappropriated balance in mid-2022 as a hedge against another economic downturn.
His proposed budget did not include cuts in current programs or employee layoffs, but eliminated most new spending initiatives, including his own priorities for early childhood education and community colleges.
Northam told assembly leaders on Wednesday that the budget proposals adopted last week "include a number of priorities that do not directly relate to either the pandemic response or social and criminal justice issues" that the special session was called to address.
Norment calls it 'intemperate'
Democratic leaders did not respond to the governor's letter, but Norment called it "intemperate" and said it "reflects a lack of budgetary understanding on his part, his inexperience and a sophomoric stance."
Norment, a former Senate Finance chairman, also questioned why Northam would "publicly go to war" with the Democratic leadership of the money committees.
"I think he misplayed his hand politically and from a public policy standpoint," he said.
In their joint interview, Torian and Howell declined to discuss the details of their pending agreement, including their response to concerns that Northam already had voiced during a conference call with assembly leaders on Sunday, as well as publicly through Layne and chief of staff Clark Mercer.
"We listened to the administration," Torian said, but added that the legislature also has a responsibility to act on the budget the governor proposed.
Howell said, "We're very aware of their concerns. We're taking them seriously, like we do with all stakeholders."
"Hopefully, when we have acted on a final budget, the administration will be satisfied with it," she said.
Senate Republicans blocked an attempt to accelerate the budget process on Wednesday, so Saslaw told members to be prepared to meet next Wednesday and possibly Thursday and Friday to act on the budget. Del. Marcus Simon, D-Fairfax, a member of the House Democratic leadership, said the House plans to meet next Wednesday and Friday to act on legislative agreements, including the budget.
Filler-Corn plans to appoint five Democrats, including Del. Betsy Carr, D-Richmond, and one Republican to represent the House on the conference committee. She did not include Del. Kirk Cox, R-Colonial Heights, a former speaker and potential Republican candidate for governor who has been critical of his successor's leadership. Cox was the lead Republican on the House budget but voted against it because of concerns over spending provisions for police reforms.
Howell and Torian said the two money committees are close to agreement on a plan that focuses on health care — particularly spending on behavioral health that the Senate made a priority — K-12 and higher education, and criminal justice and police reforms that have dominated the special session.
Torian said the budget the legislature adopted in March under newly installed Democratic majorities in both chambers was "one of the best budgets" in state history, but was undone by the public health emergency.
"It wasn't like we were going into special session to pass a budget," he said. "We had to come back in to redo a budget."
"We believe we're doing a great job with the budget."
(804) 649-6964
Staff writer Mel Leonor contributed to this report.