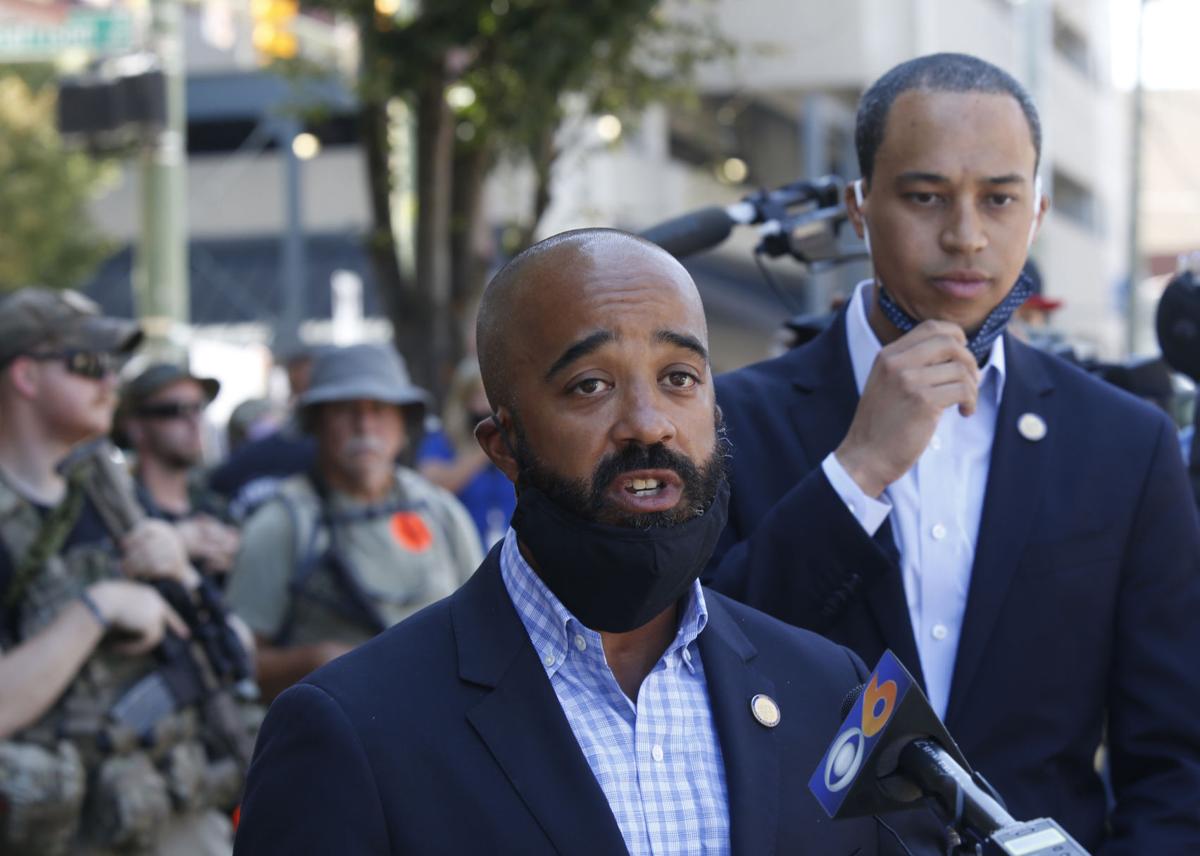 The House Appropriations Committee on Friday voted to back a phased implementation of "Marcus Alert" legislation meant to help people experiencing mental health crises from coming to harm in encounters with police.
Under the substitute legislation, Marcus Alert programs — in which emergency teams led by mental health professionals respond to mental health crises — would be created in five parts of the state, including Richmond, by July 1. The system would gradually go statewide by July 1, 2026.
The panel, meeting remotely, backed the substitute version of the bill on a vote of 21-1, with Del. Matt Fariss, R-Campbell, casting the lone dissenting vote.
"Obviously in a perfect world the bill as drafted would move forward," Jeff Bourne, D-Richmond, said during Friday's House Appropriations meeting. "But I understand that we are facing some significant fiscal constraints" amid COVID-19.
"While it is not as originally drafted I do think we are on a path to a statewide implementation over the next couple of years," with interim progress reports, so that when it does go statewide "we have the best and most robust program available," Bourne said.
Marcus-David Peters, a 24-year-old Essex County biology teacher and Virginia Commonwealth University honors graduate, was naked, unarmed and experiencing a mental health crisis when a Richmond police officer fatally shot him in May 2018. The city's police chief and top prosecutor at the time deemed the shooting justified because Peters threatened to kill the officer as he charged him.
Bourne said the revised legislation would target resources to prevent tragedies including the deaths of Peters and that of Ruben Urbina, a 15-year-old who was shot and killed by police in Prince William County in 2017.
Susan Massart, a Health and Human Resources analyst for House Appropriations, said the fiscal impact under the substitute bill would be $200,000 in fiscal year 2021 as officials work on establishment of the system. In fiscal year 2022, the year the first five programs would start, the fiscal impact would be $3.4 million. She said the costs would be significantly reduced if existing resources are redeployed to meet goals set forth in the legislation.
As originally introduced, legislation sponsored by Sen. Jennifer McClellan, D-Richmond, and Bourne would have required all localities across the state to establish Marcus Alert systems by January 2022. Protesters who have gathered in Richmond since George Floyd was killed in the custody of Minneapolis police have given such legislation a high priority. They have informally dubbed Lee Circle, where the Robert E. Lee statue stands on Monument Avenue, as Marcus-David Peters Circle.
The Senate recently rejected McClellan's bill in favor of one introduced by Sen. Jeremy McPike, D-Prince William, which asks the state agencies to develop guidance around crisis response teams but doesn't levy any requirements on localities to implement a program around them.
Peters' family has expressed concerns that Marcus Alert legislation could be diluted and delayed.
Under the substitute measure the House panel backed Friday, the Department of Behavioral Health and Developmental Services and the Department of Criminal Justice Services — working with multiple local and state agencies and other stakeholders — would establish a detailed plan for establishment and implementation of a Marcus Alert system in the first five areas. The departments would present the plan to the Joint Commission on Health Care by June 1.
The first five Marcus Alert programs and community care teams to be established by July 1 would be in areas covered by the Northwestern Community Services Board — which serves the city of Winchester and the counties of Clarke, Frederick, Page, Shenandoah and Warren; the Alexandria Community Services Board; the Mount Rogers Community Services Board in Southwest Virginia; the Richmond Behavioral Health Authority; and the Hampton-Newport News Community Services Board.
By July 1, 2023, five additional Marcus Alert programs and community care teams would be established, one in each of the behavioral health department's five regions. Community service boards or behavioral health authorities that serve the largest populations in each region, excluding those already selected in the first phase, would be selected for programs.
The behavioral health department and the Department of Criminal Justice Services would give the Joint Commission on Health Care an interim report by Nov. 1, 2022, and a final report by Nov. 1, 2023, assessing the impact and effectiveness of the community care teams in meeting their goals.
No later than July 1, 2026, all community services board and behavioral health authority geographical areas would have established Marcus Alert systems.
Dels. Glenn Davis, R-Virginia Beach, and Kirk Cox, R-Colonial Heights, a former speaker of the House who is considering a run for governor next year, voted in favor of the legislation Friday. But they raised concerns that mental health providers not be put in danger as the first to enter in a volatile crisis situation.
Bourne said that if an individual is experiencing a mental health crisis or is under the influence of drugs, mental health service providers would take the lead in an effort to de-escalate the situation. If there is a high risk of loss of life or injury, "those are going to be calls that are made as the situation unfolds," Bourne said.
He added: "We're not sending mental health providers into harm's way," but urging them to help prevent further tragedies.
(804) 649-6645
Twitter: @AndrewCainRTD