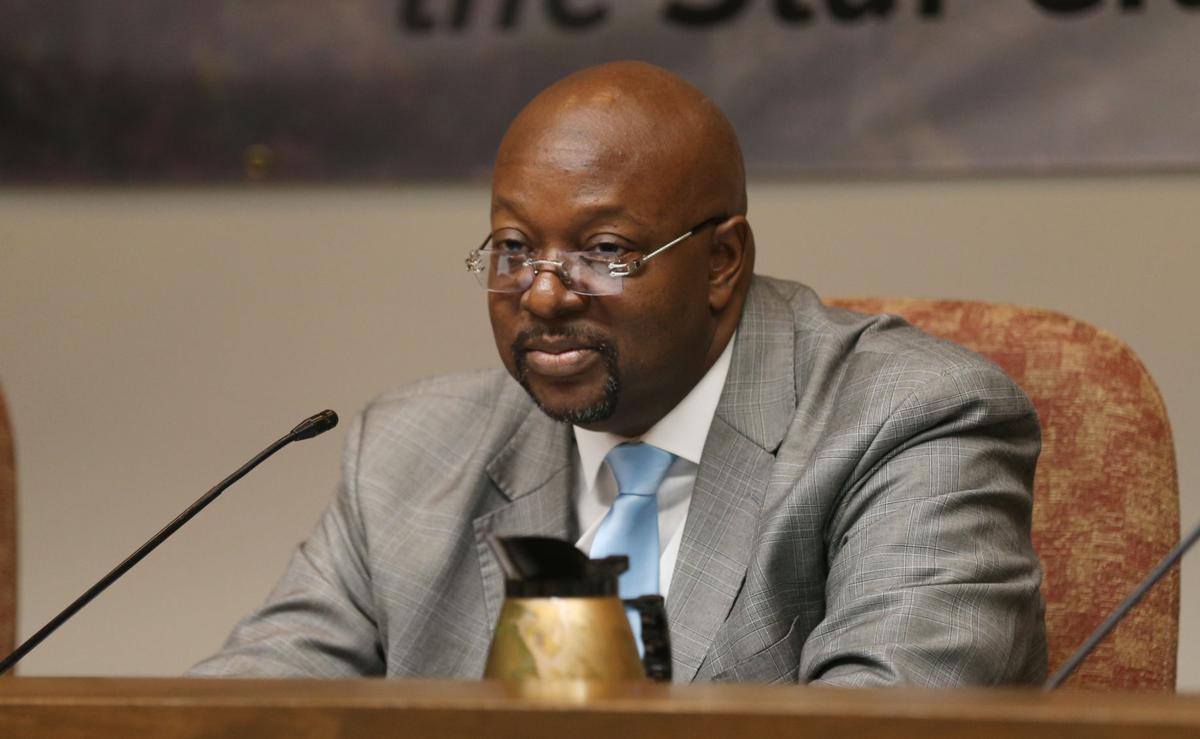 ROANOKE - The Roanoke City Council on Monday asked indicted member Robert Jeffrey Jr. to consider taking a leave of absence from his office until the resolution of his criminal case.
"I am not leaving office, period," Jeffrey said.
Council members had been meeting for more than three hours and had finished their prepared agenda when Mayor Sherman Lea said he had a resolution for the council to consider. In the resolution's 275 words, the council made its first substantive remarks about Jeffrey since the councilman was charged with financial crimes this summer.
"The continued presence of council member Robert Jeffrey at council meetings inhibits the effectiveness of council by distracting the public from the business of the city," the resolution read in part.
The last-minute addition to the evening's business received two votes, one adding the resolution to the agenda and another adopting it. Both measures passed 6-0, with Jeffrey recusing himself.
Council members had met earlier Monday behind closed doors for 45 minutes to discuss the matter. The author of the resolution was not disclosed.
Jeffrey, who had attended the closed session, asked to speak even before the vote to place the proposed resolution on the agenda.
"I am innocent of these charges. And I am strongly stating the fact of my innocence," he began.
He then said he saw a political motive behind the resolution, asserting that elected leaders "sometimes do things political to show face" and to make a point with the public.
Vice Mayor Trish White-Boyd responded in an interview afterward.
"This is not a show. He is impeding council with his presence," she said.
Jeffrey, 52, who began a four-year term in January, forcefully declared that he won't step down.
"I'm going to make sure that everyone knows and understands that my intent is to stay in office," he said. "My intent is to do what I was elected to do by the city and I will do that until my court date to where I will be vindicated from these charges."
The City Council regularly meets twice a month.
Council members have said that they do not have the authority to force Jeffrey off the council. Were he to be convicted of a felony charge and exhaust all appeals, he would forfeit his office.
Jeffrey is scheduled for trial in March on charges that he embezzled money or property, or both, from the Northwest Neighborhood Environmental Organization, a Roanoke nonprofit, and obtained money from the city of Roanoke Economic Development Authority by false pretenses. Police have said in court papers that while working as a property manager for NNEO, Jeffrey embezzled a large amount of money that he used for personal expenses. The alleged crimes spanned from May 2020 through April 2021, court papers said.
The office of Roanoke Commonwealth's Attorney Donald Caldwell also presented evidence to the grand jury more recently, leading to another set of charges that Jeffrey defrauded the EDA. Police have said in court papers that they found evidence of exaggerated or inflated numbers on an application through which Jeffrey obtained $7,500 in pandemic relief money for his magazine company, Jeffrey Media.
He is free on a personal recognizance bond.