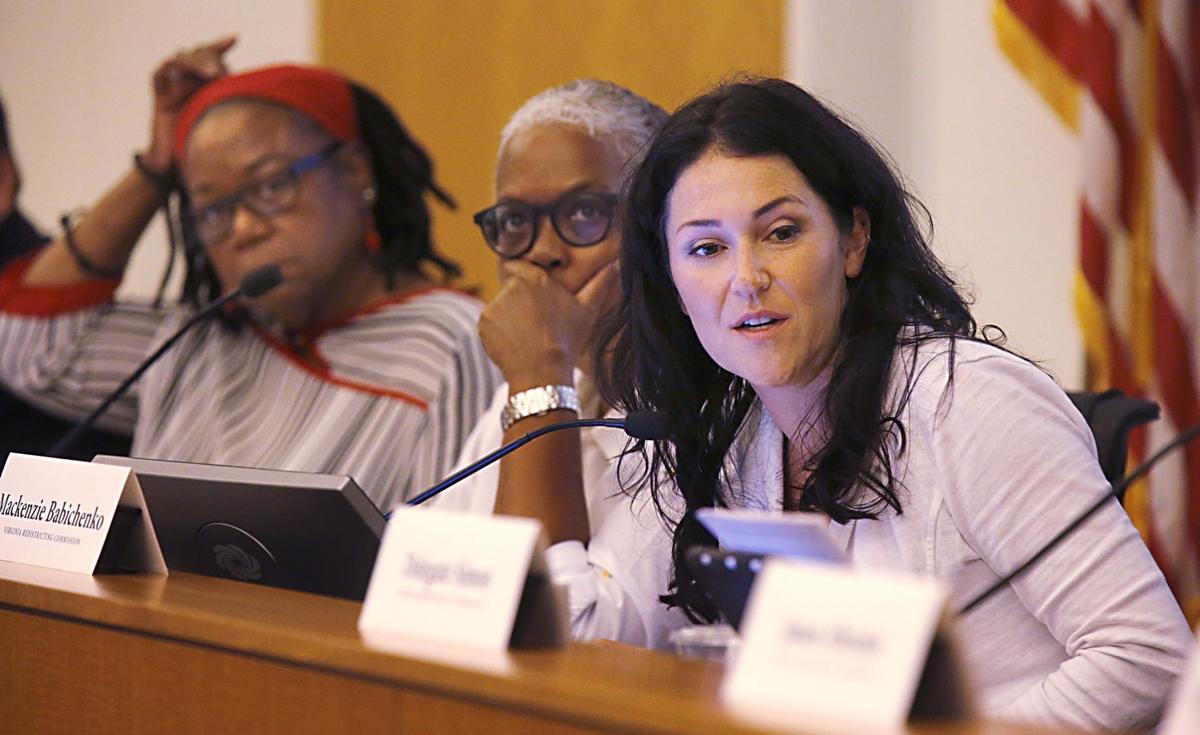 The Virginia Redistricting Commission will not finish its work on the state's legislative maps, and will instead move on to drawing maps for the state's congressional districts. READ MORE
Virginia's redistricting commission was tasked with drawing the state's political districts in what was pitched as an effort to end gerrymandering. On Friday, with mere hours left to find compromise, the commission appeared stuck at a fatal, partisan impasse.
The bipartisan panel of eight citizen members and eight legislators — which Virginia voters established by approving a referendum last November — faces a Monday deadline to agree on maps of boundaries for the House of Delegates and state Senate to send to the legislature for its consideration.
But the commission's record of splitting along party lines on critical decisions continued on Friday, when the panel could not coalesce around a single map for the House or Senate — the starting point to working toward a compromise.
Democrats proposed that the commission unite around a Senate map drawn by Democrats and a GOP-drawn House map as a starting point for more productive discussions, following weeks of work on separate sets of maps from each party.
Republicans instead backed a GOP-drawn Senate map as a starting point, arguing that the latest version of the Democratic map for Senate districts was made public only Friday morning. Republicans punted on which map to focus on for the House.
After two failed party-line votes, co-chairperson Greta Harris, a Democratic citizen member, said the commission had met its end, a sentiment that other members echoed.
"I think our work here is done. And what a shame it is," Harris said. "I really don't see the need for us to continue. We gave it a shot."
Moments later, Harris left the meeting, giving the impression she had resigned from the commission. She has not.
Two of the other Democratic citizen members, James Abrenio of Fairfax County and Brandon Hutchins of Virginia Beach, also left the meeting. Down three Democratic citizen members, the commission's meeting came to an end because the required number of commissioners was not present. Several Republican members said they hope the commission will work up to the deadline, though they didn't put forward a plan for how to arrive at a compromise.
Sen. Ryan McDougle, R-Hanover, blamed Friday's events on Democrats' insistence that the commission take a vote on unifying the maps.
"This is what happens when you force votes on an issue you need to build consensus on," he said.
He added: "I think you saw among senators a level of optimism and camaraderie."
Amid Friday's commotion, it was not clear when or whether the commission would meet again. If it does not convene, the task of drawing the maps will head to the Virginia Supreme Court, which is made up of a majority of GOP-appointed judges — a key criticism of the process by Democrats who opposed the commission.
The commission also faces an Oct. 25 deadline to reach agreement on a new map of the state's congressional districts, but has not begun that task. It was unclear Friday whether or how that will proceed.
For weeks, the commission has held long meetings, spending hours poring over maps and making only incremental progress.
At the core of its ongoing troubles is the fact that the commission was rarely if ever tinkering on a single map. Instead, mapmakers aligned with Democrats and mapmakers aligned with Republicans drew separate maps. Changes and adjustments would be made to Democratic- and GOP-drawn maps for each legislative chamber. The panel's efforts to start merging those maps never proved successful.
Partisan debate was most heated when it came to drawing districts in which racial minorities who were historically disenfranchised could elect candidates of their choice — but without packing voters of color into districts and diluting their influence on the state overall. Democrats and Republicans could not agree on how and when to draw such districts, which are protected by federal voting rights laws.
Democratic groups, and the Virginia chapter of the NAACP, had warned that several maps proposed to the commission would yield fewer districts that would protect the voting power of minorities. Republicans argued that changes to the federal Voting Rights Act by the U.S. Supreme Court gave the commission more flexibility on such districts than Democrats would acknowledge.
During one recent meeting, GOP citizen member Richard Harrell of South Boston said the commission shouldn't "try to resolve issues from the past," speaking of the systemic disenfranchisement of Black voters. "That's regrettable. That's the past. We're dealing with today."
On Friday, Sen. Mamie Locke, D-Hampton, said: "People can't understand why those of us who sit on this commission as African Americans have to battle about why that's important to have in these discussions."
Locke, who had spent years advocating for a redistricting commission and rallied her caucus in the Senate to support its creation, said the commission "abandoned our own opportunity" to arrive at fair maps.
She said the process began to fall apart when the commission decided to hire separate Democratic and Republican staffers to offer counsel and draw the maps. That left the commission without a plan for how to eventually come together. Members couldn't agree on a single nonpartisan counsel; later, Democratic and Republican attorneys couldn't find a map-drawer that both sides felt would operate in a nonpartisan way.
Democrats presented an option toward compromise: a team out of the University of Richmond. Republicans rejected that, with one GOP commissioner saying he didn't have confidence in the "nonpartisan nature of an academic institution."
On Friday, the commission was focused on four plans submitted by its partisan mapmakers, two for each chamber. The Senate map drawn by Democratic consultants was submitted to legislative staffers late Thursday and was first shared with commissioners and the public on Friday morning.
An analysis by the Princeton Gerrymandering Project gave the Democratic map a B for partisan fairness, arguing that it unduly advantaged incumbents. The group gave the GOP map an F, arguing that it gave Republicans a "significant advantage."
An analysis by the Virginia Public Access Project found that both maps would have maintained five Black-majority districts. The Democratic plan would have created 11 "opportunity districts" where a mix of non-white voters make up more than 40% of the vote; the GOP plan would have created three.
On the House side, an analysis by the Princeton Gerrymandering Project gave the Democratic map an A for partisan fairness, while giving the GOP map a B, arguing that it gave Republicans a "slight advantage." An analysis by VPAP found that the GOP map would have created one fewer Black-majority district, 10 versus 11, and three fewer "opportunity districts."
Del. Marcus Simon, D-Fairfax, proposed a deal on Friday: use the Democrats' Senate map as a starting point, and the Republicans' House map as a starting point. Simon argued that since the commission was pressed for time, it was imperative that members rally behind two maps and start debating over those maps. Republicans refused, agreeing to work only on their own Senate map.
The commission won't return for a meeting on Saturday as planned because it never solidified the meeting, slated as tentative, before the panel suddenly adjourned.
Several Republicans on the commission, along with Sen. George Barker, D-Fairfax, insisted that the commission could continue working on the Senate maps and find compromise. Barker, interviewed after the meeting, said he would seek one-on-one conversations with members over the weekend to try to come up with a plan for how to move forward.
"I think we have opportunities," he said.
Members of the commission who want to keep working toward a final product will need to sway at least three Democratic citizen members, including Harris.
Before she left the room, Harris said she had lost trust that all commissioners were "true and sincere" in their stated goals to arrive at a compromise, echoing comments from other Democrats.
"Regrettably, I am done. So, thank you very much for the opportunity to serve. But I will remove myself from the commission at this point." Harris promptly left the room, and the meeting, down three Democratic citizen members, ended.
In an email to the Richmond Times-Dispatch, Harris said: "I did not resign. I just left the meeting." It's unclear if the two other Democratic citizen members who left, Abrenio and Hutchins, are planning to resign. Reached by phone, Abrenio declined to comment, citing commission rules.
Sen. Bill Stanley, R-Franklin, said impasses are common in politics: "I know for those that may not be elected officials, this seems like a hamster wheel."
Sean Kumar, a Democratic citizen member, said Stanley's speech about optimism did not match actions by Republicans to compromise on a path forward.
Simon, in an interview, said coming back together would require convincing several citizen members that Republicans hope to arrive at a finished product — a map that has the backing of 12 of the commission's 16 members.
"I think we're done," Simon said.
(804) 649-6254
Twitter: @MelLeonor_