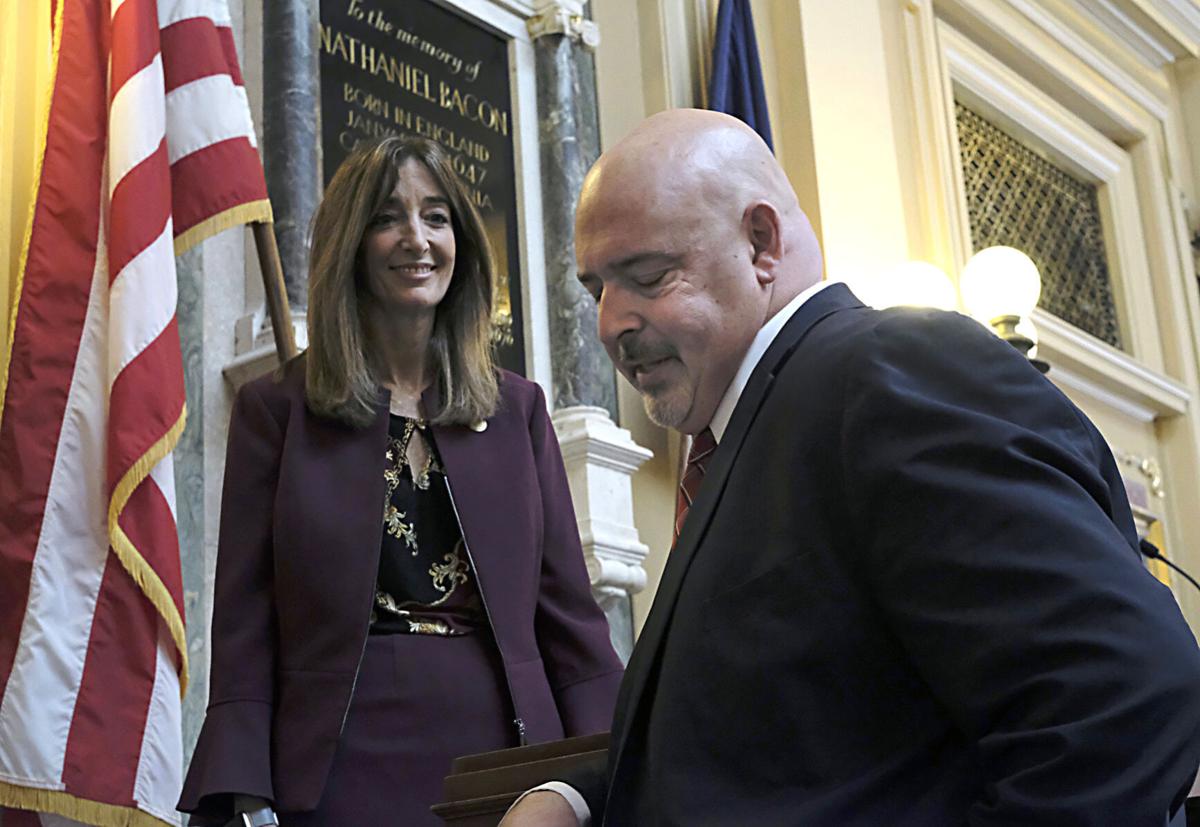 A late surge before Monday's deadline pushed citizen applications for Virginia's new redistricting commission to more than 1,200 hopefuls for eight spots, but the pool still does not reflect the state's diversity.
The Virginia Public Access Project reports that among applicants who answered demographic questions, 62% are men and 38% are women, and 46% of applicants are between the ages of 61 and 81.
VPAP, which obtained the applicants' profiles from the Virginia Division of Legislative Services, found that 76% are white, 17% are black, 2.9% are multiracial and 2.4% are Asian. Just 4% said they are Hispanic.
Among applicants who answered a question about their income level, 60% reported incomes of $101,000 or higher.
By Friday, four state legislative leaders — House Speaker Eileen Filler-Corn, D-Fairfax; House Minority Leader Todd Gilbert, R-Shenandoah; Senate President Pro Tempore Louise Lucas, D-Portsmouth; and Senate Minority Leader Tommy Norment, R-James City, will cull the citizen applications to four lists of at least 16 names each.
A panel of five retired judges will determine the eight citizen members by choosing two names from each of the four lists.
The eight citizens will join eight legislators on the commission, which will redraw Virginia's legislative and congressional districts based on new census data.
Virginia lawmakers have instructed the judges to make sure that the commission's members are representative of the state's ethnic, geographic and gender diversity.
"While it was my hope that the applicant pool for the inaugural Redistricting Commission would be more fully representative of our Commonwealth's diversity, we have a number of strong candidates to choose from," Filler-Corn tweeted Wednesday.
"I will make every effort in my selections to appoint individuals of varied backgrounds and life experiences that reflect the perspectives of all Virginians."
Deb Wake, president of League of Women Voters of Virginia, called the late surge in applications a "gratifying event," noting that it broadened the geographic representation to include candidates from Southwest Virginia.
Wake said that while the applicant pool did not match the state's demographics, there are enough applicants for the legislative leaders and judges to assemble a diverse panel.
As of 2019, Virginia's population was 50.8% female, according to U.S. census figures. Black residents accounted for 19.9% of the state's population and Asians 6.9%. A total of 9.8% of Virginia residents were Hispanic.
Virginia's median household income for 2015-19, in 2019 dollars, was $74,222, according to census figures. It is unclear whether applicants for the commission were reporting their individual income or their household income.
Virginians do not register by party. Among applicants who answered questions about their political affiliation, 48% described themselves as Democrats and 18% as Republicans, 31% listed no party, and 4% listed something else.
Three-fourths of the applications come from the state's urban crescent, with 34% from Northern Virginia, 25% from Greater Richmond and 17% from Hampton Roads.
In approving a state constitutional amendment Nov. 3, Virginia voters set in motion a new commission that will redraw the boundaries of the state's congressional and legislative districts next year based on census data.
Legislative leaders' authority to sift through the citizen applications underscores that redistricting remains a partisan process in Virginia. In the new construct, partisans from the two major parties are supposed to offset each other.
Most Democrats in the House of Delegates voted against the proposed amendment this year in the General Assembly. Among their concerns was that the amendment itself did not guarantee people of color seats on the commission.
Earlier this month, when VPAP released its initial reports on the applicants' demographic profiles, a number of Democratic legislators raised concerns. Del. Lashrecse Aird, D-Petersburg, tweeted at the time: "Old. Rich. White. Men. But that seems to be part of the Virginia way."
Legislative leaders already have named the commission's eight lawmakers. Two are African Americans — Del. Delores McQuinn, D-Richmond, and Sen. Mamie Locke, D-Hampton. The other six legislators are Sens. George Barker, D-Fairfax; Ryan McDougle, R-Hanover; and Steve Newman, R-Lynchburg; and Dels. Marcus Simon, D-Fairfax; Les Adams, R-Pittsylvania; and Margaret Ransone, R-Westmoreland.
The new commission will hold its first public meeting on Feb. 1.
(804) 649-6645
Twitter: @AndrewCainRTD