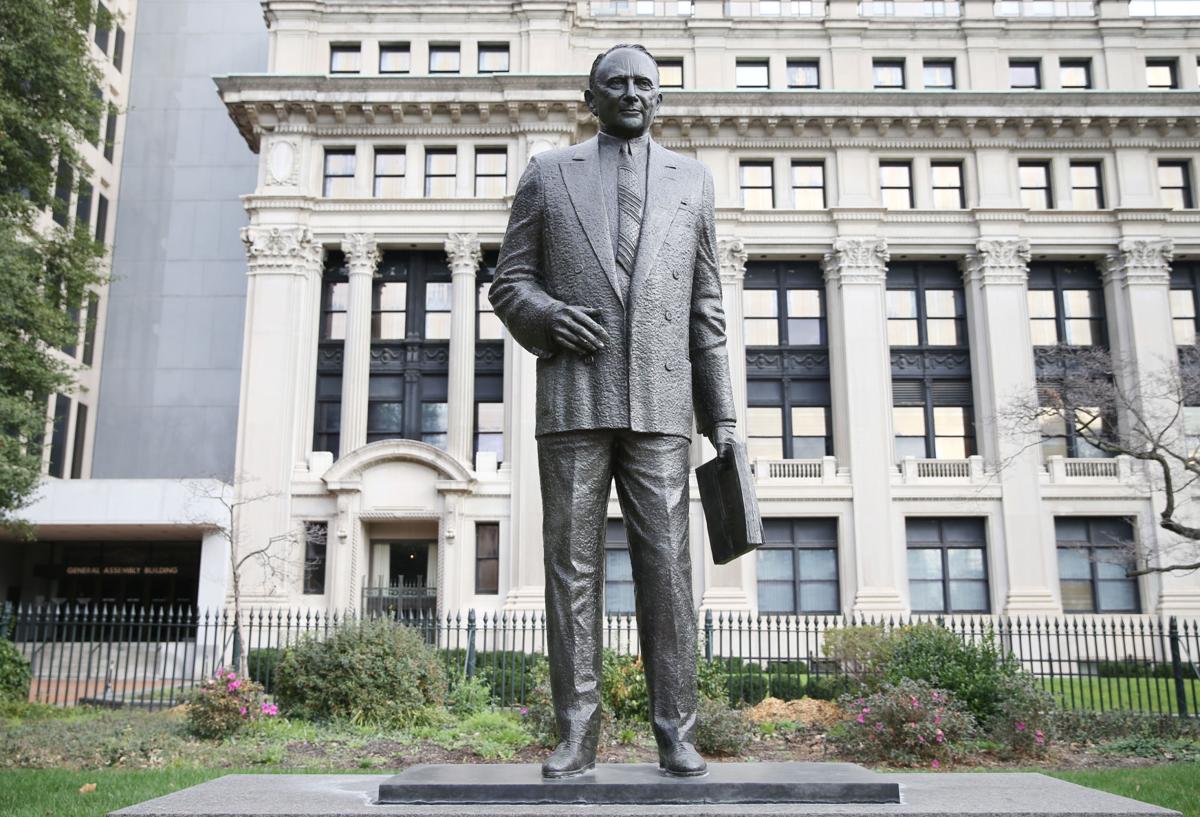 Legislators are sending Gov. Ralph Northam a bill to remove from Capitol Square the statue of segregationist Harry F. Byrd Sr., architect of Massive Resistance to school desegregation.
The Senate voted 36-3 Tuesday to remove the statue of Byrd, a Democrat who was governor from 1926 to 1930 and a U.S. senator from 1933 to 1965. The House had voted in late January to back the bill sponsored by Del. Jay Jones, D-Norfolk.
Three Republicans voted against the bill: Sens. Amanda Chase of Chesterfield County, who is a candidate for governor; Mark Obenshain of Harrisonburg; and Jill Holtzman Vogel of Fauquier County.
The vote came after passionate speeches in which Sens. Jennifer McClellan, D-Richmond, a candidate for governor, and Mamie Locke, D-Hampton, spoke of the generational harm of Byrd's orchestrated efforts against African Americans.
McClellan said Virginia is still trying to eradicate the damage.
"He was the architect and the face of Massive Resistance, not just in Virginia but across this country," McClellan said.
"We are still — still — dealing with the aftermath of that," McClellan said, "with unequal schools, inequity in our schools, inequity in our neighborhoods — inequity in every system we have in Virginia."
She said that when she was a college intern working for Gov. Doug Wilder, the first nation's first elected Black governor, and walked past the Byrd statue each day, "I knew I was his worst nightmare."
Byrd was a newspaper publisher in Winchester, an owner of apple orchards and headed a turnpike company for a time. He served in the state Senate for 10 years. After taking office as governor he led the segregationist conservative Democratic Byrd Machine that dominated Virginia politics for 40 years.
Vogel, who represents the Winchester area, called Byrd's racist actions and views "a great stain" on his career and "a great embarrassment," but she encouraged senators to "consider his life in its entirety" and his contributions to the state.
Vogel said Byrd also left a significant legacy in how Virginia operates — in developing its highway system and its pay-as-you-go tradition in order to avoid debt, and that he was instrumental in the creation of Shenandoah National Park, Skyline Drive and the Blue Ridge Parkway.
Senate Majority Leader Dick Saslaw, D-Fairfax, told senators that focusing on other aspects of Byrd's legacy is "almost like saying, 'Other than that, Mrs. Lincoln, how'd you enjoy the play?' "
Sen. David Suetterlein, R-Roanoke, said it was fitting that the Senate was voting to remove Byrd's statue a day before the 65th anniversary of Byrd calling for Massive Resistance. Suetterlein said there is no way to contextualize the statue and there is no benefit to keeping it in Capitol Square.
Suetterlein said it is no coincidence that Byrd's political machine collapsed after Congress passed the Voting Rights Act of 1965 and the U.S. Supreme Court struck down poll taxes in 1966 as unconstitutional.
Locke said she, Del. Delores McQuinn, D-Richmond, and Del. Jeion Ward, D-Hampton, call themselves "Brown babies" because they were born in 1954, the year the Supreme Court ruled in Brown v. Board of Education that government-segregated schools are unconstitutional.
Locke said a member of the state Senate still deals with the vestiges of Virginia officials' decisions to close certain schools rather than to desegregate.
That lasting pain lingers because Byrd "decided that Black folks should not go to school, should not be educated, should not have the benefit of an education," Locke said.
"All other things aside," Locke said, "he orchestrated Massive Resistance and he does not deserve a place on Capitol Square."
(804) 649-6645
Twitter: @AndrewCainRTD