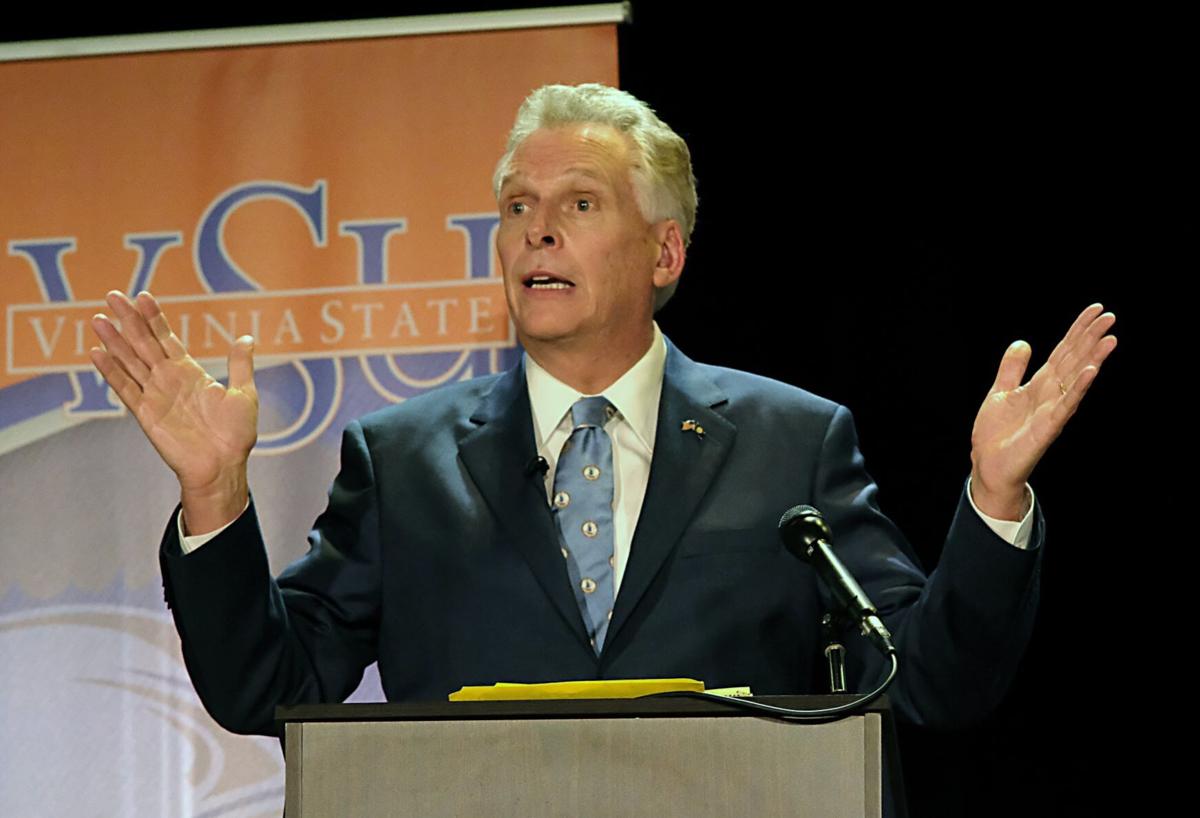 Former Gov. Terry McAuliffe is dominating the Democratic field for governor and incumbent Mark Herring leads the party's contest for attorney general, but the nomination for lieutenant governor remains wide open six weeks ahead of the party's June 8 primary, according to a new survey from the Wason Center at Christopher Newport University.
In a poll released Thursday, 47% of respondents backed McAuliffe for the party's nomination for governor and none of his four Democratic rivals broke single digits.
The poll comes a day before early in-person voting begins for the Democratic primary. Virginians do not register by party, so any registered voter may cast a ballot in the Democrats' statewide contests.
Among the other Democratic candidates for governor, Lt. Gov. Justin Fairfax received 8%, Sen. Jennifer McClellan, D-Richmond, 6%, former Del. Jennifer Carroll Foy, D-Prince William, 5% and Del. Lee Carter, D-Manassas, 1%, with 27% undecided.
Virginia is the only state in which governors may not serve consecutive terms. McAuliffe, who served as governor from 2014 to 2018, is seeking to become the state's first governor to serve two terms since Mills Godwin, who served as a Democrat from 1966 to 1970 and as a Republican from 1974 to 1978.
The poll illuminates how McAuliffe's name recognition and vast financial advantage are contributing to his commanding lead. Among likely primary voters, 56% viewed McAuliffe favorably and 14% unfavorably, while 28% expressed no opinion.
"Name recognition is a big head start, but it's better when voters' impression is mostly favorable," Quentin Kidd, academic director at the Wason Center, said.
While the favorable/unfavorable numbers for Fairfax were almost evenly split, 45% had no opinion of him, 73% had no opinion of McClellan, 78% had no opinion of Carroll Foy and 86% had no opinion of Carter.
In the contest for attorney general, Herring received 42% of the vote to 18% for Del. Jay Jones, D-Norfolk, with 34% undecided. While Herring maintains a significant lead, Jones has made up ground since CNU's February poll, in which he had just 3% of the vote. Herring's total is unchanged since CNU's February poll.
In the party's contest for lieutenant governor, nearly two-thirds of respondents said they were undecided. Del. Sam Rasoul, D-Roanoke, led the field with 12%. The second-place finisher, Del. Elizabeth Guzman, D-Prince William, attracted 4% of the vote.
Guzman, who faces a tough primary challenge for her seat in the House of Delegates, announced Saturday that she was dropping out of the contest for lieutenant governor, saying she lacked sufficient fundraising to compete for the statewide nomination.
The other Democrats running for lieutenant governor are Del. Hala Ayala, D-Prince William; Del. Mark Levine, D-Alexandria; Norfolk City Council member Andria McClellan; Sean Perryman, former head of the Fairfax County NAACP; and Xavier Warren, a partner in a lobbying firm that seeks grants for nonprofits and an NFL player agent.
Between April 11 and 20, the Wason Center interviewed 806 registered Virginia voters who say they are likely to vote in the Democratic primary. The poll's margin of error was plus or minus 3.9 percentage points.
Republicans will choose their party's statewide nominees May 8 in a "disassembled convention." Convention delegates chosen by local GOP party units will cast votes at sites in the state's 11 congressional districts.
(804) 649-6645
Twitter: @AndrewCainRTD