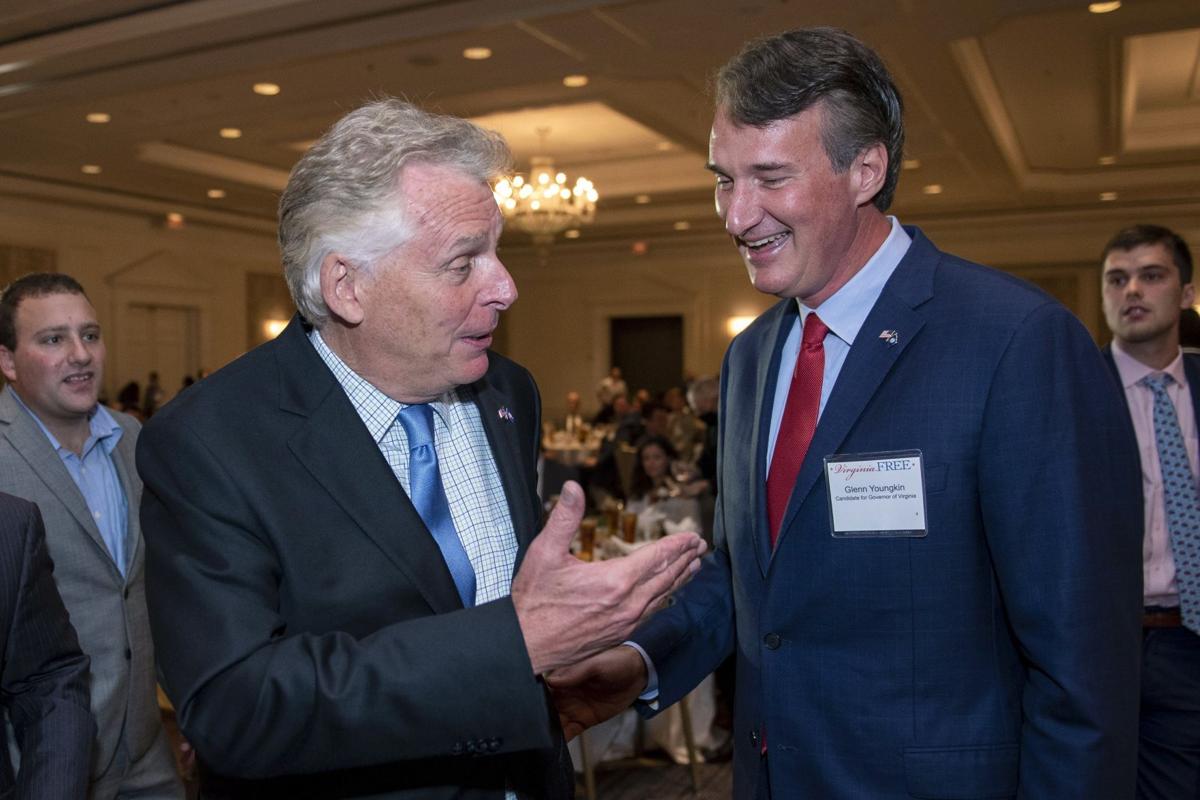 Both major-party candidates for governor continued to haul in unprecedented amounts of cash into their campaigns over the summer, with Republican Glenn Youngkin edging Democrat Terry McAuliffe in fundraising and spending during the period.
Virginia's gubernatorial contest, the highest-profile competitive race in the nation this fall, had already broken statewide fundraising records heading into the summer — and the cash continues to flow. The candidates had combined to raise $66 million to date through August, double the previous record at that stage, set in 2013, when McAuliffe faced Republican Ken Cuccinelli.
In July and August, Youngkin raked $15.7 million into his campaign coffers, including personal loans totaling $4.5 million. The latest loans brought Youngkin's personal contributions to his campaign to $16.5 million.
McAuliffe, governor from 2014 to 2018, raised $11.5 million in the period, all from contributions, according to campaign disclosures analyzed by the Virginia Public Access Project.
Heading into the last stretch of the race — early voting in Virginia starts Friday — McAuliffe's campaign reported having far more cash on hand at $12.6 million, compared with the Youngkin campaign's $6 million.
Youngkin's campaign spent more in the past two months, elevating a candidate who is a newcomer to Virginia politics. Youngkin's campaign spent $12.2 million in July and August, compared with the McAuliffe campaign's $7.6 million.
Youngkin's top donation, aside from the Republican Party apparatus, was $250,000 from Thomas A. Saunders III, who runs a private investment firm and is a board member and former chairman of the conservative think tank the Heritage Foundation. He also received $75,000 from Bill Koch, the billionaire businessman brother to Charles and David Koch.
Youngkin received $100,000 from the American Economic Freedom Alliance, a free-market advocacy group that has run ads in Indiana and New York opposing tax credits for undocumented immigrants and some parts of the Affordable Care Act.
Youngkin also received $87,500 from members of Betsy DeVos' family and DeVos herself. DeVos, a billionaire, was education secretary under President Donald Trump and a strong advocate for charter schools, which Youngkin supports.
McAuliffe's biggest donors include the political arms of the Laborers' International Union of North America and the Virginia League of Conservation Voters. Together, both groups contributed $1 million to his campaign.
At a time when McAuliffe's position on the state's right-to-work law is under scrutiny, the Democrat continued to receive significant support from labor groups, including $200,000 from the Communication Workers of America Worker Voices.
McAuliffe also took in $250,000 from George Soros, the Democratic megadonor. He took in $20,000 from tech giant Amazon.
McAuliffe received $150,000 from the political arm of Planned Parenthood, which supports expanding abortion access — a key dividing issue between McAuliffe and Youngkin.
Youngkin gave $20,000 to the Family Foundation Action, which advocates in favor of laws restricting abortion access in Virginia. The group is hosting a "Virginia March for Life" in Richmond on Friday.
Democrats are decisively winning the race for cash in the battle for control of the House of Delegates, but Republican candidates are getting outside help in key races from independent expenditures by Americans for Prosperity and other conservative political organizations. All 100 seats are up in November. Democrats currently hold a 55-45 edge.
House Democrats ended the fundraising chase through August with more than $11.8 million on hand, almost double the $6 million cash balance for Republicans, with $1.3 million from Charlottesville super-donor Sonjia Smith alone.
Nine of the most flush candidates are Democrats, led by Democratic leaders in non-competitive races ready to help more vulnerable members of their caucus.
Some of those candidates ended the fundraising period with strong cash advantages, including Del. Rodney Willett, D-Henrico, who had a balance of $382,260 for his marquee rematch with Republican Mary Margaret Kastelberg, who ended August with $179,641 on hand. Willett started the period with more than a 2:1 advantage and outraised Kastelberg, $295,951 to $131,474.
Del. Schuyler VanValkenburg, D-Henrico, raised three times the amount of money as his Republican challenger, Christopher Holmes, and ended the period with $425,833 on hand. Holmes had $84,923 on hand for the final two months of the race.
Other Democrats in the top 10 for campaign war chests are Del. Dan Helmer, D-Fairfax; Del. Nancy Guy, D-Virginia Beach; Del. Josh Cole, D-Fredericksburg; and Del. Roslyn Tyler, D-Sussex. All of them face strong challenges in races targeted by Republicans eager to regain control of the House after two years in the minority.
One exception is Republican Nick Clemente, who came in 10th, with $303,645 on hand for his closely watched race against Del. Wendy Gooditis, D-Clarke, who finished the period with $274,376.
But Republicans also are getting outside help from Americans for Prosperity, which has made almost $556,000 in independent expenditures on behalf of GOP candidates, and Make Liberty Win, a political action committee based in Alexandria, which has spent nearly $89,000 to help Clemente and Colonial Heights City Councilman Mike Cherry in his bid for the seat being vacated by former House Speaker Kirk Cox, R-Colonial Heights. Cherry's opponent, Democrat Katie Sponsler, ended the period with $157,563 in the bank, about $46,000 more than the Republican.
Americans for Prosperity also has thrown its financial support behind Del. Roxann Robinson, R-Chesterfield, spending $121,344 to help her defend her seat against Democratic challenger Debra Gardner. Gardner ended August with a fundraising advantage, with $245,183 on hand, compared with $133,090 for Robinson.
AFP also has made independent expenditures on behalf of Kastelberg; Cherry; and Del. Carrie Coyner, R-Chesterfield, in her race against Democrat Jasmine Gore. Coyner ended the period with $135,943 on hand, compared with $12,174 for Gore.
The group also is spending on behalf of Otto Wachsmann, who is seeking to unseat Tyler in a rematch of their close 2019 contest; Jason Ballard, who is challenging Del. Chris Hurst, D-Montgomery; and Clemente. Tyler ended the period with more than three times the cash of Wachsmann. Hurst holds a more than 2-to-1 advantage over Ballard.
In other Richmond-area races, Del. Dawn Adams, D-Richmond, finished with $242,441, compared with $52,021 for Republican Mark Earley, although she raised about $7,000 more than he did in the two-month period. Del. Lashrecse Aird, D-Petersburg, raised $161,000 more during the period than her Republican challenger, Kim Taylor. Aird ended August with $210,687 in the bank, compared with $84,779 for Taylor.
Lieutenant governor, attorney general
In the race for attorney general, Democratic incumbent Mark Herring outraised GOP challenger Jason Miyares, $1,452,180 to $707,203.
Herring reported more than $1.3 million in cash on hand at the end of the reporting period, while Miyares reported more than $1 million.
A good chunk of Herring's cash — $500,000 — came from the Democratic Attorneys General Association, which is funded by corporations that want to move money into politics. The association provided Herring with an additional $95,185 of in-kind services. Miyares' top donor for the period was Richard Gilliam, the founder of a coal mining company, who gave $75,000. Gilliam, who sold the coal operation in 2010, has long been a top donor to GOP candidates in Virginia.
In the race for lieutenant governor, Democratic nominee Hala Ayala raised $800,081 in the period, compared with $630,192 for GOP nominee Winsome Sears. Ayala had $888,121 in cash on hand as of Aug. 31, compared with $325,626 for Sears.
(804) 649-6254
Twitter: @MelLeonor_
Staff writers Michael Martz, Patrick Wilson and Andrew Cain contributed to this report.