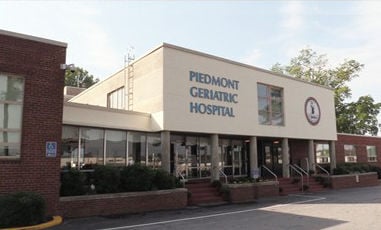 The COVID-19 death count has risen to 22 in Virginia's public behavioral health facilities, most of them in two facilities in Nottoway County, as the state tries to control outbreaks of the coronavirus disease while vaccinating staff and patients against it.
Most of the deaths have occurred at Piedmont Geriatric Hospital and the Virginia Center for Behavioral Rehabilitation, both in Burkeville in Nottoway. The county had recorded 1,570 cases of COVID-19 and 25 deaths from the disease through Thursday.
"The unfortunate reality is that as we see COVID-19 case numbers rise in Virginia through community spread, we also see them rise in our facilities," said Lauren Cunningham, spokeswoman for the Virginia Department of Behavioral Health and Developmental Services.
Piedmont has lost 13 patients, including four this month, and five residents have died at the nearby behavioral rehabilitation center for civilly committed sex offenders. Last year, three patients died of COVID-19 at the Southwest Virginia Mental Health Institute in Marion and a nurse died of the disease at the Southern Virginia Mental Health Institute in Danville.
The state has closed new admissions to Piedmont and Hiram Davis Medical Center, next to Central State Hospital near Petersburg, and "we continue to be concerned about outbreaks there," spokeswoman Lauren Cunningham said Friday.
The state reported 25 employees and 13 patients infected with the virus at Central State this week and 16 staff and 10 patients at Hiram Davis, a medical center that houses medically frail patients with intellectual and physical disabilities on the same sprawling campus in Dinwiddie County.
Statewide, 223 patients and employees are currently testing positive for COVID-19 at Virginia's 12 behavioral health facilities, while about 1,200 have recovered from the disease.
"Staff are continuing to work tirelessly at all the facilities to follow infection control measures to protect the health of both the individuals they serve and the health of their coworkers," Cunningham said.
Martha Bryant, an Amherst County woman who lost one of her disabled sons in 2017 after he was transferred to Hiram Davis from the now shuttered Central Virginia Training Center in Lynchburg, said his brother is recovering from COVID-19 at the medical center in Dinwiddie.
Bryant contends that Hiram Davis, built in the late 1970s is not designed to protect patients from the spread of infectious disease.
"I'm really amazed he didn't get it before he did," she said of her son, Taylor, who tested positive for the virus days before he was scheduled to receive a vaccination.
More than 2,500 vaccine doses have been administered to staff at the state behavioral health facilities and to patients at Hiram Davis and state geriatric units, including Piedmont, Eastern State Hospital near Williamsburg, Southeast Virginia Training Center in Chesapeake, Catawba Hospital in Salem, and Southwest Virginia Mental Health Institute.
"State facilities have begun expanding vaccine distribution to include all staff as well as long-term patients," Cunningham said. "They are also busy preparing to distribute the second dose of vaccines to staff who have received their first dose."
"While the start of vaccine distribution within our facilities gives us reason to be hopeful, we know we still have a long road ahead of us," she said.