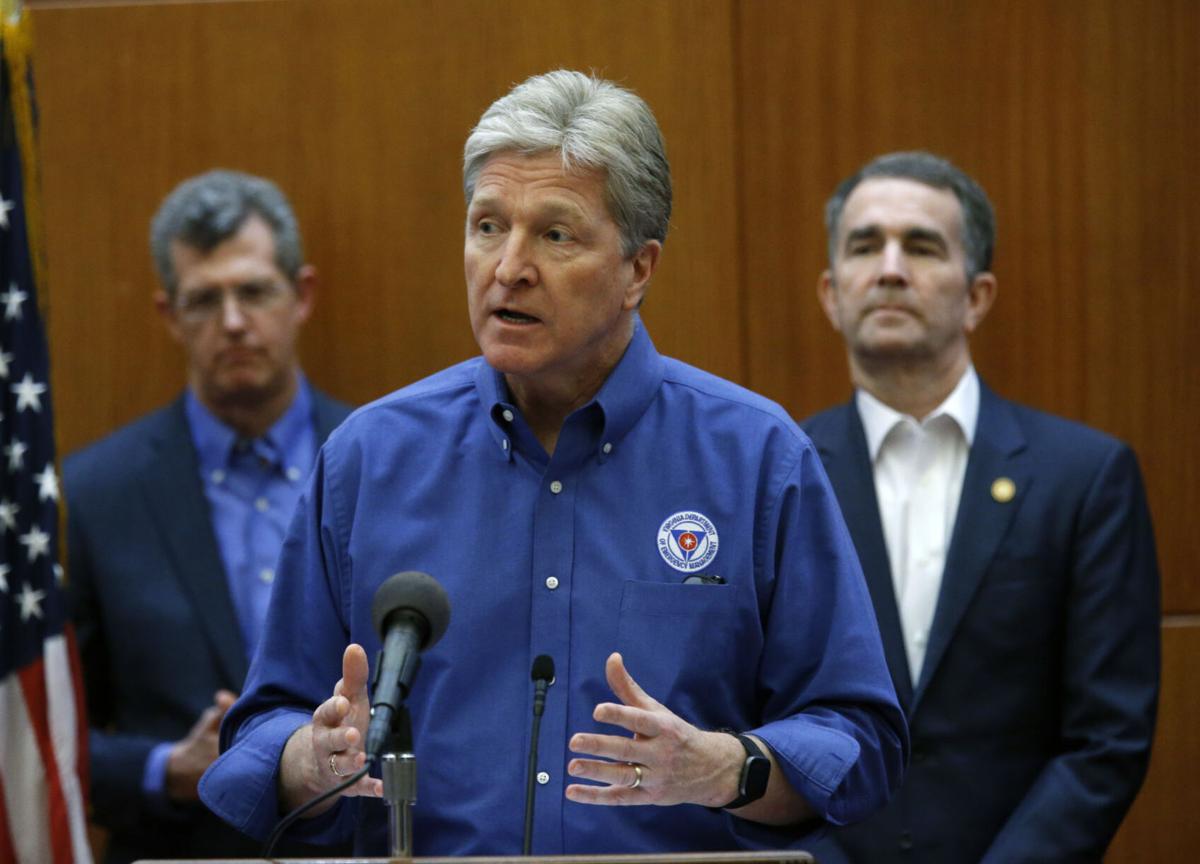 Large investments in robust data collection, new regulation and public education should precede the legalization of recreational marijuana in Virginia — a landscape that "cannot be created quickly."
Those are some of the recommendations in a report published Monday by a work group that studied marijuana legalization in Virginia at the request of legislators. The group included high-ranking officials in Gov. Ralph Northam's administration and stakeholders in public health and law enforcement, but no civil rights groups.
The report's release comes two weeks after Northam announced he will pursue the legalization of recreational marijuana among adults — a major policy shift for the state that the administration will pursue during Northam's last General Assembly session as governor.
The report is the clearest road map of the administration's plans for legalization so far. It follows a Nov. 16 report from the General Assembly's oversight and research arm that found legalizing marijuana could help end the disparate impact of criminalization on people of color while providing sizable financial benefits to the state.
The work group's report estimates the industry could be worth between $698 million to $1.2 billion in economic activity, and about $274 million in tax revenues, according to a summary of the report provided to the Richmond Times-Dispatch, on which this story is based.
Two years to legalization, five years to established industry
Before that happens, the state would need to create a new state agency and set up a hefty regulatory framework with rules that would dictate who, how and where cannabis products can be sold. Lawmakers would also need to work through reforms of the criminal justice system, and invest heavily in public health programs, the work group recommended.
"Setting up an adequate regulatory structure will require a significant up-front investment, in time, patience, and budgetary resources," the report reads. It estimates that it will take 18 to 24 month for legalization to be actualized, and at least five years for Virginia to have a mature legal marijuana industry.
"A program as complex as this cannot be created quickly."
Immediately, the work group is proposing investments in data collection to create a baseline understanding of the drug's presence here. That includes data on poison control center reports, emergency room visits, driving impairment stops, youth use rates and substance abuse treatment.
"There's really no consensus as to the impact to public health and public safety [of marijuana legalization] in other states," said Sam Caughron, a family medicine doctor in Charlottesville, during the group's final meeting last month. Caughron studied the health considerations of marijuana legalization for the work group.
"We need to be robust in our data collection to be able to get the information that we'll end up needing, and start before we actually have the legislation in place, in order to really look at what the impacts are going to be," he said.
The group behind the report met virtually 15 times starting in July, discussing how the state might go about legalization and accepting public comment.
It included four Northam Cabinet members: Health Secretary Dan Carey, Public Safety Secretary Brian Moran, Agriculture Secretary Bettina Ring and Finance Secretary Aubrey Layne, as well as several other high-ranking government officials.
It also included representatives of key organizations, like the Virginia chapter of the National Organization for the Reform of Marijuana Laws, the Virginia Association of Commonwealth's Attorneys and the Virginia State Police.
The group's membership was outlined by the legislation that created it, House Bill 972 and Senate Bill 2, a product of the 2020 regular session of the General Assembly.
Not represented within the 23-member work group were civil rights or criminal justice reform organizations, or advocates dedicated to issues related to systemic racism in health or law enforcement.
The commission, as part of its work, did consult with three organizations focused on racial disparities and criminal justice reform: Minority Cannabis Business Association, which advocates for business owners of color in the legalized marijuana market; NoLef Turns, a local nonprofit working to prevent recidivism; and, Decriminalize Virginia, an advocacy group focused on the disparate impact criminalization has on people of color.
"We were very intentional in making equity and civil rights a key part of this process, and that will continue to be an absolute focus as we draft legislation," Ring said in a statement.
The conversation around marijuana legalization in Virginia and elsewhere has included demands for reparations for communities disproportionately impacted by the criminalization of marijuana and disparate enforcement of those laws, particularly African Americans. (Del. Lee Carter, D-Manassas, has called for devoting all future tax revenue from legalized cannabis to reparations for Black and Indigenous Virginians.)
The Joint Legislative Audit and Review Commission found this month that while Black and white Virginians use marijuana at similar rates, Black state residents are 3½ times more likely to face arrest — echoing the concerns long voiced by civil rights advocates.
The commission also found that roughly 30,000 Virginians are arrested each year on marijuana-related offenses, with 90% facing charges of simple possession.
The administration's work group on Monday backed "undoing the harms of criminalization," and echoed Northam's support for expunging or sealing criminal records for people with past convictions.
The work group also showed support for creating a regulatory licensing framework that allows communities disproportionately impacted by marijuana criminalization to benefit from the industry the state stands to create.
Among the recommendations issued Monday is the creation of a licensing structure that would allow for blanket licenses for entities that want to grow, process and sell cannabis products while allowing for licenses for specific sections of the industry.
The report suggested licenses for growers of different sizes, processors, distributors, wholesalers, retailers and delivery, as well as businesses engaged in social consumption and hospitality, like potential restaurants. Those licenses could be tiered by the size of the business.
"License fees should not be an insurmountable barrier to entry, especially with social equity licenses," the report reads.
The work group also proposed assisting impacted communities entering the industry with access to capital and business planning resources, and monitoring disparity in the industry with regular reports.
The work group also proposed a number of policies meant to help ensure health equity if legalization moves ahead. The report suggests lawmakers and regulators consider density caps or proximity restrictions to avoid the "overconcentration" of dispensaries in low-income neighborhoods.
"We definitely know that when it comes to ["not in my backyard"]-ism, and the ability for a local community to organize and speak up, that ability is disproportionately located in wealthy areas," said Ngiste Abebe, who leads policy at Columbia Care, a national network of dispensaries, during a recent meeting of the work group. She argued for consistent standards from locality to locality related to the location of dispensaries.
The report also suggests state officials consider the impact of legalization on people who are subject to eviction for drug use in government housing.
"Social consumption sites provide everyone with a legal place to consume marijuana," the report reads.
How marijuana should be taxed will be a thorny debate facing state officials hoping to legalize the drug. The work group's report suggests taxing products at the retail level, at a level that is high enough to fund the state's operations but not so high that it "encourages a thriving illicit market."
The report proposes different levels of taxation based on the product, in particular, higher taxes for products with higher levels of tetrahydrocannabinol, or THC, the main psychoactive compound in marijuana, to deincentivize their use.
The report also suggests state officials create cannabinoid limits for serving sizes and whole products to curb the possibility of substance abuse.
The work group placed emphasis on the health impacts of legalization, including substance abuse and impaired driving, and urged the state Monday to dedicate a significant amount of funding to education, prevention and treatment efforts before legalization occurs.
That includes public health campaigns on the risks of marijuana to people with certain health conditions, including pregnancy, and the impacts of the drug on driving and workplace safety.
It said particular resources should be dedicated to education and prevention efforts among young people. That includes: mandating ID checks for cannabis sales, banning advertising near schools and regulating design of packaging to limit its appeal to young people.
"Virginia could also build off current behavioral health SOL requirements and include age-appropriate marijuana education," the report reads.
(This story was updated to include a comment from Ring about the group's focus on equity, and context on the work group's membership.)
(804) 649-6254
Twitter: @MelLeonor_