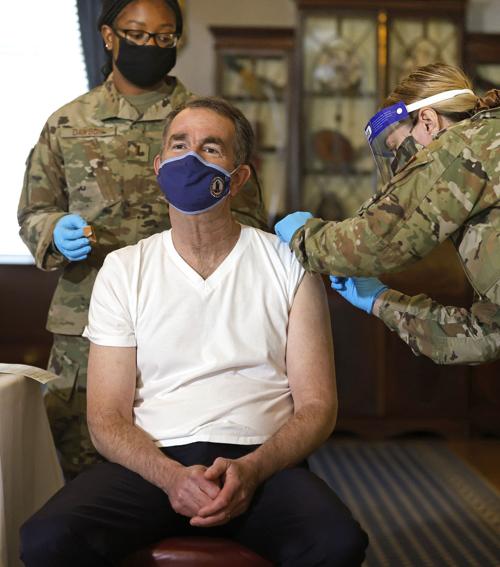 Gov. Ralph Northam on Monday became one of more than 2 million Virginians to be vaccinated against COVID-19, opting for a dose manufactured by Johnson & Johnson.
The American manufacturer's vaccine — which consists of just one dose — reportedly has faced some reluctance from the public because studies showed it to be slightly less effective at preventing moderate to severe illness than the Pfizer or Moderna vaccines.
Virginia officials, however, welcomed the Johnson & Johnson vaccine as a way to reach herd immunity more quickly to the benefit of the entire state.
They have also pitched it as a way to speed up immunizations without the logistical burden of scheduling a second dose.
"We have three safe and effective vaccines now," Northam said seconds after receiving his dose. "I encourage everyone to get the vaccination they can."
Northam and his wife, Pam, were vaccinated at the Executive Mansion by a mobile vaccination team run by the Virginia National Guard. Such teams, which can administer about 250 doses per day, will be deployed across the state starting this week to help with Virginia's immunization efforts.
Northam, his wife and some employees of the residence contracted COVID-19 last September, developing only mild symptoms. While researchers believe antibodies offer some protection from future infections, the science on the matter is unclear.
As a result, the U.S. Centers for Disease Control and Prevention is urging all Americans to seek a vaccine, regardless of past infection.
Maj. Gen. Timothy P. Williams said the National Guard will deploy five teams, amounting to an additional 1,250 vaccines per day. The state is currently averaging around 50,000 vaccines per day.
Williams said the guardsmen who will now serve as vaccinators formerly worked at COVID-19 testing sites.
About 2.7 million Virginians have received at least one dose of the COVID-19 vaccine, and 2 million have been fully immunized against the virus.
Northam's vaccination was livestreamed to the public via social media. Before the cameras, Northam took off his suit jacket and held still for a shot from the signature pink vials.
A Northam spokesperson, Alena Yarmosky, said the mobile National Guard vaccination unit also gave vaccines to Executive Mansion employees and administration staffers who travel with Northam for public appearances.
Northam encouraged all Virginians to preregister for a COVID-19 vaccination on the state's centralized system, which can be found at https://vaccinate.virginia.gov.
"There's finally some light and hope at the end of this long, dark tunnel," he said.
(804) 649-6254
Twitter: @MelLeonor_