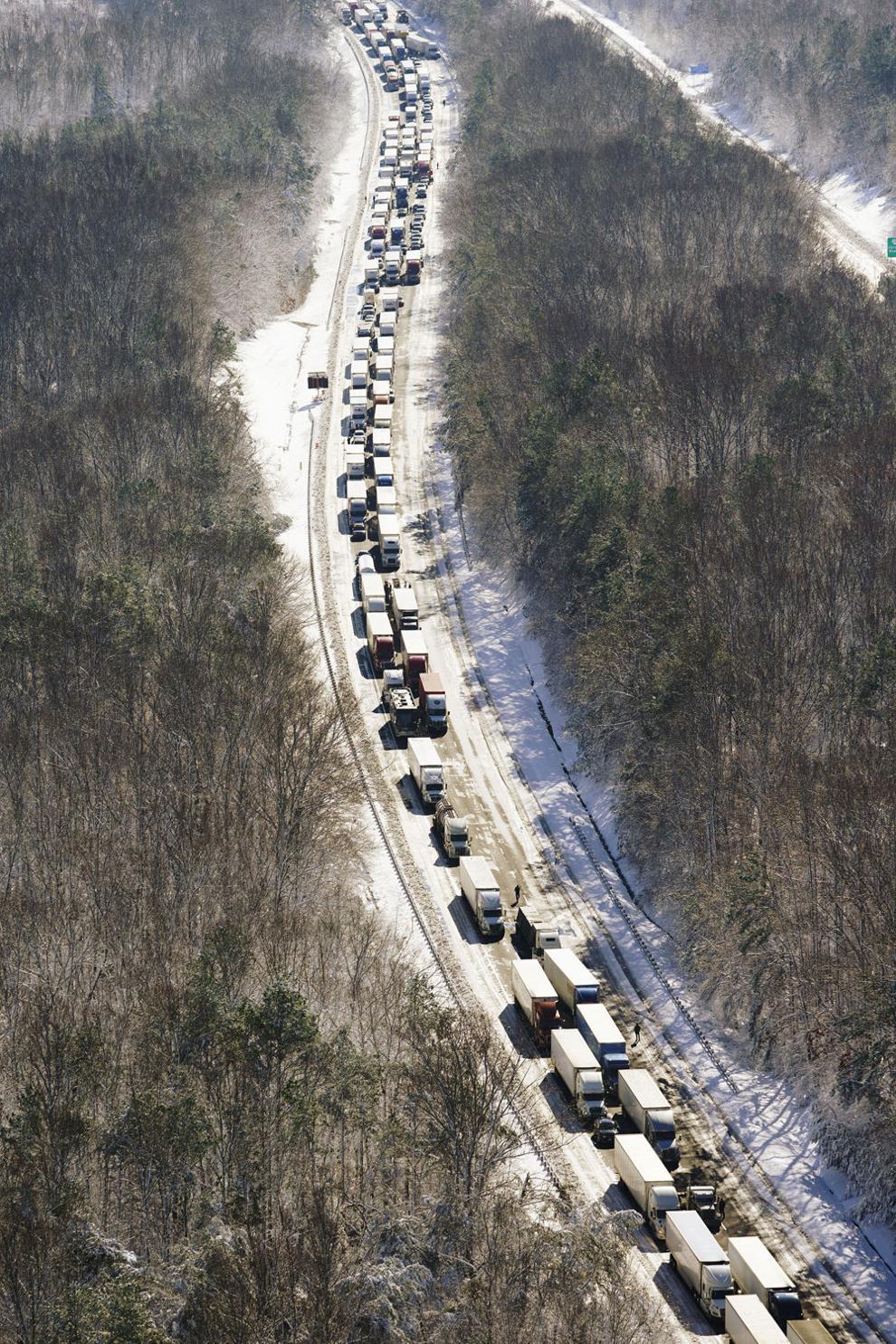 Thousands of people were left stranded Tuesday along a 50-mile stretch of Interstate 95 that snakes through Northern Virginia — a chaotic backup that came after an atypical snowstorm left government officials unable to clear the roadway.
Road crews were still working to reopen the state's main traffic artery on Tuesday afternoon as state officials apologized for the situation, calling it "completely unacceptable."
Problems began to compound Monday morning, when conditions along the untreated highway deteriorated rapidly amid snowfall, leaving trucks and cars stuck on the roadway. Traffic continued to flow slowly until midnight, state officials said, when traffic came to a standstill that persisted into Tuesday morning.
There were no reports of injuries or deaths as of Tuesday evening, state officials said. Around 9 p.m., the Virginia Department of Transporation said all abandoned vehicles had been removed from the highway.
Gov. Ralph Northam described the situation as the "perfect storm," and blamed the chaotic scene on unexpected levels of snowfall and conditions that prevented officials from pretreating the roads.
"We all need to be clear that this was an incredibly unusual event," Northam said. "I certainly understand the frustration and fear that many people feel," he added.
Northam also placed blame on "out-of-state" drivers who missed the "clear and consistent messaging" from state agencies "to stay off the roads during the winter storm."
Among the thousands of people stuck was Sen. Tim Kaine, D-Va., who reached Washington on Tuesday evening after 27 hours on I-95.
Online, dozens of people reported running out of food, water and gas. Communication from the government about the severity of the situation didn't reach many drivers until Tuesday morning, nine hours after the state said the road came to a standstill.
One motorist, who set out from Gaithersburg in Montgomery County, Md., emailed Washington's WTOP radio that he was going to miss his father's funeral in Hampton.
The backup was focused on a stretch of I-95 between Ruther Glen in Caroline County and Dumfries in Prince William County, in both directions.
Marcie Parker, Fredericksburg District engineer for VDOT, said her crew had been working to clear snow and ice from the interstate in the early hours of Monday. They were working on unsalted roads, Parker said, because heavy rainfall leading up to the snowstorm meant chemicals and salt would have washed away any efforts to pretreat it.
By daybreak, Parker said, snow was accumulating much faster than crews could clear it.
Snowfall rates of 3 inches an hour hit the area from Caroline to suburban Washington on Monday morning, an exceedingly rare rate, according to Richmond Times-Dispatch meteorologist Sean Sublette.
Because it was a degree or so above freezing, the snow was heavy and wet. Strong northeast winds meant blowing snow limited visibility for drivers, raising the risk for crashes.
"That was entirely too much for us to keep up with," Parker said. "The trucks and the cars couldn't make it up and down the hills because we had too much snow and ice out there."
The first major snag came when a tractor-trailer derailed from its lane shortly after 8 a.m. Monday, largely blocking passage and creating a chain reaction of stuck vehicles.
Steve Brich, the commissioner of highways at VDOT, said that despite delays, traffic continued to flow along the interstate, "albeit slowly." By midnight, a long stretch of I-95 had come to a standstill.
Del. Lashrecse Aird, D-Petersburg, a mother of two young boys, was one of the thousands of people suddenly stranded. Aird was on her way back to Virginia from New York state, where her family had spent the holidays.
Aird said she filled up on gas and snacks less than two hours from home. Her GPS showed some traffic delays, but nothing they couldn't brave. It had been snowing for a lot of their drive already, so they saw no reason to be alarmed.
"Once we got back onto the highway, we waited and waited, and then never moved. I-95 literally became a parking lot," Aird said.
They were near Exit 143B in Stafford County, and spotty cell service left them in the dark about the magnitude of the problem.
"It just got later and later, and you sort of have this hope in your mind that eventually the cars will start moving again. There's no information. It's only getting colder by the hour."
As the hours passed, the situation became a nightmare. Her boys, 10 and 14, were anxious and hungry. Aird scanned AM radio for information, which turned up nothing. Aird said the first message from the state came as an alert to her phone at 9:15 a.m.
"I-95 Drivers: State and locals coming ASAP with supplies and to move you," it read. Virginia State Police spokeswoman Corinne Geller said state troopers and other emergency rescue teams were going car to car to hand out water, blankets and gas as best as they could.
Aird and her family started moving again around 12:30 p.m. No one reached them with supplies.
"They knew people were suffering," said Aird, noting that there were helicopters flying above the jammed traffic.
"They knew people were without resources and necessities back when it occurred in the middle of the night. They could have offered some resources during that point in time, versus leaving people with no information or knowing what to expect," she added.
Aird's oldest son turned 14 at midnight while the family sat in their car. Aird said they all sang happy birthday. Instead of cake, the spread was made up of granola bars, pretzels, corn chips and water.
The Northam administration defended its handling of the chaos on I-95, describing extenuating circumstances and teams that worked through the night to help improve conditions and provide aid to people who were stranded.
Still, the state faced heavy criticism for being unprepared, reacting too slowly to the compounding crisis, and for not deploying all of its available resources.
Incoming House Speaker Todd Gilbert, R-Shenandoah, urged Northam to deploy the National Guard, and questioned why he had not done so sooner. State officials also faced questions about their decision to keep I-95 open to traffic until Tuesday morning, even as signs suggested conditions were deteriorating.
Northam said on a call with reporters that the Virginia National Guard couldn't be effectively deployed to respond to an immediate emergency because of the time it takes for civilians to be reached and to gear up. Northam also said the state and localities had all of the resources they needed to respond, but that the process was slowed by the magnitude of the problem and the practical difficulty of reaching stranded vehicles.
A spokesperson for the Virginia National Guard said it has limited resources to help clear snow and tow vehicles.
"VNG resources would have made very little impact on the situation on I-95," said spokesman Cotton Puryear.
Puryear said Guard members, if they had been deployed 12 to 24 hours earlier, perhaps could have helped get supplies to people in their vehicles.
Asked why I-95 was not closed to more traffic when the road first became paralyzed, subjecting unsuspecting people to being stranded, a VDOT official, Kevin Gregg, said: "As long as we could keep some traffic moving, we wanted to keep that option open."
Several VDOT officials said state officials would study the incident to figure out if the state could have improved its response and handling of the situation.
But, on the call with reporters, Northam said the state was as prepared as it could have been.
"We were prepared for the storm that was predicted, a few inches of snow, but instead, Mother Nature sent more than a foot of snow."
(804) 649-6254
Twitter: @MelLeonor_
Staff writer Michael Martz contributed to this report.