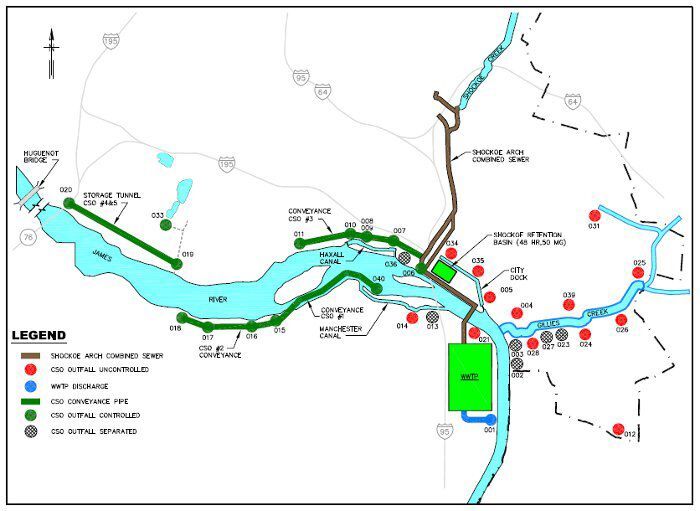 Richmond would receive $50 million in federal aid to help with the next phase of its massive combined-sewer cleanup to stop untreated waste from flowing into the James River as part of a $411.5 million investment in water quality improvements that Gov. Ralph Northam announced on Tuesday.
Northam included the money for Richmond, as well as $50 million for Alexandria and $25 million for Lynchburg to help them end combined-sewer overflows into the Potomac and James rivers, respectively.
The three cities had sought about $1.4 billion in federal aid to Virginia under the American Rescue Plan Act to deal with the problem of old sewer systems that combine raw sewage and stormwater that overflow into rivers during heavy rains.
Richmond alone had asked for $883 million, most of it for a mammoth project to capture, store and treat heavy overflows to comply with a new state mandate to end the discharges by 2035.
"I am grateful for Governor Northam's commitment of $50 million to limit the burden on Richmond's ratepayers as we implement what is an $883 million project to protect one of our greatest assets - the James River," Mayor Levar Stoney said in a statement on Tuesday. "We appreciate this down payment and look forward to continued partnership from the state."
Most of the proposed package would go to fixing sewage and wastewater systems, but Northam focused Tuesday on $100 million that would help small, disadvantaged communities rebuild or replace their drinking water systems.
"With this funding, we have a tremendous opportunity to rebuild our aging water systems and ensure every Virginia family has reliable access to safe, clean drinking water," he said in the latest proposal for using the $4.3 billion the state received under the federal relief package in advance of the General Assembly convening in special session, staring Monday, to decide how to spend the money.
"In addition to modernizing water and sewer infrastructure across the commonwealth, these investments will go a long way towards restoring the health of our waterways and reducing pollution in our communities," he said.
The money also is aimed at protecting and restoring the Chesapeake Bay, into which both the James and Potomac flow. The package includes $186.5 million for wastewater treatment and removal of excess nutrients that harm water quality in the bay and its tributaries.
"Protecting the environment, and particularly providing for sanitary disposal of wastewater, is critical to public health and the economy," Secretary of Natural Resources Matthew Strickler said. "These investments will put us even closer to restoring the Chesapeake Bay, and will clean up streams and improve septic and sewer systems across the commonwealth."
Federal and state help is essential for Richmond, which has relied primarily on utility ratepayers for $312 million that the city has spent in the past 50 years to reduce pollution of the James with untreated sewage and stormwater after heavy rains.
Under a law the General Assembly adopted last year, Richmond had to submit a plan to the state by July 1 to address the chronic problem and begin work on an interim solution by mid-2022. The law requires the city to submit a final correction plan by mid-2024 and begin work the next year.
Richmond's interim plan would cost $33.3 million and capture an estimated 182 million gallons of combined wastewater each day once it is completed in mid-2027.
Together with previous investments, the interim work would prevent 91% of the overflows into the James, but the final project would cost exponentially more - at $850 million - to remove 99% of the pollution.
Alexandria had asked for $500 million and Lynchburg $50 million to resolve their combined sewer overflow problems.