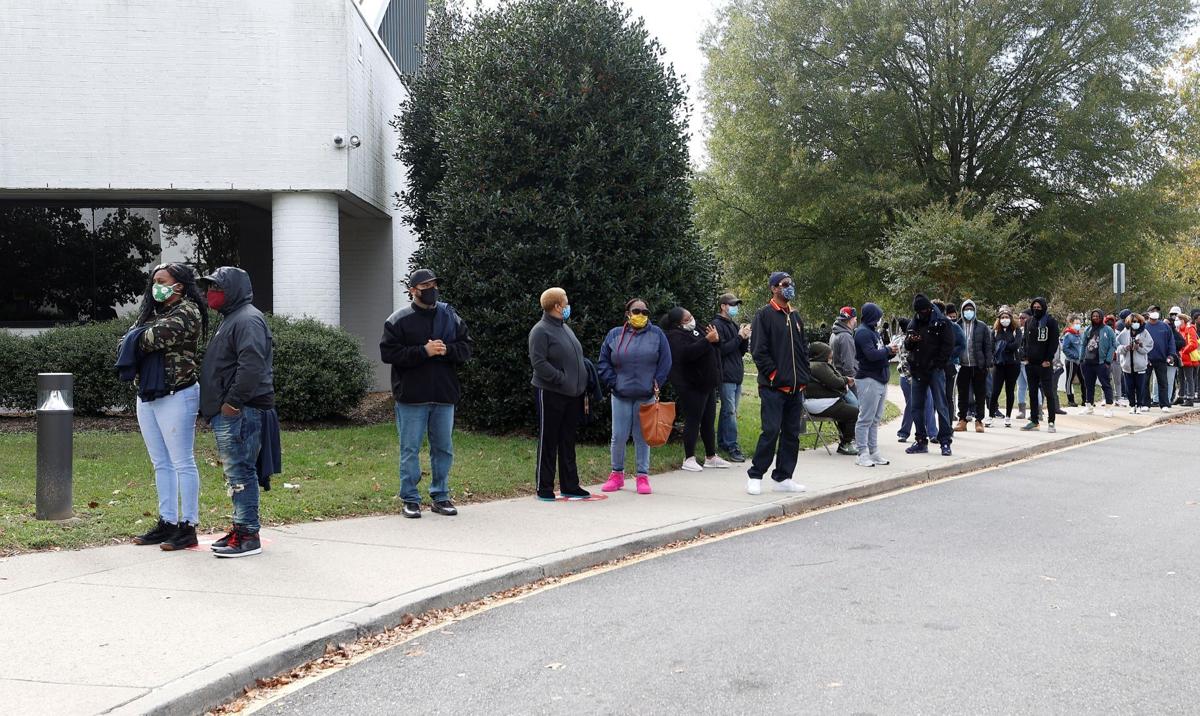 Gov. Ralph Northam on Wednesday expressed support for legislation intended to create stronger safeguards against voter discrimination and to expand the ways Virginians can cast ballots.
The "Voting Rights Act of Virginia," sponsored by Del. Cia Price, D-Newport News, and Sen. Jennifer McClellan, D-Richmond, would outright ban discrimination resulting from how an election was conducted — a signal of Democratic control in a state that was once under federal purview for race-based voter suppression.
Northam didn't yet sign Senate Bill 1395 or House Bill 1890, but proposed minor technical amendments that supporters expect will cruise through legislature when it convenes for its one-day reconvened session April 7. Northam did not veto any bills so the lawmakers will take up his proposed amendments to legislation.
The news came as Northam announced his action on remaining bills passed during the special session.
"At a time when voting rights are under attack across our country, Virginia is expanding access to the ballot box, not restricting it," Northam said in a statement.
Executives at a number of large businesses in Georgia and elsewhere spoke out this week against that state's controversial new overhaul of its election laws.
The Virginia legislation will require that localities give the public 30 days to comment on proposed changes to voting procedure — including moving polling places, closing a precinct or even curtailing interpreting services.
An emergency, such as inclement weather, would allow a locality to avoid this requirement. The locality could also seek a waiver from the attorney general.
Localities will also be required to offer voting materials in different languages when their boundaries contain a sizable population whose primary language is not English. U.S. law requires it for federal elections, but the bill would guarantee it for local elections, too.
Democrats argued during the regular session of the General Assembly that the legislation was necessary given the 2013 U.S. Supreme Court ruling that did away with a requirement that Virginia and eight other states seek approval before changing their voting laws.
Under the 1965 federal Voting Rights Act Virginia was among states that had to seek federal "preclearance" before making such changes because of the states' past discrimination.
"This has been a collaborative labor of love, championed by women getting it done," Price said on Twitter. "We look forward to continuing the fight until justice is won across the nation and all elections policies and systems are equitable and fair."
McClellan, a Democratic candidate for governor, said in a statement: "I am proud that our Commonwealth is leading the way, becoming the first state in the South to pass a Voting Rights Act. This law will help to safeguard every Virginian's access to the ballot for generations to come."
The legislation would also curb the use of at-large municipal elections if they would dilute the voting power of racial minorities. This can occur when a minority population is concentrated in a particular area, for example, and running an at-large election would make their preferred candidate less likely to win than if elections were run by district.
The Virginia legislation would expand the ability of advocates to sue the state or localities for infringing on a voter's rights — allowing not just the impacted voter, but also civil rights groups and the Attorney General's Office, to mount legal challenges. Price said voters who face disenfranchisement often don't have the means to take their cases to court to seek reprieve.
Republicans unanimously opposed the bill.
Northam announced Wednesday that he had signed a number of bills, including:
House Bill 1889, sponsored by Price, which extends eviction protections for renters facing difficulty due to the pandemic through July 1.
House Bill 2137, sponsored by Del. Elizabeth Guzman, D-Prince William, which requires employers to provide paid sick leave to home health workers.
Senate Bill 1303, sponsored by Sen. Siobhan Dunnavant, R-Henrico, that requires school divisions to offer in-person learning, while adhering to COVID-19 mitigation strategies. Northam's announcement noted that all of the state's school divisions are offering in-person learning or have approved plans to do so.
(804) 649-6254
Twitter: @MelLeonor_