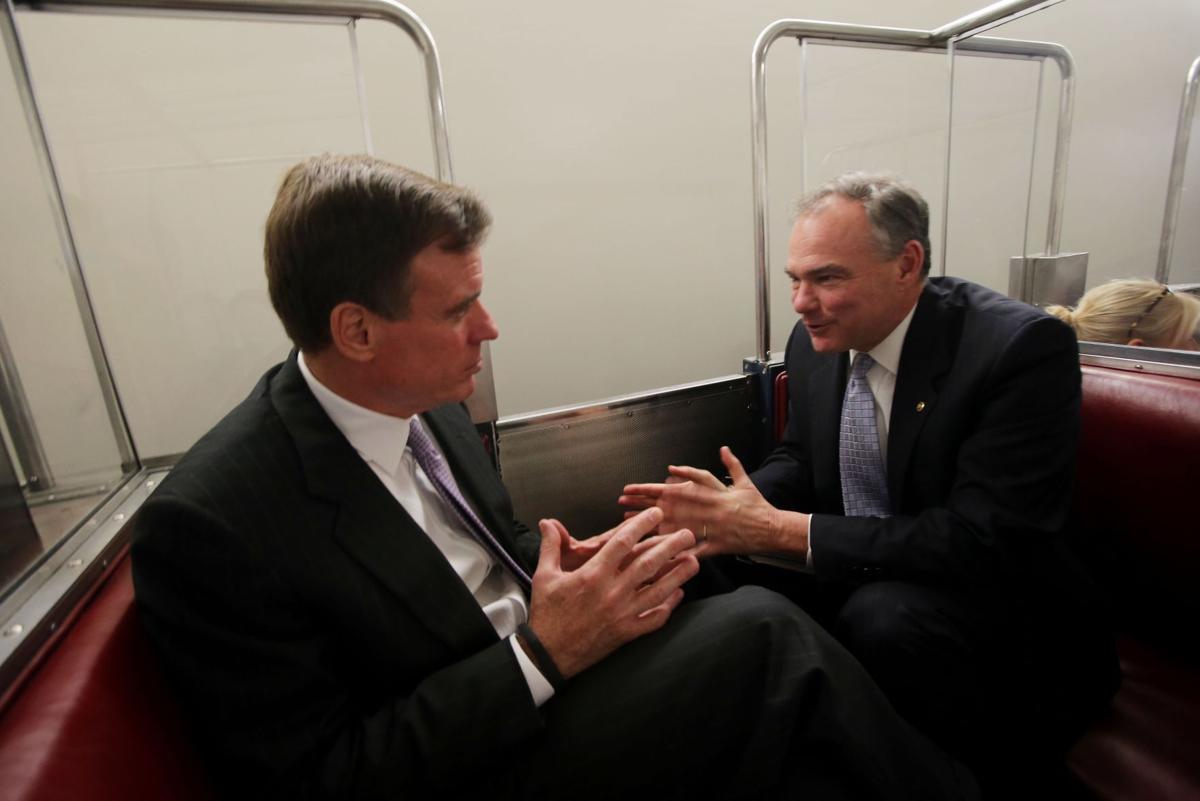 On the eve of the anniversary of the worst mass shooting in Virginia history, Sens. Tim Kaine and Mark Warner, both Virginia Democrats, are asking Congress to follow the state's lead in enacting restrictions on the purchase and use of firearms.
Kaine, who was governor when a lone gunman killed 32 students and teachers at Virginia Tech in 2007, joined with Warner, his predecessor as governor, to introduce legislation on Thursday that would use a package of gun control laws that Virginia enacted last year as the model for new federal laws on firearms.
The Virginia Plan to Reduce Gun Violence Act of 2021 would incorporate six proposals that Gov. Ralph Northam signed into law a year ago, a year after a gunman killed 12 people and wounded four others at a municipal building in Virginia Beach.
The provisions of the proposed federal act would: require universal background checks for firearms sales; limit handgun purchases to one a month; require reporting of lost or stolen firearms within 48 hours; hold people liable for leaving loaded firearm in an unsecure place accessible to a minor; create restrictions on firearm possession to protect victims of domestic violence; and temporarily remove firearms from people who pose a high risk of harming themselves or others.
"Virginia knows all too well the heartbreaking consequences of gun violence," Warner and Kaine said Thursday in a statement. "We've seen it in the tragedies of Virginia Tech and Virginia Beach and the countless drive-by shootings, domestic violence, and suicides by firearm across the country."
"We're proud of the Commonwealth for leading the way to advance gun reform; now it's time for Congress to save lives," they said.
(Virginia lawmakers backed most of Northam's proposed gun restrictions in 2020. A Senate panel declined to advance his proposed ban on assault-style weapons as four Democrats joined Republicans to defeat the measure in the Senate Judiciary Committee.)
Kaine and Warner proposed the same law a year ago, but it went nowhere in Congress. Now, with Democrats holding advantages in both chambers and the White House, they hope for better results.
"The senators are hopeful about the bill's prospects given the new Democratic majority and the increased demands from the American public calling on Congress to act on gun violence," Kaine spokeswoman Katie Stuntz said Thursday.
Philip Van Cleave, executive director of the Virginia Citizens Defense League, dismissed the new proposal and its prospects for passage, especially in the U.S. Senate, where 60 votes would be required to override a filibuster. (Two independents in the Senate caucus with the Democrats, which means the chamber is evenly split. Vice President Kamala Harris holds the tie-breaking vote.)
"I don't think there's any stomach for it. I hope not," Van Cleave said. "What we've got in Virginia needs to be repealed when we've got a better General Assembly and a better governor, too."
"We should bring the misery to the whole country?" he asked. "They're just pandering."
Kaine was on a gubernatorial mission in Japan when Seung-Hui Cho, an undergraduate at Virginia Tech, killed two students at a university dormitory and then massacred 30 other students and teachers and wounded 17 others at an academic building on April 16, 2007. Cho killed himself as police responded to the mass shooting at Norris Hall in Blacksburg.
At the time, it was the worst mass shooting by a lone gunman in U.S. history, but nine years later, a gunman killed 49 people and wounded 53 at a nightclub in Orlando, Fla.
Kaine swiftly returned to Virginia from Japan in response to the mass shooting at Tech, as the state began assessing flaws in the state's laws for people suffering from mental illness or other behavioral health disorders.
On Wednesday, he said the single greatest need is to strengthen background checks, citing the Virginia Tech gunman's ability to buy firearms even though he was barred because he was undergoing outpatient treatment for mental health issues.
"Flaws in the background check system let him slip through and get the weapons that caused one of the grimmest days in Virginia history," Kaine said.
Earlier this year, he and Warner introduced legislation to expand criminal background checks for firearm sales, and Kaine also proposed a bill to close a loophole in current background check law that allows gun sales to proceed if the check isn't completed within 72 hours.
"Mark and I have the feeling that if we can do it in Virginia, we can do it in Congress," Kaine said Wednesday.