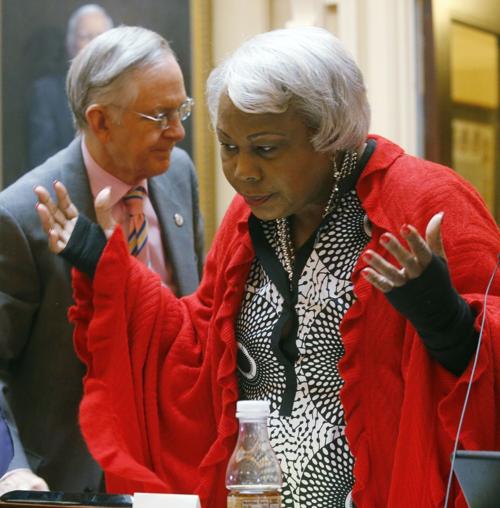 A panel of retired judges on Wednesday will set about picking the eight citizen members of Virginia's redistricting commission from Democratic and Republican lists with stark racial and geographic differences.
The 34 Democratic finalists include 12 non-Hispanic whites, 14 Black people, four Hispanic people, two Asians and two who are multiracial, according to profiles of the 62 finalists reported by the Virginia Public Access Project.
Republicans nominated 25 non-Hispanic whites, one Black person and two people who are Hispanic. There are 62 finalists because five names appear on both GOP lists and one name is on both Democratic lists.
Four legislative leaders — two Democrats and two Republicans — culled more than 1,200 citizen applications into four lists of at least 16 names each. Five retired judges will pick two names from each of the four lists. The eight citizen members will join eight lawmakers on the new commission to redraw Virginia's legislative and congressional districts based on new census data.
Nearly all of the Democratic finalists submitted by House Speaker Eileen Filler-Corn, D-Fairfax, and Senate President Pro Tempore Louise Lucas, D-Portsmouth — 28 of 34 — live in the state's urban crescent, residing in either Northern Virginia, the Richmond area or Hampton Roads. Those are the regions where increasingly diverse city and suburban population centers have driven Democrats' win streak in statewide elections that dates to 2009.
Just six of the 28 Republican finalists submitted by House Minority Leader Todd Gilbert, R-Shenandoah, and Senate Minority Leader Tommy Norment, R-James City, live in the urban crescent. While the GOP's picks include three finalists from Williamsburg and one each from Fredericksburg, Spotsylvania County and Roanoke, most are from smaller rural enclaves where Republicans dominate.
The parties' finalists also contrast in gender. The Democrats' finalists are 19 women and 15 men. Twenty of the Republican finalists are men and eight are women.
Fifteen of the 28 Republican finalists have made a total of $995,000 in political donations, according to VPAP. The vast majority of those donations — $927,000 — have come from one finalist, Marvin Gilliam of Bristol, former vice president of a family-owned coal mining company that Massey Energy acquired in 2010.
Gilliam, named on Norment's list, is a former member of the University of Virginia's board of visitors. He has been a key donor to GOP campaigns for governor, giving $130,000 to Jerry Kilgore's campaign in 2005, $105,000 to Bob McDonnell's 2009 campaign, $75,000 to McDonnell's Opportunity Virginia PAC, $70,000 to Ken Cuccinelli's 2013 run for governor and $50,000 to Ed Gillespie's 2017 bid.
Nineteen of the 34 Democratic finalists have made a total of $81,966 in political donations.
Both parties' lists feature finalists who are comparatively well-off financially. Of the 62 finalists, 41 report incomes of at least $100,000 — including 21 with incomes of $200,000 or more.
Virginians do not register by political party. Of the 34 finalists the Democrats submitted, 33 describe themselves as Democrats. Of the 28 finalists Republicans submitted, 21 describe themselves as Republicans.
Eighteen of the 34 Democratic finalists and 15 of the 28 GOP finalists are between the ages of 50 and 79.
Virginia voters passed a constitutional amendment in November setting up the bipartisan commission of eight lawmakers and eight citizens. The selection committee of five retired judges has until Jan. 15 to pick the eight citizen members. Virginia lawmakers have instructed the judges to make sure that the commission's members are representative of the state's ethnic, geographic and gender diversity.
The drawing of Virginia's congressional and legislative districts remains a partisan undertaking, but the new commission is meant to balance Democratic and Republican interests. The 16-member commission will include four Democratic lawmakers, four Republican lawmakers, four citizens nominated by Democrats and four citizens nominated by Republicans.
Legislative leaders already have named the eight lawmakers who will serve on the commission. They are: Sens. Mamie Locke, D-Hampton; George Barker, D-Fairfax; Ryan McDougle, R-Hanover; and Steve Newman, R-Lynchburg; and Dels. Delores McQuinn, D-Richmond; Marcus Simon, D-Fairfax; Les Adams, R-Pittsylvania; and Margaret Ransone, R-Westmoreland.
The full commission holds its first meeting Feb. 1.
(804) 649-6645
Twitter: @AndrewCainRTD