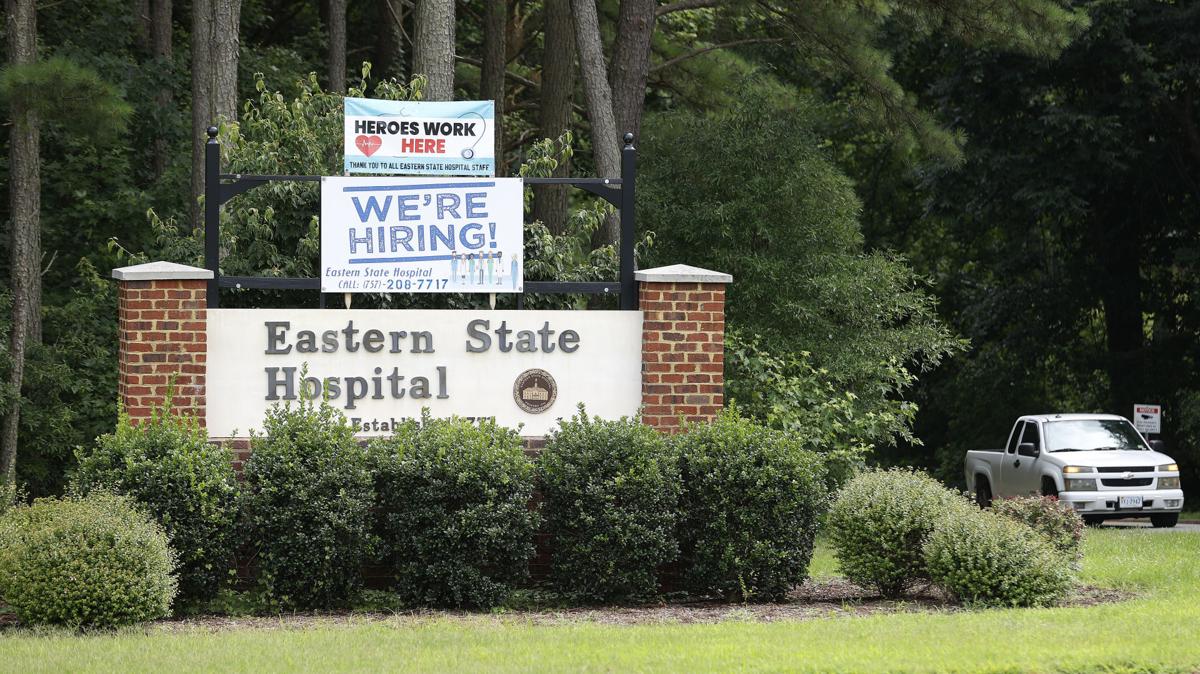 With Virginia's mental health system in crisis, a private hospital system is offering to open 58 licensed beds for adolescents and adults with behavioral health disorders — if the state allots $8.5 million in federal emergency aid to pay for the staff.
The Virginia Hospital and Healthcare Association made the proposal on Saturday, the day after the state behavioral health commissioner temporarily shut down admissions to five of the state's overcrowded, understaffed mental hospitals because they do not have enough employees to operate safely.
The association made its offer public on Monday, based on a plan proposed by an unidentified health system to open 40 unused psychiatric facility beds for adolescents and 18 for adults to help relieve pressure on Virginia's public mental institutions. The beds are currently licensed, but the health system is not filling them because of the cost of staff to care for the additional patients.
"This is just one system," said Sean Connaughton, president and CEO of the association. "We are in the process of gathering additional information from other systems who may also be able to open additional beds if funding for staffing is made available."
However, Connaughton warned that, because of a shortage of skilled health care workers, "Failure to act quickly will result in further strain on the system resulting in dangerous outcomes for individuals seeking care and the providers who serve them."
State behavioral health officials have faulted private psychiatric hospitals for not doing more to admit more adults and minors who have been taken into involuntary custody for treatment because of psychiatric emergencies that pose a threat to themselves or others.
Private hospitals accept most psychiatric patients under temporary detention orders, but their share of those patients has plummeted since passage of the "bed of last resort" law in 2014 to prevent the premature release of people in potentially life-threatening psychiatric emergencies without treating them.
The practice of "streeting" patients was documented in a 2012 study by the inspector general of the state's behavioral health system. The General Assembly acted to stop it after Gus Deeds, the 24-year-old son of Sen. Creigh Deeds, D-Bath, attacked his father with a knife before killing himself in November 2013, just 13 hours after being released from emergency custody because the regional mental health agency failed to find a bed in a psychiatric facility to treat him.
Since the assembly adopted the law in 2014 to require state hospitals to accept patients under temporary detention orders if no other bed is found within eight hours, emergency admissions to the state institutions have soared by almost 400%, causing many of them to operate near or at their capacity, and sometimes beyond.
Now, the overcrowded hospitals face a crisis because they are losing employees and struggling to replace them after the COVID-19 pandemic led to outbreaks in the state institutions, killing 25 patients and two employees, including one at Central State Hospital near Petersburg.
On Friday, Alison Land, commissioner of Virginia's behavioral health department, temporarily halted admissions at Central State — which had more patients than beds that day — and Piedmont Geriatric Hospital in Nottoway County, Eastern State Hospital near Williamsburg, Western State Hospital in Staunton and Catawba Hospital near Roanoke.
Land said that in addition to being overcrowded, the hospitals' lack of adequate staffing posed a danger to patients and employees, with 63 serious injuries reported in the hospitals since July 1.
In addition to the five hospitals, the Commonwealth Center for Children and Adolescents in Staunton is operating just 18 of its 48 licensed beds, even though it is the only state-owned facility in Virginia for minors. The hospital had a 35% staff vacancy rate last month, according to a presentation by Land to the Senate Finance and Appropriations Committee.
In a letter to Land and Secretary of Health and Human Resources Dan Carey on Saturday, Connaughton pledged the support of private hospitals in helping the state cope with the crisis.
"As our members have done and continue to do during the unprecedented COVID-19 pandemic, we stand ready to assist Virginians with their medical needs," the association president said.
Connaughton, a former state secretary of transportation, said the use of federal money under the American Rescue Plan Act to pay for staffing at private psychiatric facilities would "provide immediate interim relief and reduce pressure at the state facilities."
Gov. Ralph Northam and assembly budget leaders have already committed to using a portion of the $4.3 billion that Virginia received under the federal emergency aid package, which President Joe Biden signed on March 11. Northam called the legislature into a special session on Aug. 2 to determine how to spend the money, as required under the current two-year budget.
The Department of Behavioral Health and Developmental Services has asked for more than $300 million in rescue plan money over four years to raise salaries for staff at the hospitals and other state behavioral health institutions.
The agency also has asked for $24 million over four years to improve security for patients and employees at the institutions and $4.1 million in this fiscal year to replace lost revenue at the Commonwealth Center in Staunton.
"We understand that time is of the essence and this crisis requires immediate action," Connaughton said.