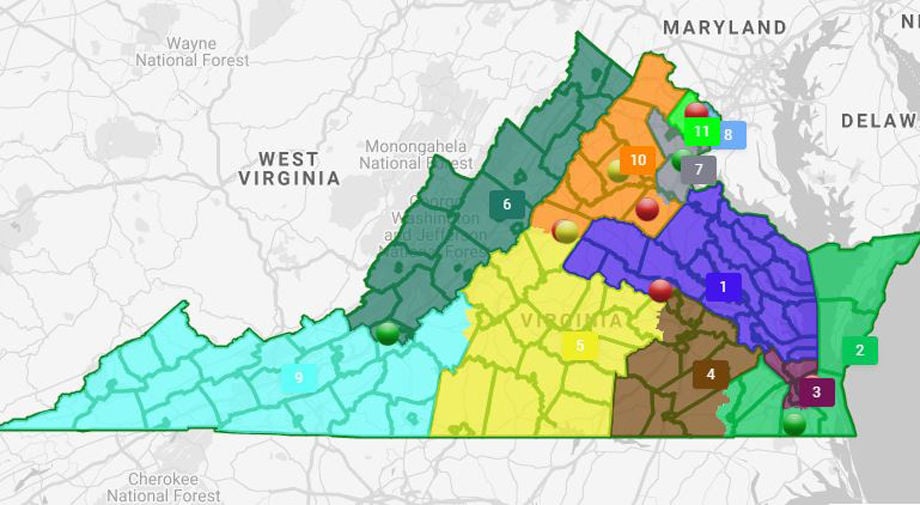 A proposed map of Virginia's congressional districts has prompted a flurry of campaign announcements, and criticisms that the newly drawn districts would primarily disadvantage female incumbents.
The most jarring change in the map is the vanishing of the 7th Congressional District from the Richmond area, which would leave Democrat Rep. Abigail Spanberger with no obvious seat in which to run for re-election.
The map appears to have made two other seats more Republican: those belonging to Reps. Elaine Luria, D-2nd, and Jennifer Wexton, D-10th. Luria, like Spanberger, already faced a tough re-election fight. Wexton's district, which she carried in 2020 by 13 percentage points, would become among the state's most competitive.
Luria's district, based in Virginia Beach, already one of the state's most competitive, would lose its portion of Norfolk and gain part of Chesapeake, among other changes. Wexton's 10th District would now stretch from Albemarle County north through Fauquier to Loudoun County.
The three women in Virginia's congressional delegation "now have either been written out of their seat or now have their seats in jeopardy," said Virginia political analyst Bob Holsworth.
Rep. Morgan Griffith, R-9th, also appears to have been drawn out of his Southwest Virginia district, but because members of Congress are not required to live in their district, and he remains in close proximity, he likely faces better odds than Spanberger of being re-elected.
The maps don't appear to be overly partisan, according to political analysts and at least one academic analysis. The Princeton Gerrymandering Project gave the map a top grade, with an A for partisan fairness.
In a normal year, Democrats would have a 6-5 majority in the congressional delegation, according to the experts who drew the map for the Virginia Supreme Court.
Democrats' current 7-4 advantage would mark a good year, and would likely have been cemented if Democrats had not ceded control of the redistricting process to the new Virginia Redistricting Commission and now the state Supreme Court.
The creation of the new proposed 7th District anchored in Prince William County immediately prompted jockeying among a slew of the county's Democrats. Former Del. Jennifer Carroll Foy, Del. Elizabeth Guzman and state Sen. Jeremy McPike all had showed interest in the seat.
The new 7th District likely would be a safe Democrat seat, and would have the third-largest percentage of voters of color among the state's U.S. House districts.
Spanberger has remained silent on the draft proposal, which would need the court's approval in order to take effect.
The proposed map would transform two of Spanberger's strongholds. Western Chesterfield County would move into the 5th District, now represented by Republican Rep. Bob Good. Western Henrico County, where Spanberger lives, would move into the 1st District, represented by Republican Rep. Rob Wittman.
Eastern Chesterfield and eastern Henrico would remain in the 4th District, represented by Democrat Don McEachin.
The vanishing of the Richmond-area 7th District quickly scrambled the developing Republican primary field for that seat.
State Sen. Bryce Reeves, R-Spotsylvania, announced enthusiastically late Wednesday that he would run in the new 10th District, seeking the Republican nomination to run against Wexton.
Taylor Keeney, a former aide to Gov. Bob McDonnell and who lives in Goochland County, said that if the map holds, she would not run against Wittman in a GOP primary.
"I have told Congressman Wittman I will help him with anything he needs for his re-election," she said.
Other Richmond-area GOP hopefuls were more cautious. Del. John McGuire, R-Goochland, and the campaign of Tina Ramirez said they would wait until the lines are final to announce a decision. Sen. Amanda Chase, R-Chesterfield, said she, too, would wait to make a decision, but noted that she would not challenge Good in the 5th District.
Princeton gave the map average "C" marks for competitiveness and for compactness, meaning the maps don't needlessly split communities. But, a significant feature of the proposed map is that it splits the Richmond area into three different congressional districts, and if all incumbents — Good, Wittman and McEachin — win re-election, then only McEachin would live within the Richmond metro area, one of the state's most populous city centers.
Holsworth said the proposed map fails Richmond's suburbs. "If you talk about keeping communities of interest together, Chesterfield, Henrico were simply eviscerated in this map," he said.
Under the proposed map, Wittman, who lives in the Northern Neck, would represent western Henrico as well as Hanover, in a district that would stretch from Zion's Crossroads to Williamsburg.
Chase would be in a new 5th District with Good, who would claim a swath of western Chesterfield including Bon Air and Midlothian. Chase said in a Facebook post: "Bob Good is doing a good job and shouldn't be challenged."
In an interview, Chase said the map needlessly dices up the Richmond area, and she urged the court to scrap it.
"My biggest concern with this map is the complete lack of community interest," she said. "I live in western Chesterfield; what do we have in common with Lynchburg?"
(804) 649-6254
Twitter: @MelLeonor_
(804) 649-6964
Staff writer Andrew Cain contributed to this report.