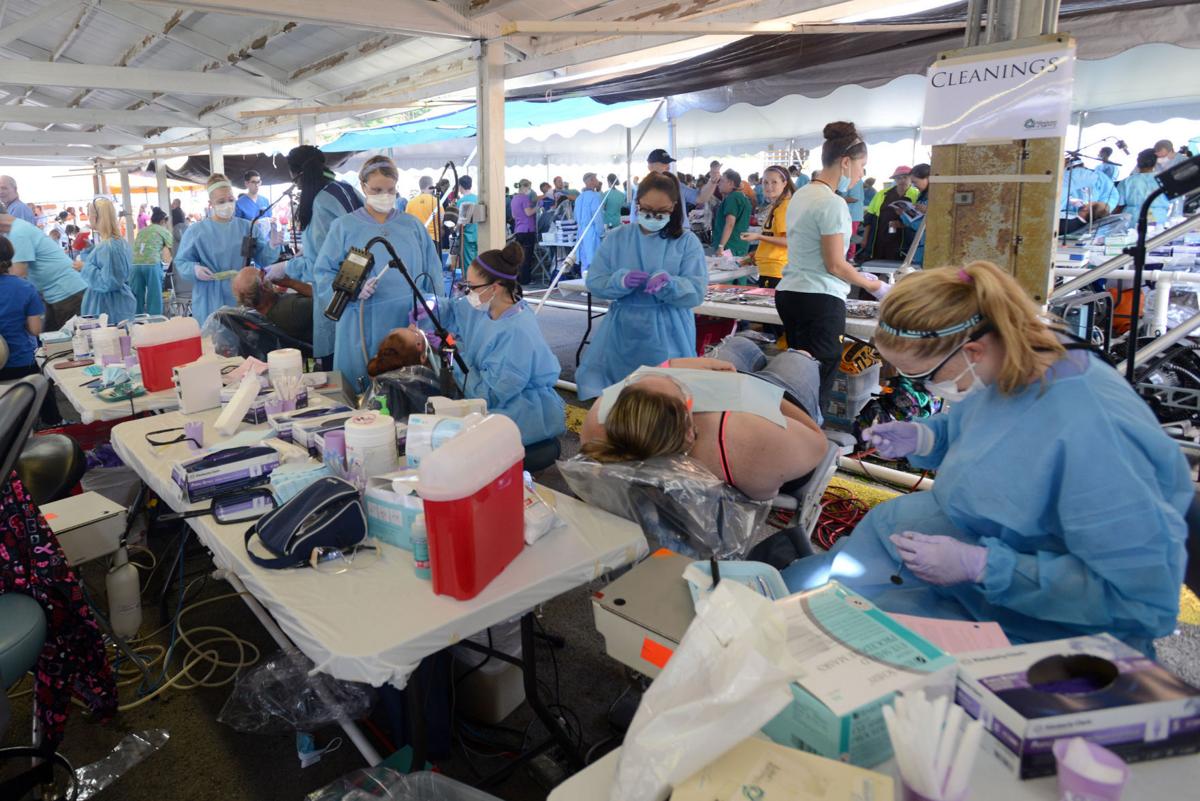 Dr. Cynthia Southern expects the phone to ring often in her Pulaski County dental office beginning next Thursday, when Virginia expands its Medicaid program to provide a comprehensive dental benefit to poor adults.
More than 750,000 Virginians will become eligible for a benefit that the state believes will transform their health, help them land jobs and make eating a pleasure again.
"A lot of people in our area are going to use that benefit," said Southern, whose practice in the town of Pulaski serves not only the county, but also surrounding jurisdictions in the mountains of rural Southwest Virginia about 50 miles south of Roanoke. "I think it's a pretty big problem."
The benefit will begin on July 1 as part of a two-year state budget that includes $35 million in state and federal funds to provide a wide range of dental care to adults for the first time, including checkups three times a year to prevent oral disease that can lead to bigger medical problems elsewhere in the body.
"To the people who need it, it's a real breakthrough," said Del. Mark Sickles, D-Fairfax, vice chairman of the House Appropriations Committee and a longtime advocate for expanded Medicaid health coverage in Virginia.
Thirty months ago, Virginia expanded its Medicaid program, also through the state budget bill, which makes law as well as spends money.
Now, more than 558,000 people — many of them low-income parents — receive health care coverage because of expanded eligibility for a safety-net program that serves more than 1.8 million Virginians.
"I feel really good about where Virginia is right now," said Jill Hanken, a leading Medicaid advocate who is retiring on July 1 from her role as senior attorney at the Virginia Poverty Law Center in Richmond.
For low-income adults, the ability to get dental care is life-changing, Hanken said. "It can often make a difference whether people can get back to work — smile and engage with their customers. It can make a huge difference in their lives."
But the benefit — added to a program that already pays for dental care for children and pregnant women — will require dentists to step up in a big way to address a potentially enormous public demand with a small payoff for the care they provide.
"I think it's going to be hard for dentists to handle all the need," Southern said. "To be honest, the reimbursements under Medicaid are really low."
Still, about 1,500 dentists have committed to serving adults under the Medicaid benefit, with strong encouragement from Gov. Ralph Northam.
The governor, a physician, wrote to the Virginia Dental Association as a "fellow provider" in late March to urge dentists to participate in providing care that has become more urgent during the COVID-19 pandemic that began more than 15 months ago.
"As we have learned during this unprecedented crisis, access to health care requires partnership and collaboration," Northam said in the March 30 letter. "We cannot achieve this historic expansion in oral health care services alone."
State Medicaid officials think they will have enough providers, but Ryan Dunn, executive director of Virginia Dental Association, said, "I do think we will need more dentists."
Currently, about 2,000 dentists provide dental services through Medicaid. To get more to participate in the new program, Dunn said the state needs to raise reimbursement rates for their services "across the board."
Virginia began providing pediatric dental care to children through Medicaid in 2005; 10 years later, then-Gov. Terry McAuliffe expanded the service to pregnant women.
Medicaid serves more than 25,000 pregnant women and 776,000 children. As many as 27% of eligible women have used the benefit in a single year, and more than half of children from 3 to 20 years old received pediatric dental care through the program in the fiscal year that ended a year ago.
But the only access to dental care for adults in Medicaid has been through hospital emergency rooms, where the link between oral and general health is painfully clear.
"Oral health care is the gateway to other health conditions," said Karen Kimsey, director of the Virginia Department of Medical Assistance Services, which administers the state Medicaid program.
Poor dental care also raises other barriers to a healthy productive life, Kimsey said. "We had an individual who could not apply for jobs because he had no front teeth."
For adults, this will be the first opportunity to receive "integrated care" that meshes medical and oral health, said Sarah Bedard Holland, CEO of Virginia Health Catalyst.
Currently, Medicaid will pay only for emergency tooth extraction for adults. "You can get your tooth removed if it's so infected it will kill you," Holland said.
The new program will pay for periodic teeth cleaning and preventive care, X-rays and examinations, cavity fillings, dentures, root canal and oral surgery, and treatment of gum-related conditions.
"It's not only going to be comprehensive, it's going to be system-changing as well," she said.
Southern said she served children since she began her dental practice 21 years ago, both through Medicaid and, before that, "out of the goodness of my heart."
"They couldn't help it if they were on Medicaid," she said.
Adults are a more difficult challenge.
"When you get into adults who haven't have dental care for years, you're going to have complicated medical conditions," Southern said.
Secretary of Health and Human Resources Dan Carey has seen the medical complications of poor dental health during his career as a cardiologist in Lynchburg and as a volunteer in the Remote Area Medical clinic in Wise County in 2018 and 2019.
The first time, before Virginia expanded its Medicaid program on Jan. 1, 2019, he said the medical side of the annual clinic was as big as dental care. By the next summer, he said the need for medical attention had subsided, but not for oral health care.
"It was just so clear to me," Carey said. "I can't think of a better example of how we expanded Medicaid and helped so many people."
In 2019, the Mission of Mercy volunteer program run by the Virginia Dental Association Foundation treated more than 900 people at the RAM event in Wise.
"I think generally dentists have a great big heart and they go out of their way to help people," said Dr. Bill Dabney, an orthodontist in Midlothian.
"If you can't bite into a sandwich, eat a meal comfortably, life is miserable," Dabney said.