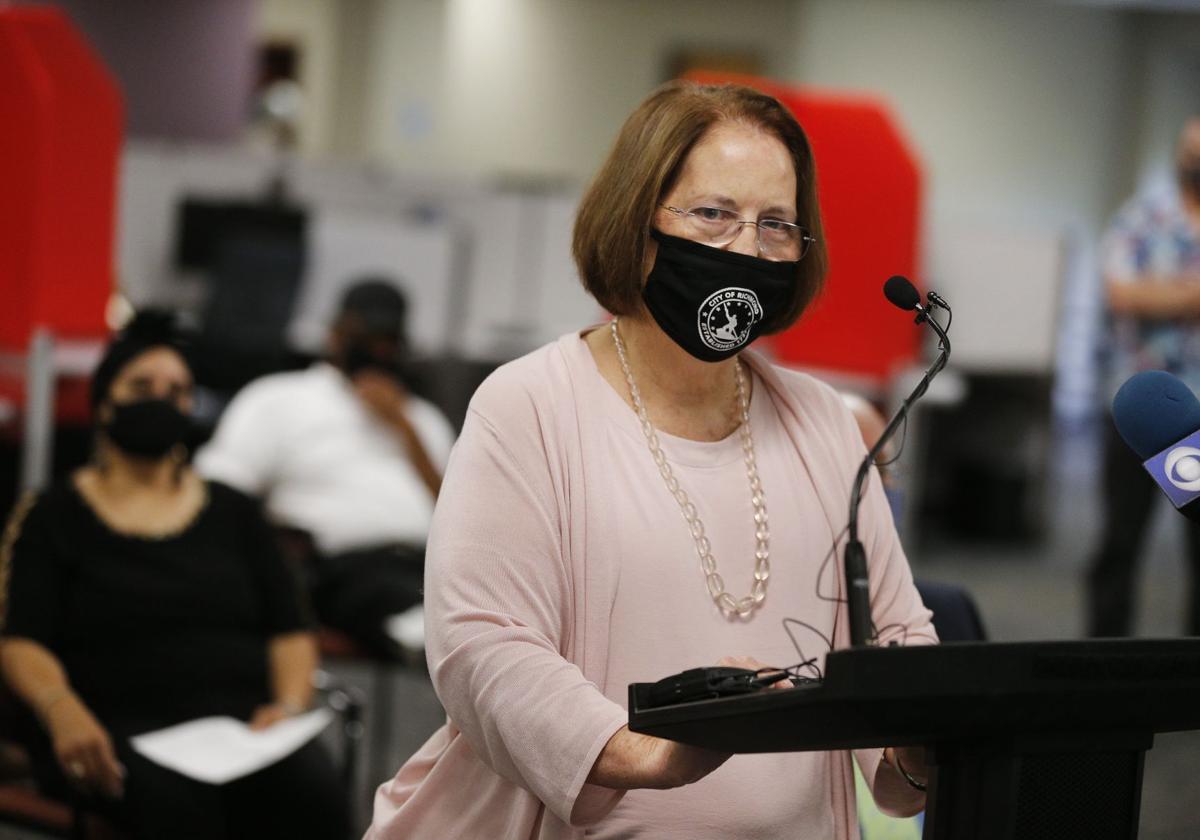 A jammed printer used to label absentee ballot packets in Henrico County and a separate rush to get ballots out in time in Richmond resulted in about 400 local voters receiving duplicate ballots in the mail.
The duplicate ballots won't lead to anyone being able to vote twice, thanks to a program that records when a registered voter has cast a ballot and prevents them from doing so again, local election officials confirmed Monday.
Combined with an earlier case in Fairfax County, the errors mark three instances of voters receiving duplicate ballots in Virginia this election cycle — a time of high interest in absentee voting due to COVID-19. President Donald Trump has fueled skepticism around the security of the election as he seeks a second term.
In Richmond, General Registrar J. Kirk Showalter said that due to delays caused by a legal dispute between the state and artist Kanye West, who had mounted an independent bid for president, election workers were working against the clock to get ballots mailed out, resulting in some 300 voters receiving duplicate ballots.
The legal case led to the removal of West's name from the list of presidential candidates on the Virginia ballot, which delayed the printing of ballots in some localities.
"In my office's enthusiasm to make sure every voter got a ballot, they made sure a few voters got two ballots. It was a matter of an extra set of labels being printed," Showalter said in an interview. "We apologize to anyone who got more than one."
Showalter said most voters who received duplicate ballots were in the city's 302 Precinct, which covers parts of the Ginter Park and Edgewood neighborhoods, and some in the 7th District, which covers seven precincts in the city's East End, including the Shockoe Bottom, Church Hill and Creighton neighborhoods.
In Henrico, General Registrar Mark Coakley explained that when a printer used to make labels for absentee ballot packets became jammed, election workers restarted a run of the batch, mistakenly reprinting about 100 labels.
The duplicate ballots were mailed out on Sept. 17 or 18, and received in recent days, Coakley said.
Voters who received the ballots are being asked to return unmarked duplicates to their local elections office in person or via mail. Coakley said voters in Henrico may also destroy their own duplicate at home, if they feel comfortable doing so.
"We would prefer it come back to us," Showalter said of any duplicate Richmond ballot.
Showalter and Coakley said each ballot label has a barcode tied to the registered voter. If both ballots were cast, the program that records votes would flag the second ballot processed as a duplicate.
Last week, election officials in Fairfax County acknowledged that at least 1,400 voters had received duplicate absentee ballots, according to multiple media reports. Election officials there said problems also resulted from a printer error that prompted workers to run a second batch of labels, without first excluding successfully printed ones.
Trump made a reference to the Fairfax error during a campaign rally in Newport News on Friday night, his first formal campaign appearance in the state this year.
"People in the Democrat area got two ballots instead of one," Trump said. "The only way we're going to lose is if there's mischief. It'll have to be on a big scale, so be careful. And we do want a very friendly transition. But we don't want to be cheated and be stupid."
Trump also made reference to the discovery of several military absentee ballots supporting him that were found in a trash can at a Pennsylvania elections office, mistakenly claiming the incident took place in Virginia.
Coakley said his office immediately notified state election officials of the error, and apologizes for any confusion.
"We understand this is a sensitive topic. We take it with the utmost seriousness while correcting the situation," he said.
For the first time, Virginians eligible to vote in a general election will be able to request and cast absentee ballots without citing a state-approved excuse, like travel or illness. Virginians can apply to vote absentee by mail through the Department of Elections website at vote.elections.virginia.gov.
The last day to request an absentee ballot is Friday, Oct. 23, at 5 p.m. Absentee ballots submitted by mail must be postmarked by Election Day, Nov. 3, and received by noon on Nov. 6 to be counted. Absentee ballots can also be dropped off in person at a registrar's office or satellite voting location between now and the end of the day on Election Day, excluding the Sunday and Monday before the election.
(804) 649-6254
Twitter: @MelLeonor_