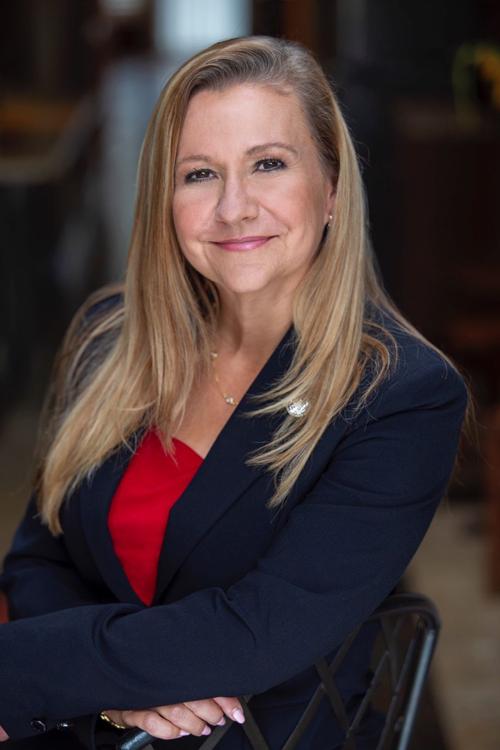 State Sen. Amanda Chase, a top Virginia supporter of former President Donald Trump who sought the GOP nomination for governor, formally announced Wednesday that she will seek the party's nomination for Congress in the 7th District.
Chase, who calls herself "a maverick for the people," opposes COVID-19 vaccine mandates and has made unfounded assertions that Democrats sought to steal the 2020 election from Trump.
She joins a handful of Republicans seeking the chance to run next year against Rep. Abigail Spanberger, D-7th.
"I want to make sure we win back the 7th District," Chase said in a brief telephone interview Wednesday.
Chase, who is about to begin her seventh year representing Chesterfield in the state Senate, said she knows the area well, from growing up in Bon Air, raising her family in the county, serving in the Senate and helping Republicans Eric Cantor and Dave Brat win elections in the 7th District and Randy Forbes in the 4th.
"I have a history of winning," Chase said, citing her two successful state Senate campaigns. She finished third for the GOP nomination for governor.
Chase noted that, like Spanberger, she is "a suburban mom," and Chase said she has "a voting record that people can trust."
As in Glenn Youngkin's successful campaign for governor, Chase said education issues, from parents' rights, to school choice, will be a key emphasis. Chase has four grown children and was a homeschooling parent for eight years.
Parents "do not want the government to raise their kids," Chase said. She added: "Government has abused the relationship" with parents "under the guise of COVID."
Chase said she will continue to fight COVID vaccine mandates, saying no breadwinner "should be coerced into taking this vaccine" in order to keep a job.
Chase says she also will push for border security, term limits and a balanced budget amendment.
Chase also is portraying herself as a defender of constitutional rights, from gun rights to free speech. Facebook suspended and then removed Chase's Senate Facebook page following the Jan. 6 insurrection at the U.S. Capitol. Among Chase's posts were assertions that the election was stolen and that Antifa was "the culprit" in the insurrection.
Chase spoke at a Jan. 6 rally in Washington to support Trump, but left before the violent assault on the Capitol. She was later censured by the Virginia Senate for what it termed a pattern of "unacceptable conduct."
Virginia's upcoming congressional contests include a major uncertainty. As Virginia's Supreme Court justices prepare to redraw the state's congressional boundaries, it's not clear what the 7th District will look like.
Chase said that in a GOP field of more than half a dozen hopefuls, candidates can't wait for the lines to be finalized to get a campaign up and running. She noted that members of the U.S. House are not required to live in the districts they represent.
Among the other GOP hopefuls who have announced for the seat are state Sen. Bryce Reeves, R-Spotsylvania; Tina Ramirez, a Chesterfield County businesswoman who sought the nomination unsuccessfully two years ago; and Taylor Keeney, a former gubernatorial press secretary.
(804) 649-6645
Twitter: @AndrewCainRTD