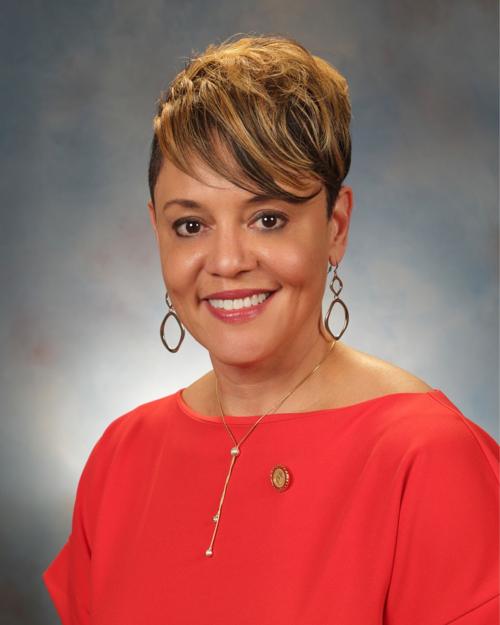 President-elect Joe Biden has chosen Jewel Hairston Bronaugh, Virginia commissioner of agriculture and consumer services, to serve as deputy secretary of agriculture in his administration.
Bronaugh, a former agriculture dean at Virginia State University, would become the first African American to serve in the position.
Her appointment could help Biden overcome public reservations that Black farmers expressed over his appointment of Tom Vilsack as agriculture secretary, the same role the former Iowa governor held for two terms under President Barack Obama.
Gov. Ralph Northam, who appointed Bronaugh as state agriculture commissioner in May 2018, said she has been "a true leader — promoting the agency's core mission while taking on new challenges, including our COVID-19 pandemic response and farmer mental health, focusing economic development to improve food access in underserved communities, and engaging youth in the field of agriculture."
Her appointment is the most prominent of Virginians with Richmond-area ties picked by Biden and Vice President-elect Kamala Harris for jobs in the administration that will take power on Wednesday.
Former Mechanicsville resident Shuwanza Goff has been named deputy director of the White House Office of Legislative Affairs, a key role for the president-elect in guiding his legislative priorities through Congress.
Lawrence Jackson, a Richmond native, has been chosen as the official photographer for Harris, who will become the first woman and person of color to serve as vice president.
Goff, 36, has worked for 12 years for House Majority Leader Steny Hoyer, D-Md., including seven as his director of House floor operations, the first African American in that role. A graduate of St. Gertrude's High School in Richmond, she will work in the White House as the primary liaison between Biden and the House.
Democrats hold a majority in the House and a working majority in the equally divided Senate, with Harris breaking tie votes as vice president.
"It's unified government now," she said in an interview on Monday. "Obviously, there are a lot of challenges that need to be addressed."
Hoyer said Monday, "Shuwanza's deep knowledge of the legislative process will be an invaluable asset to the Biden-Harris Administration as they work with Congress to enact legislation that addresses the challenges facing the American people."
Rep. Donald McEachin, D-4th, said Goff has "done exceedingly well" in her work for Hoyer and is confident she will do the same for Biden.
"He couldn't have picked a better person to come in and hit the ground running on day one than Shuwanza," McEachin said.
Her parents, both retired, live in the Mechanicsville area, where they moved from the Bronx borough of New York City when she was 11. "I still consider Richmond home," she said.
Jackson previously worked as a staff photographer in the White House under Obama, but began his career as a photo intern at the Richmond Times-Dispatch and then became a staff photographer at The Virginian-Pilot in Norfolk, where he worked from 1991 to 2000 before working for The Associated Press from 2000 to 2009.
"Great shooter, nice guy," said Bob Brown, senior photographer at The Times-Dispatch. "He'll do a super job of recording some serious history!"
Bronaugh served as executive director of the Virginia Farm Services Agency for the U.S. Department of Agriculture. She also is the former dean of the VSU College of Agriculture and executive director of the Center for Agricultural Research, Engagement and Outreach at the historically Black university in Ettrick in Chesterfield County.
VSU President Makola Abdullah said he is "exceedingly pleased and excited" about her appointment as deputy secretary, subject to Senate confirmation.
"Dr. Bronaugh brings an unparalleled skill set and an abundance of knowledge to this critical position," Abdullah said. "We look forward to supporting her and working with her to meet the challenges and opportunities of the 21st century."
As state agriculture commissioner, Bronaugh created the Farmer Stress and Mental Health Task Force to help farmers and their families. She also helped to create the Virginia Food Access and Investment Fund Grant Program to find ways to expand access to grocery stores and sources of healthy food in historically underserved communities.
She also helped to establish the Southern Association of State Departments of Agriculture Career Development Scholarship Program to give minority students opportunities to study national agricultural policy development.
The Virginia secretary of agriculture and forestry, Bettina Ring, said Bronaugh has done "an outstanding job" in advancing the interests of agriculture, still the state's top industry.
"There is no question she will serve our great nation with distinction," Ring said.
John Boyd, president of the National Black Farmers Association, called Bronaugh's appointment a "historic moment in the history of the USDA. We hope she will use her knowledge of the department to level the playing field for NBFA members as well as other minority and small scale farmers and to end the culture of discrimination at the USDA."