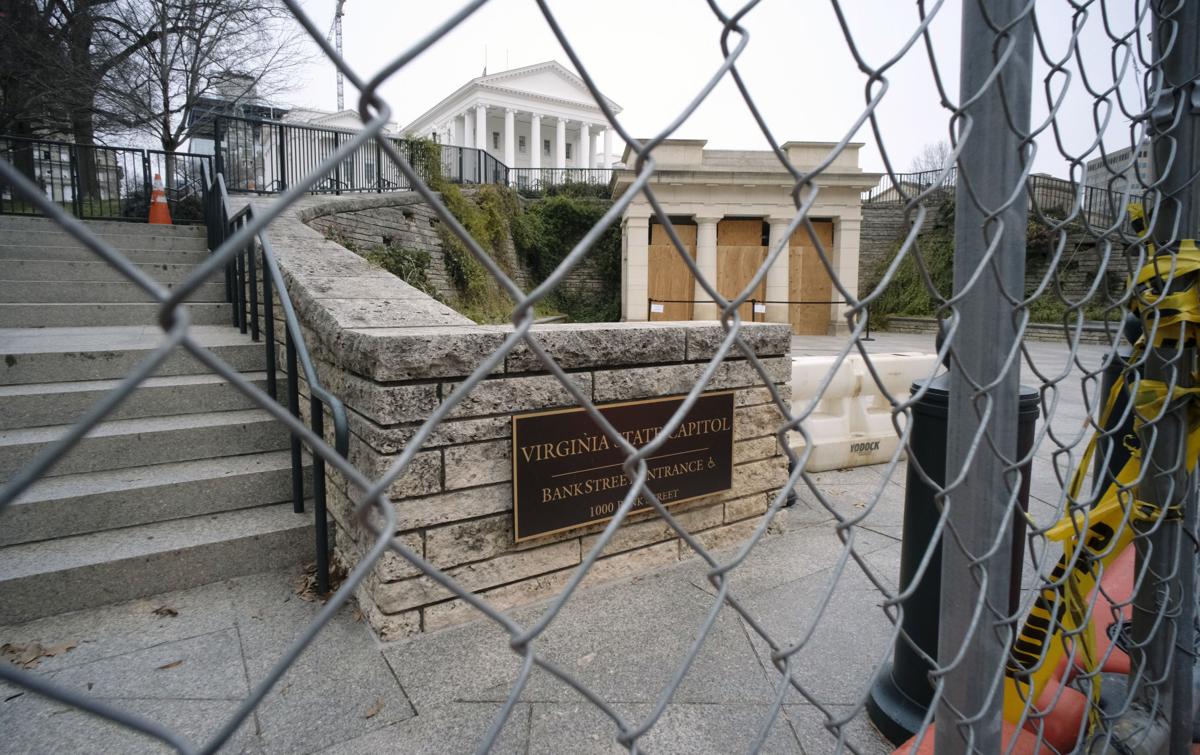 Virginia officials moved to shut down Capitol Square and curtail public demonstrations during Lobby Day next week as the state girds for potential armed protests in the seat of government with the approach of President-elect Joe Biden's inauguration on Jan. 20.
The Department of General Services, the state agency that manages the Capitol complex, said Tuesday that it has denied requests by four groups that had planned to gather on Capitol Square on Monday, the traditional Lobby Day for the General Assembly, which this year falls two days before Biden's inauguration.
The four groups that were denied permits are: the Virginia chapter of Care in Action, which represents domestic workers; the Virginia Center for Public Safety, which seeks to reduce gun violence; and the progressive public interest organizations Progress Virginia and New Virginia Majority.
"Efforts by our agency and our law enforcement partners to prepare for reported civil unrest in the coming days mean resources that would have been available to accommodate those events will be dedicated to other areas," Dena Potter, spokeswoman for the general services department, said Tuesday.
"Additionally, we will close Capitol Square in the coming days as we take steps to secure the grounds," Potter said. "We work closely with our law enforcement partners on all matters concerning security in and around Capitol Square, and as stewards of these historic grounds we feel it's important to be prepared."
State officials and law enforcement agencies said they are bracing for potential unrest because of warnings the FBI issued on Monday and Twitter issued last week that armed protests could be planned outside of state capitol buildings, as well as the U.S. Capitol.
A mob of supporters of President Donald Trump stormed and ransacked the U.S. Capitol on Jan. 6 as Congress was preparing to certify Biden's electoral victory despite the president's vehement objections.
"Frankly, at this point, we're on high alert from now right up to Inauguration Day," Secretary of Public Safety and Homeland Security Brian Moran said Tuesday.
Moran said the alert includes Sunday, which Twitter specifically cited in a notice on Friday that it had permanently suspended Trump's account because of alleged violations of its "glorification of violence policy."
"Plans for future armed protests have already begun proliferating on and off Twitter, including a proposed secondary attack on the US Capitol and state capital buildings on January 17," the social media company said.
Virginia's Lobby Day coincides with the federal holiday for the birthday of the Rev. Martin Luther King Jr., which Virginia also observes. The day has become an opportunity for various public interest groups to converge on the General Assembly to lobby state legislators on public policies under debate in legislation or for funding under the state budget.
"It's disappointing that the permit was denied," said Ashleigh Crocker, communications director for Progress Virginia, "but we're not going to be intimidated by violent mobs."
Last year, an estimated 22,000 people attended a massive gun rights rally staged by the Virginia Citizens Defense League in response to proposals by Gov. Ralph Northam and new Democratic majorities in the House of Delegates and Senate to expand restrictions on firearms.
This year, however, all public gatherings would be limited to 10 people or fewer under the executive order issued by Northam last year to curb the spread of COVID-19. Both the Capitol and the Pocahontas Building, where legislators have their offices, are closed because of the pandemic.
The House of Delegates will meet entirely online during the session that convenes on Wednesday, but the Senate will meet at the Science Museum of Virginia on West Broad Street in Richmond.
Philip Van Cleave, president of the VCDL, told the group's members in November that the organization had been frozen out in seeking a permit for its annual gathering. By the time it requested a permit, he said, only 6 a.m. and 6 p.m. slots were available.
Potter confirmed Tuesday that the gun rights organization had requested a time slot "that had already been requested."
"DGS accepts applications in the order in which they were received and only permits one event for a given time," she said. "In the end, we were working with these four groups on how to allow their events to proceed while adhering to Executive Order 72, which limits gatherings to 10 people."
Instead of gathering at Capitol Square for Lobby Day, the VCDL plans to bring car caravans to Richmond on Monday from around Virginia. The organization says its four main caravans will start near Staunton, Fairfax County, Hampton and Emporia and that nine "sub-caravans" will be heading to Richmond from other localities around the state.
VCDL is telling its members who wish to stop and visit the downtown area, "You can be armed and carry a sign, as VCDL is not doing an event in Richmond." Among instructions to its members are not to block sidewalks or traffic and that: "If posted, Richmond government buildings and parks are off-limits."
On Saturday, the Virginia Prison Justice Network will hold its fourth annual rally as a car caravan that will circle the state Capitol. The focus of this year's rally is "the COVID-19 crisis in the state's prisons and jails."
Moran, the state secretary of public safety, said denial of the permits is "the right decision" because of the FBI warning about potential threats to state capitol buildings and the drain on law enforcement to also manage demonstrations around the Capitol.
"We're gathering and analyzing the information about what's relevant to us in Richmond," he said. "A lot of the information is directed toward the inauguration event."
However, Moran added, "Due to our proximity [to Washington, D.C.], that is relevant to our interests."