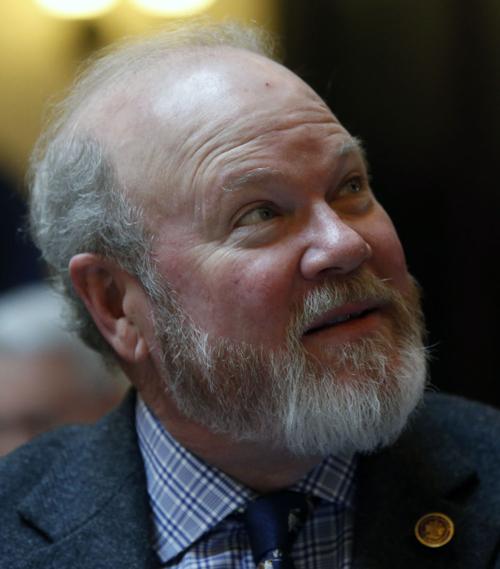 State Sen. Ben Chafin, R-Russell, died Friday from complications related to COVID-19, according to his legislative office.
Gov. Ralph Northam and the Virginia Senate Republican Caucus confirmed Chafin died Friday night. He represented a swath of far Southwest Virginia, including part of the New River Valley. He was 60.
"With the passing of Senator Ben Chafin, Southwest Virginia has lost a strong advocate — and we have all lost a good man," Northam said in a statement.
Northam has ordered that the Virginia state flag be lowered in Chafin's honor and remain at half-staff until sunset on the day of his interment.
While several other Virginia lawmakers have been diagnosed with COVID-19 since March, Chafin is the first to die from complications related to the coronavirus.
Chafin served in the House of Delegates for about a year before joining the Senate in 2014. He died less than two weeks before the start of the General Assembly's regular legislative session.
Chafin, an attorney who lived in Lebanon in far Southwest Virginia, and his family kept the information about the senator's diagnosis private for weeks.
Lawmakers and people in political circles heard about Chafin having the disease caused by the novel coronavirus in mid-December when he was hospitalized at VCU Medical Center in Richmond. His office did not respond to repeated requests from The Roanoke Times in December for information about his health.
Toward the end of December, a member of his church posted in a Facebook group that he was "suffering from complications due to COVID-19" and that his family was asking for prayers.
The Russell County Republican Committee posted on Facebook this week that Chafin had the coronavirus.
Chafin represented the 38th Senate District, which spanned from Montgomery County to Wise County. He was born and raised in Southwest Virginia, where he also ran a beef cattle farm.
He was elected to the House in 2013. He ran for the state Senate in 2014 in a special election to replace Democrat Phillip Puckett, who stepped down, resulting in Republicans taking control of the Senate.
Like others in the Southwest Virginia delegation, Chafin was an outspoken advocate for the region and efforts to rebuild the struggling economy.
"Ben loved life, his family, his work, and the people of Southwest Virginia, for whom he advocated tirelessly," said Sen. Todd Pillion, R-Washington, in a statement.
Del. Terry Kilgore, R-Scott, called Chafin a "true leader" who was a "strong advocate" for Southwest Virginia.
"Senator Ben Chafin was a great legislator as well as a friend," said Rep. Morgan Griffith, R-Salem, in a statement. "As a native of Southwest Virginia, he cared deeply for its people and was a tremendous advocate for them in the state Senate."
After years of opposition to expanding Medicaid coverage to low-income residents, Chafin was one of a handful of Republicans to break from his party to vote in favor of it in 2018. He said at the time that it was essential to ensuring that people in his economically distressed area had access to health care and to bolstering its hospitals.
As major green energy legislation moved through the legislature last year, Chafin helped tweak it so that the Virginia City Hybrid Energy Center would not be forced to close so soon. He said the coal- and biomass-fired plant was important for cleaning up waste coal in the region, and it provided valuable tax revenues.
"Ben was deeply and wholeheartedly committed to the commonwealth, and especially to the people of Southwest Virginia," said Senate Minority Leader Tommy Norment, R-James City, in a statement. "A community leader in Russell, Ben rose to prominence in the fields of law, banking, and agriculture long before his neighbors elected him to the General Assembly. First as delegate and then senator, Ben relentlessly promoted and fought for the interests and values of Southwest Virginia. He put the interests of those he was entrusted to serve first, cherishing the people of the region he proudly called 'home.'"
The Senate Democratic Caucus issued a statement Friday honoring Chafin.
"We grieve the loss of our colleague and friend, Senator Ben Chafin. He was a passionate leader who represented his constituents of the 38th District in Southwest Virginia with such compassion, strength, and thoughtfulness.
"Our thoughts and prayers are with Lora, their children, and all of those who knew Senator Chafin. He will be sorely missed by Senate Democrats and all Virginians."
Chafin is survived by his wife, Lora, and three children. His sister, Teresa Chafin, was elected to the Virginia Supreme Court in 2019.
He requested there be no formal burial service and asked that people make food bank donations in his memory to the Elk Garden School Community Ministry at 52 Hayters Gap Road in Rosedale. The food bank is affiliated with the Gracewood Community Church in Lebanon, where Chafin and his family attended since its founding in 2008.