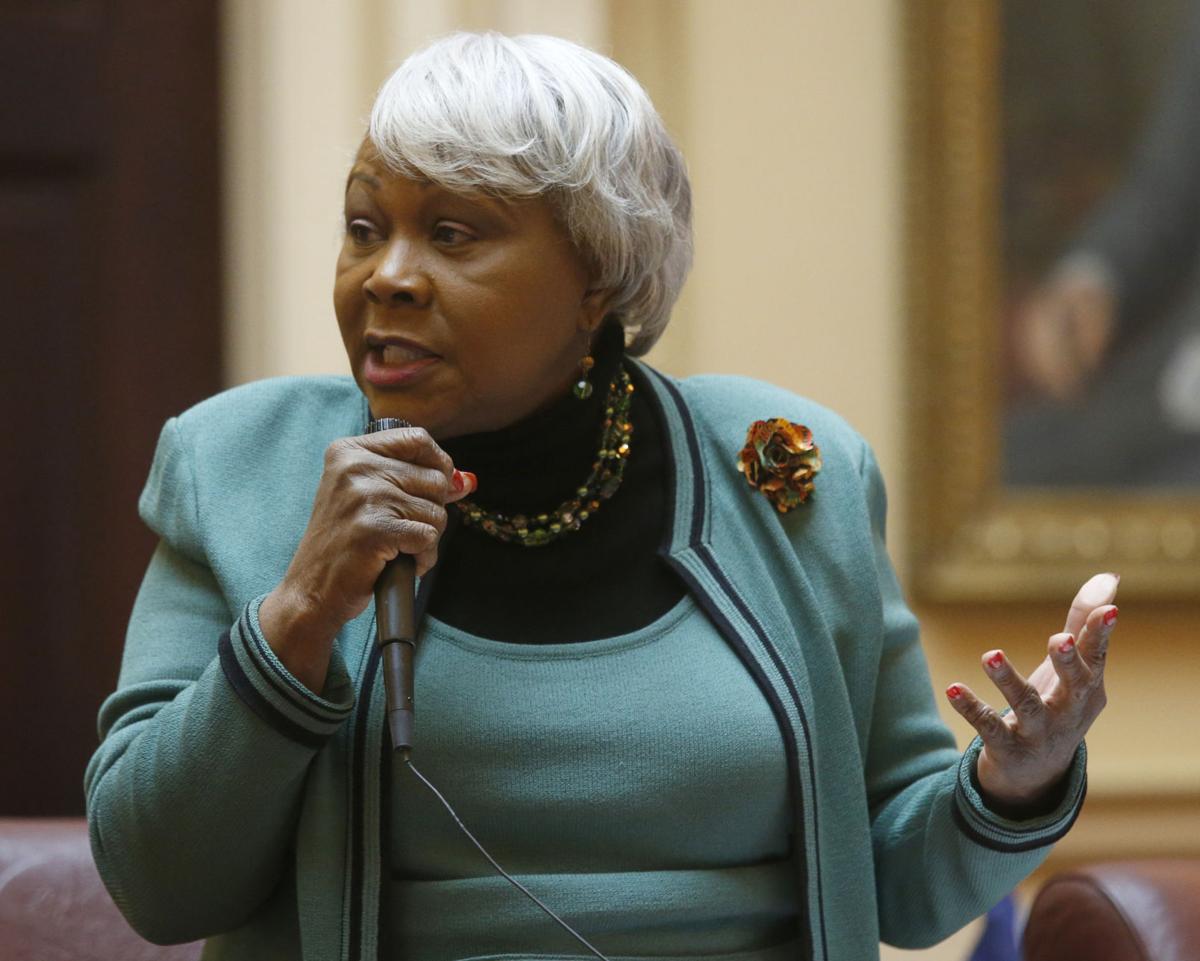 Sen. Louise Lucas, D-Portsmouth, is facing two felony charges over her role in the toppling of a Confederate statue in Portsmouth in June, police announced Monday.
Portsmouth Police Chief Angela Greene said the charges are the result of a weekslong investigation into the June 10 incident, which left a local man critically injured after the statue fell on him during a protest.
The charges against the high-profile lawmaker come a day before the start of a special session of the General Assembly on COVID-19 and police reform. Democrats hold a 21-19 edge in the Senate, and if Lucas is absent, it could threaten parts of the Democrats' agenda.
Lucas, a senator since 1992, is president pro tempore and presides over the Senate in the absence of the lieutenant governor.
Lucas and six others, including local NAACP leaders and a local school board member, were charged with conspiring to commit a felony, and felony injury to a public monument in excess of $1,000, Greene said Monday.
Greene did not expand on Lucas' role leading to the charges, but a video from the afternoon on June 10 posted on Lucas' Facebook page weeks ago shows the lawmaker saying before a group of officers that the monument is public property and that police cannot arrest protesters.
As for the people who were charged, Greene said: "I am asking for these persons to immediately turn themselves in to the Portsmouth Police Department."
Lucas, reached on her cellphone, did not immediately respond to a request for comment.
The statue of a Confederate soldier was part of a large monument in the city's Olde Towne neighborhood that became a gathering place for protests following the killing of George Floyd by Minneapolis police. The monument, which was damaged extensively by protesters, was erected in 1876 on a site that had been used to punish slaves.
The Portsmouth senator, a prominent member of the Virginia Legislative Black Caucus, is sponsoring key legislation on police and criminal justice reform, including a bill that would ban searches based solely on the perceived odor of marijuana, and traffic stops based on missing inspections and tinted windows.
Lucas has also said one of her top priorities is legislation that would empower the attorney general to investigate police departments for "patterns and practices" that "deprive persons of rights, privileges or immunities," according to the Senate Democratic Caucus' unified agenda for the special session.
Lucas said Friday during a conference that the bill was inspired by her efforts to have the federal government investigate one of her local police departments, though she didn't specifically name Portsmouth.
"For many months now, I have been waiting for a response from the Trump administration's Department of Justice to my request for an independent investigation into one of my local police departments," she said. "If the federal government isn't going to provide this oversight when police departments may be violating citizens' rights, then there needs to be a state backstop that can conduct these necessary investigations."
The charges are part of ongoing tensions among local leaders in Hampton Roads. Lucas in June asked for Greene's resignation. In an interview with Norfolk TV station WAVY, Lucas said the chief "abdicated her responsibility to maintain peace and failed to uphold the law" during the June 10 protests.
Separately, this summer Lucas faced an as-yet unsuccessful recall effort led by a Virginia Beach lawyer, Tim Anderson, who cited a June 10 video of her interaction with police and said Lucas "caused a mob to come out there and gave them permission to vandalize the property and that resulted in somebody getting seriously injured."
Lucas later filed a $20.7 million defamation lawsuit against Anderson, TV station 13 News Now reported.
The state Constitution gives legislators immunity from arrest beginning 15 days before a legislative session. But the immunity specifically does not apply to felony charges.
Democratic leaders appeared unified in support of Lucas, including Gov. Ralph Northam.
"It's deeply troubling that on the verge of Virginia passing long-overdue police reform, the first Black woman to serve as our [president] pro tempore is suddenly facing highly unusual charges," Northam tweeted. "[Sen. Lucas], I look forward to seeing you in Richmond tomorrow — so we can get to work."
The Virginia Legislative Black Caucus, headed by Del. Lamont Bagby, D-Henrico, issued a statement Monday condemning the "suspiciously timed and seemingly retaliatory actions by the Portsmouth Police" against Lucas.
"Adding to the suspicious nature of these charges is the fact that Sen. Lucas plans to patron a bill this special session that will strengthen the ability to independently investigate police departments statewide," the statement read.
Senate Democratic Caucus Chairwoman Mamie Locke, D-Hampton, called the charges a "thinly veiled attempt to intimidate and silence the most powerful Black woman in the Virginia legislature."
House Democrats echoed those sentiments.
"At a time when we're talking about the overstepping and abuse of power in the culture of law enforcement, this charge, and the timing of it, raises many questions. I unequivocally stand with [Lucas] — we see this for what it is!" said Del. Lashrecse Aird, D-Petersburg, on Twitter.
Del. Cia Price, D-Newport News, tweeted: "Tomorrow session starts where [Lucas] is President Pro Tempore in Senate, carrying 2 bills for #PoliceReform & serves as a budget conferee ... & they charge her TODAY with a felony against a MONUMENT?? This is not a coincidence. It's out of the same playbook from the '60s."
Del. Lee Carter, D-Manassas, said he had started to draft legislation that would eliminate from the state code damaging a monument as grounds for a felony.
Meanwhile, the Republican Party of Virginia on Monday called on Lucas to "turn herself in ... immediately," while the party's only declared candidate for governor, Sen. Amanda Chase of Chesterfield, called on Lucas to resign. "If she refuses, I will work hard with her constituents to support the effort to recall her from office," Chase said in a statement.
(804) 649-6254
Twitter: @MelLeonor_