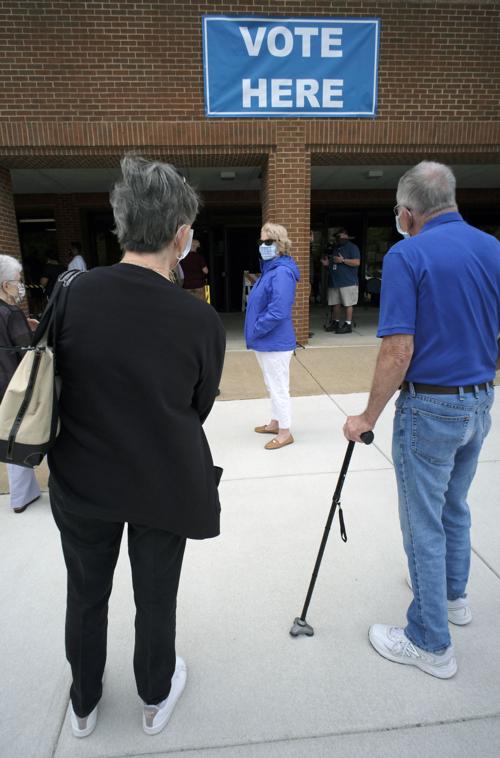 Tuesday is Virginia's voter registration deadline in a year in which about 1 million Virginians have already cast their ballots.
As of Sunday, 532,983 Virginians had cast ballots in person and 444,390 had voted by mail, according to the Virginia Public Access Project. An additional 642,687 mail ballots were still out.
That comes to 1.62 million Virginians who have taken steps to vote early so far, more than three times as many Virginians as voted early in all of 2016.
Michael McDonald, a University of Florida professor who is analyzing early voting nationwide at the U.S. Elections Project, says Virginia is part of an unprecedented surge in early voting fueled by the pandemic and changes to states' laws.
Virginia's Democratic-controlled legislature this year approved an expanded early voting window. It allows registered voters to vote early in person at their local registrar's office between Sept. 18 and Oct. 31. Voters no longer need to state a reason why they will be unable to vote in person on Nov. 3.
In an update he posted Sunday, McDonald, who previously taught at George Mason University, wrote that early voting "continues at [a] record pace," with at least 9.3 million Americans having voted so far, compared with 1.4 million at this point four years ago.
"The voting pace is truly remarkable, with five states already reaching 20% or greater than their 2016 total vote," he wrote, citing Virginia along with Minnesota, South Dakota, Vermont and Wisconsin.
In 2016, Virginia had about 5.53 million registered voters and 3.98 million cast votes in the election. This year, Virginia had 5.825 million registered voters as of Aug. 31.
Among Virginia's congressional districts, the 7th — where Democratic Rep. Abigail Spanberger and Del. Nick Freitas, R-Culpeper, are vying in a marquee U.S. House race — has had the largest gain in early voting to date.
That district has seen nearly 123,000 more early votes than in all of 2016, according to VPAP. It includes large swaths of suburban Chesterfield and Henrico counties, plus eight rural counties.
VPAP also calculated the potential absentee vote per precinct by adding the number of people who have already voted early to those who have not yet returned mail-in ballots and dividing the sum by the precinct's number of registered voters.
The resulting map shows that Virginia's surge in early voting is concentrated in the state's population centers that have fueled Democrats' dominance in statewide elections. Republicans have not won a statewide race in Virginia since 2009.
Virginians can register online through the Department of Elections website at elections.virginia.gov/citizen-portal. Applications also are available at registrars' offices and at certain state government outlets, such as Department of Motor Vehicles offices.
Registered voters who wish to vote by mail have until Oct. 23 at 5 p.m. to request an absentee ballot. Absentee ballots submitted by mail must be postmarked by Election Day, Nov. 3, and received by noon on Nov. 6 to be counted.
(804) 649-6645
Twitter: @AndrewCainRTD