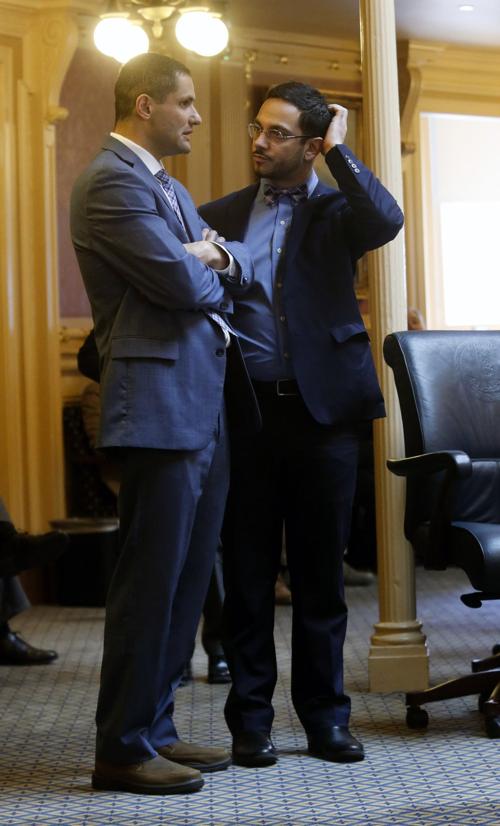 Two members of the House of Delegates took to Twitter on Saturday to rip a fellow Democrat who voted against a bill to end qualified immunity for police officers.
The House voted 48-47 Friday to defeat House Bill 5013, sponsored by Del. Jeff Bourne, D-Richmond, a measure meant to strip a doctrine that often is used to protect officers from lawsuits.
On Friday, Virginia delegates backed a number of police reform bills, including measures to ban police from using chokeholds or serve search warrants without police announcing their presence. While the special session was initially meant to review state revenues amid COVID-19, lawmakers have taken up a host of police reform measures amid protests following George Floyd's death in police custody.
Democrats cast the 47 votes in favor of Bourne's legislation. Five Democrats joined 43 Republicans in voting against the bill — Dels. David Bulova, D-Fairfax; Stephen Heretick, D-Portsmouth; Martha Mugler, D-Newport News; Ibraheem Samirah, D-Fairfax; and Shelly Simonds, D-Newport News.
Samirah said in a Facebook post on Saturday that since casting his vote he has been called "a performer" a "phony" and a "fake."
He said he supports ending qualified immunity, but that the bill had been watered down in committee and was "not as strong as it could be."
"Removing qualified immunity without also preventing law enforcement agencies on a local level from using taxes collected from all Virginians to protect law enforcement in lawsuits only makes the systemic problems of policing at the local level worse," Samirah said.
Bourne, the bill's sponsor, tweeted to Samirah on Saturday: "You knew the vote count before you voted NO. These issues/lives are not for games, like retweets or any foolish clown show."
Samirah said in his Facebook post that having voted on the prevailing side — to defeat the measure — he preserved the right to bring it up again.
He said he now plans to introduce an amendment that would make it illegal for all law enforcement agencies that are not under the state's direct supervision to use state funds to protect law enforcement "in legal proceedings of any kind."
Del. Schuyler VanValkenburg, D-Henrico, tweeted to Samirah on Saturday: "Translation: @IbraheemSamirah decided to grandstand so he could reintroduce a bill that will fail so he could grandstand some more. Meanwhile the substance is lost in all the videos, clicks and likes."
Three Democratic lawmakers abstained in Friday's vote: Dels. Kelly Convirs-Fowler, D-Virginia Beach, Cliff Hayes, D-Chesapeake; and Kaye Kory, D-Fairfax.
Del. Tommy Wright, R-Lunenberg, did not vote. One House seat is vacant. Former Del. Chris Collins, R-Frederick, resigned in June to accept a judgeship.
During Friday's debate, Del. Jason Miyares, R-Virginia Beach, said legislators "want to get rid of bad cops" but he said he was concerned that the bill would have an unintended consequence of "hurting the good cops."
Del. Jay Jones, D-Norfolk, speaking in favor of the bill, quoted an 1862 statement by President Abraham Lincoln: "The dogmas of our quiet past are inadequate for the stormy present."
Samirah is the delegate who shouted in protest during President Donald Trump's July 2019 speech in Jamestown commemorating the 400th anniversary of the General Assembly.
(804) 649-6645
Twitter: @AndrewCainRTD