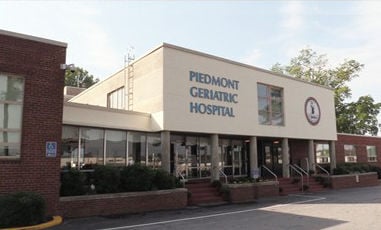 Two more patients have died of COVID-19 at Piedmont Geriatric Hospital, a state psychiatric institution in Nottoway County that has lost nine patients to the disease but appears to have the outbreak under control.
State behavioral health officials said Piedmont had no positive cases of COVID-19 among its employees or patients on Tuesday, but 13 employees and 21 patients have recovered from infection by the virus in an outbreak that began in mid-July.
Two patients infected during the outbreak died earlier this month — one on Sept. 2 and the other on Sept. 9. "They never completely recovered and passed away recently," said Lauren Cunningham, spokesperson for the Virginia Department of Behavioral Health and Developmental Services, which operates state institutions for people with mental illness, intellectual or developmental disabilities.
However, a COVID-19 outbreak has intensified at Commonwealth Center for Children and Adolescents, based in Staunton and the only state psychiatric facility for youth.
Currently, 12 of the 18 patients receiving treatment at the Commonwealth Center have tested positive for COVID-19, as have 25 employees. The shortage of healthy staff prompted the state to stop accepting admissions to the 48-bed hospital on Sept. 9.
"However, CCCA is equipped to manage and isolate some patients with less severe cases of COVID-19," Cunningham said. "To help the hospital reopen admissions on a more timely basis and to ease the burden on staff, [the state agency] is working with private providers to admit current nonpositive CCCA patients who are stable and appropriate for discharge to lower levels of care."
"CCCA is working with the local health department to control the outbreak and develop a plan to reopen admissions when it is safe to do so," said Cunningham, who added that the hospital is operating at about 38% of its capacity.
One state hospital employee has died of the disease. The employee, a nurse, worked at Southern Virginia Mental Health Institute in Danville.
The hospital had stopped admitting patients because of a COVID-19 outbreak in July, but resumed accepting patients on Aug. 20 under new safety protocol that requires them to test negative for the virus and quarantine for 14 days in a separate unit.
The state said that 12 patients and 10 staff at Southern Virginia Mental Health Institute have recovered from the virus. The institute incorrectly told employees in early August that if they tested positive for COVID-19, they would be required to work if they did not show symptoms of the disease. State behavioral health officials contradicted the guidance, first reported by the Danville Register & Bee, and the hospital reversed it.
The pandemic has affected 13 behavioral health institutions — nine mental hospitals, two training centers for people with severe disabilities, a medical center primarily for the disabled, and a rehabilitation center for civilly committed sex offenders.
In addition to Commonwealth Center, the worst current outbreaks are occurring at: Hiram Davis Medical Center outside of Petersburg in Dinwiddie County, with 14 employees and 10 patients infected with COVID-19; Central State Hospital, next to Hiram Davis, with 10 employees positive for the virus; and Northern Virginia Mental Health Institute in Falls Church, with 20 employees and one patient positive, according to the state's online COVID-19 tracking system for behavioral health facilities.
The system also reported a small number of active cases on Tuesday at Catawba Hospital in Salem, Western State Hospital in Staunton, and Southwest Virginia Mental Health Institute in Marion.