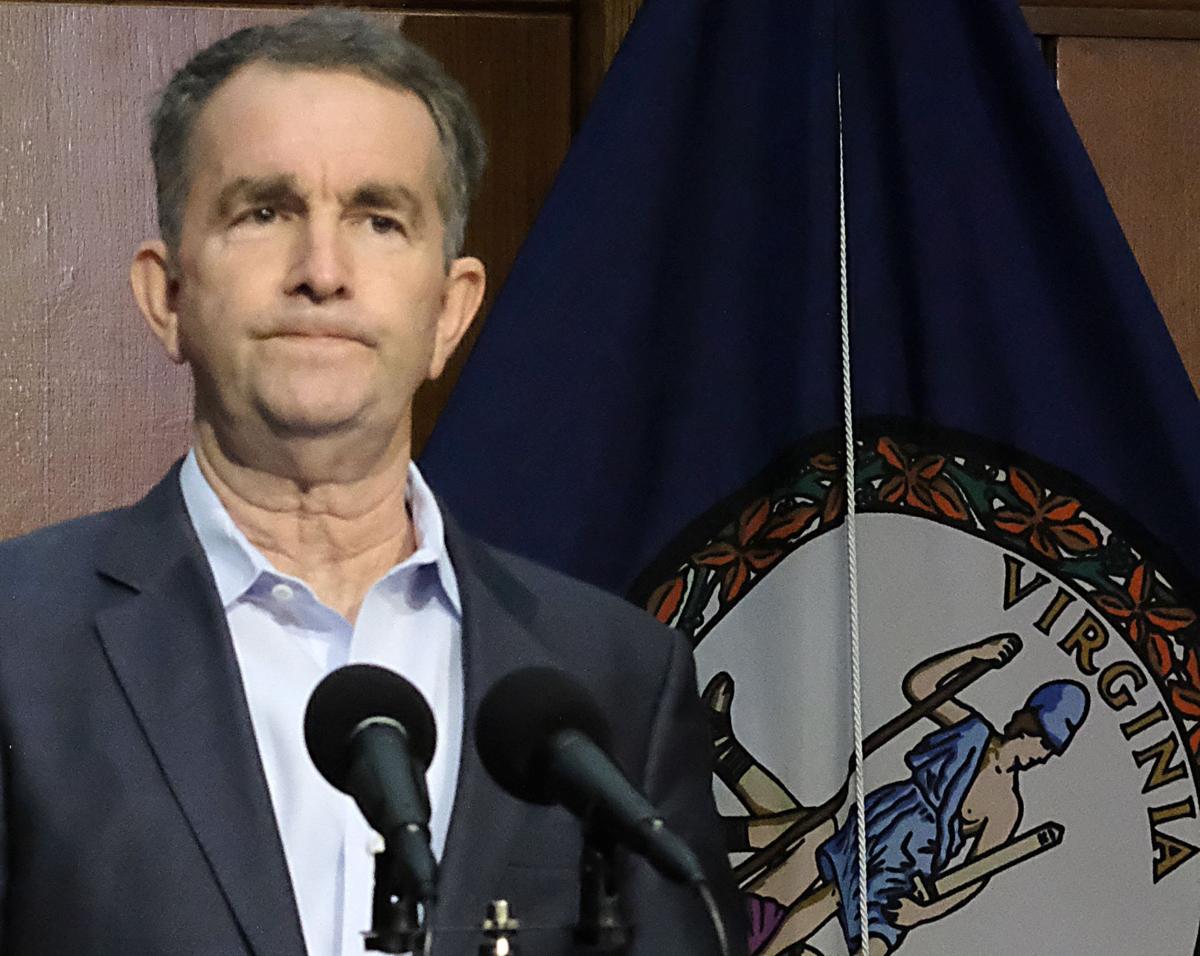 A traffic stop in Isle of Wight County more than four months ago has sparked a rising political furor in Richmond, prompting Gov. Ralph Northam to direct the Virginia State Police to investigate the conduct of two police officers in the town of Windsor who pepper-sprayed a U.S. Army officer whom they had stopped for a potential traffic infraction.
Northam ordered the state police investigation on Sunday, as Democratic elected officials and candidates called for Windsor police to be held accountable for what Black legislators described as "racist harassment and brutality" toward Lt. Caron Nazario, a Black and Latino officer who filed a federal lawsuit in Norfolk against the two officers last week.
In a statement on Twitter, the governor said the incident "is disturbing and it angered me," and invited Nazario to meet with him as part of an ongoing public and political dialogue about reforming laws governing police conduct.
"Our commonwealth has done important work on police reform, but we must keep working to ensure that Virginians are safe during interactions with police, the enforcement of laws is fair and equitable, and people are held accountable," Northam said.
Windsor said it asked for the state police investigation "and joins with elected officials who have called for a full and complete review of the action of these officers," according to a statement that Town Manager William Saunders released on Sunday.
The town police department already has conducted an internal investigation after the incident that found the officers had not followed department policy. The investigation resulted in disciplinary action and requirements for additional training, the town said.
"The Town of Windsor prides itself in its small-town charm and the community-wide respect of its police department," the town said in the statement. "Due to this, we are saddened for events like this to cast our community in a negative light."
"Rather than deflect criticism, we have addressed these matters with our personnel administratively, we are reaching out to community stakeholders to engage in dialogue, and commit ourselves to additional discussions in the future."
Col. Gary Settle, superintendent of Virginia State Police, communicated on Sunday with Northam and Windsor Police Chief Rodney Riddle.
"At Chief Riddle's request and the governor's directive, the Virginia State Police Bureau of Criminal Investigation is initiating a thorough and objective criminal investigation into the Dec. 5, 2020 traffic stop conducted by the Windsor police officers," state police spokeswoman Corinne Geller said Sunday night.
The political reaction was swift to a story published on Thursday by the Virginian-Pilot newspaper in Norfolk that described the confrontation between Nazario and the two town police officers, identified as Daniel Crocker and Joe Gutierrez, who has since "terminated from his employment," the town said.
The story was accompanied by a video recording by police body cameras that showed the officers accosting Nazario with guns drawn after pulling him over for driving a new Chevrolet Tahoe with no rear license plate, but a cardboard license plate posted on the rear window. The video shows an officer pepper spraying Nazario, who has his hands up.
Rep. Bobby Scott, D-3rd, said he was "horrified" by the video footage.
"This should have been a routine traffic stop and the video speaks for itself," Scott said in a statement on Saturday.
The congressman called for a federal investigation of the incident, and of the fatal police shooting of Virginia Beach resident Donovon Lynch last month. He urged the U.S. Senate to immediately pass police reform legislation that the House of Representatives already has approved in response to the killing of George Floyd in Minneapolis police custody last May.
"These dangerous and tragic events highlight why the House of Representatives passed the George Floyd Justice in Policing Act," he said.
The Virginia Legislative Black Caucus said Nazario's treatment by Windsor police underscores the need for Virginia to end sovereign immunity protections of police officers against civil litigation over their actions. The General Assembly passed a sweeping package of police reform legislation since Floyd's death, but did not adopt proposals to open police to civil liability for their actions.
"We must revolutionize police accountability here in Virginia," the caucus said in a statement on Saturday. "These officers must be investigated immediately and held accountable for their atrocious actions."
Northam has made a priority of redressing wrongs against African Americans since a scandal erupted two years ago over a photograph in his 1984 medical school yearbook that showed a man in blackface and another person in Ku Klux Klan attire. Northam initially apologized for the photograph and then denied he was pictured.
Last week, the governor endorsed his predecessor, former Gov. Terry McAuliffe, who is white, for the Democratic gubernatorial nomination in a primary contest that includes three Black elected officials as candidates.
The incident in Windsor prompted statements of outrage from the five Democratic candidates for governor, three of whom are African Americans.
"To have to watch another video of an individual of color fear for their personal safety during what should have been a routine interaction with law enforcement is yet another call to action," said Lt. Gov. Justin Fairfax, the second African American to hold the office.
Former Del. Jennifer Carroll Foy of Prince William, a criminal defense attorney and graduate of Virginia Military Institute, also called for an investigation of Nazario's treatment and an end to qualified immunity for police officers.
"Officers are bound to protect and serve, not harm and discriminate," she said. "The use of force used was not warranted or justified."
Sen. Jennifer McClellan, D-Richmond, tweeted Saturday: "What happened to Lt. Caron Nazario is unacceptable, and it has to stop. We have got to improve police accountability in Virginia because no one should be afraid – or told to be afraid – for their own life at the hands of law enforcement."
Either Carroll Foy or McClellan would be the first African American woman governor in the U.S.
Former Gov. Terry McAuliffe tweeted on Saturday: "Army Lt. Nazario, wearing the cloth of this country, was driving home when he was pulled over, harassed, pepper sprayed and held at gun point - with no explanation. Horrifying. This is unacceptable from any officer here in the Commonwealth or in this nation. Our communities deserve better and we cannot stop fighting until we eradicate these reprehensible racist acts once and for all."
Del. Lee Carter, D-Manassas, tweeted Saturday that "We can't address the issue of police violence if even 'progressive' politicians keep increasing their budgets."