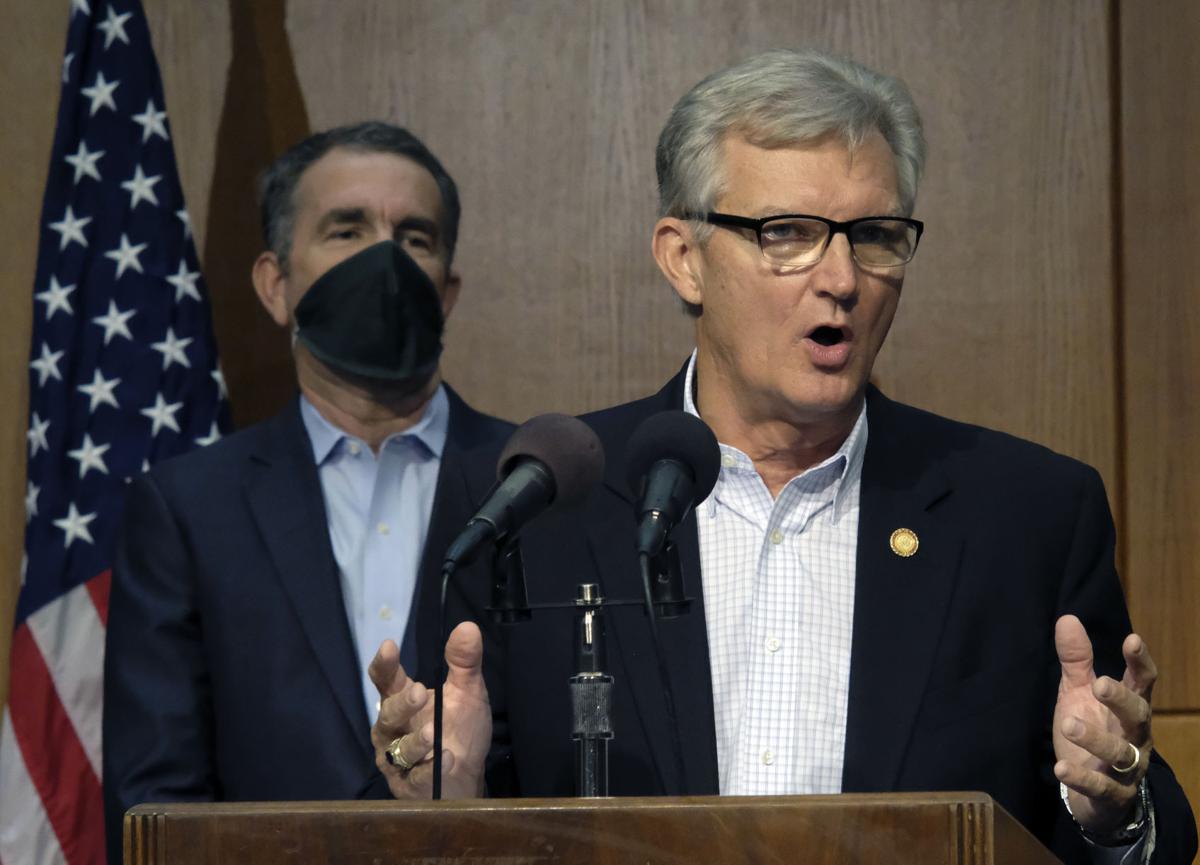 The economic recession triggered by the COVID-19 pandemic seems a dim memory, as Virginia expects a half-billion budget surplus by the end of June and a $4.3 billion federal deposit in the state's bank account any day.
Secretary of Finance Aubrey Layne told legislators on Monday that he expects state revenues to exceed expenses by more than $500 million in the fiscal year that ends June 30.
Layne also expects Virginia to receive its share of federal aid from the American Rescue Plan Act in one lump sum soon, allowing the state to benefit from interest on the money while Gov. Ralph Northam and the General Assembly decide how to spend it during a special legislative session the governor is expected to call in late July or early August.
And that doesn't include $6.6 billion that the federal government is sending to the state for specific categories of programs — support for K-12 schools and higher education, child care, transportation and public health.
"I don't think anyone 14 months ago would have thought we'd be in as good a position as we are," the finance secretary told the House Appropriations Committee on Monday.
A year ago, state revenues plunged by $700 million in April, compared with the same month a year earlier, as Northam and the assembly froze more than $2 billion in new spending in the two-year budget they had adopted on March 12, 2020, the same day the governor declared a public health emergency.
Last week, Northam announced that state revenues grew by 42% this April and, for the first 10 months of the fiscal year, were ahead of the most recent forecast by more than $1.7 billion. Revenues are likely to fall next month, in comparison with a year ago, because of differences in the filing dates for income taxes, but the expected surplus is fueled by steady growth in high-wage professional jobs, a surge in consumer spending over the internet and a booming housing market.
"This has been a very unusual recession," observed Chris Chmura, a Richmond economist who serves on the Joint Advisory Board of Economists that helps the governor project budget revenues and economic trends.
For example, "typically residential construction falls off a cliff" during an economic recession, Chmura said. "During the COVID recession, we continue to see residential building increase at a strong pace."
The housing boom has showed up in state revenues in both the taxes paid on deeds and other court filings, up more than 40% for the first 10 months of the fiscal year compared with the same period a year ago, and sales taxes.
Sales taxes rose by almost 25% in April and are growing at almost double the projection for the fiscal year to date. Those taxes reflect a surge in internet sales during the pandemic and a consumer shift from services to goods that is beginning to reverse as the economy gradually reopens because of COVID-19 vaccines and declines in coronavirus cases.
"We've had a remarkable turnaround in revenue expectations compared to what we saw in the pandemic last year," said Robert McNab, an economics professor at Old Dominion University who also serves on the governor's advisory panel
"With the advent of vaccines, we're seeing an uptick in economic activity in the commonwealth and throughout the United States," McNab said.
However, sales tax collections also reflect higher prices, especially a 265% increase in the cost of lumber that Layne said is driving up the cost of new homes, particularly for people trying to enter the homeownership market.
The Federal Reserve Bank says signs of inflation are "transitory" as the economy recovers and responds to pent-up consumer demand, but the finance secretary said, "I'm not so sure."
Economists suggest that some of the increase in consumer prices is temporary, as product supply chains recover and people begin spending more.
"As people get back to work, there's going to be a big push in consumer expenditures, which causes inflationary pressure," said Fletcher Mangum, a Henrico County economist who also serves on the governor's advisory board.
Other sources of inflation, such as increased debt because of trillions of dollars in federal emergency spending, could be felt in prices "over the long haul," said Mangum, who commended Layne for his caution.
The next big question for the Northam administration, General Assembly and local governments is "what do you do with the abundance of revenues?" said McNab at Old Dominion.
The American Rescue Plan Act, which President Joe Biden signed on March 11, is sending $7.2 billion to Virginia and its local governments. The state will receive $4.3 billion and localities $2.9 billion, almost all of it directly from the federal government. The state will allocate about $633 million of the local money among towns.
The two-year budget the General Assembly adopted this year requires legislators to appropriate the state's share of the funding, including any discretionary grants directly to the Department of Education and other state agencies under the new federal law. The legislature will have that opportunity when it meets in special session this summer.
But Layne has asked assembly budget leaders for the freedom to appropriate non-discretionary grants without legislative action, as Northam did last month with $2 billion in direct federal aid for unemployment benefits after notifying the agreement of the money committees.
Local governments also want a role in determining how the state spends federal money on common priorities, such as public education and affordable access to broadband telecommunications.
"We really need to work together to coordinate the money in the right places," said Michelle Gowdy, executive director of the Virginia Municipal League.
Gowdy wants state and local governments "to speak with one voice" to members of Congress about federal rules for spending the money. For example, local governments want to ensure that they can use the aid to replace lost revenue from public utility fees, not just general taxes, as part of their budgets.
"That's a big chunk of a small town's budget," said Neal Menkes, a consultant to the municipal league.