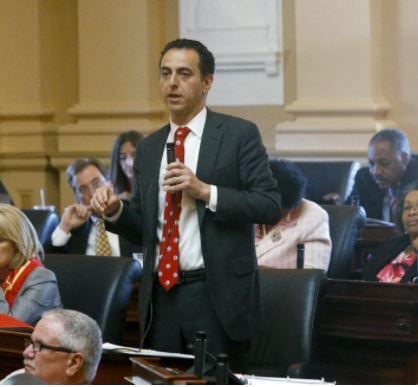 Democratic state senators balked on Tuesday at a bill that would ban their personal use of campaign money, stopping the proposal with a recommendation that the state study the issue.
Anyone wanting to know how their senator voted won't find any record, either, because senators took the action via an unrecorded voice vote.
An anti-corruption group said the decision was disappointing, especially since Virginia has no limits on campaign contributions and because some lawmakers are raising money while they legislate because of a loophole this year.
"I cannot believe they killed the bill," said Shruti Shah, president of the Coalition for Integrity, which ranks Virginia in the bottom third of states when it comes to ethics and transparency laws for the legislative and executive branches.
She said she's hopeful about a commission that's going to study campaign finance reform issues. But sometimes, she said, such commissions are just a way to "push the can down the road."
Virginia is one of just a handful of states without a prohibition of campaign money for personal use. Banning it shouldn't be complicated, she said.
"You don't need a study commission to tell you that," Shah said. "You already know the answer to that."
The bill from Del. Marcus Simon, D-Fairfax, cleared the House with no opposition. The bill as originally filed was short and would have banned lawmakers from using campaign money for personal use, other than for child care. The State Board of Elections would create regulations for implementing the bill.
Senators discussed making the bill more specific about expenditures that would still be allowed.
But when the bill came up on the Senate floor Tuesday, few senators seemed interested in voting for any new rules for themselves.
Sen. Scott Surovell, D-Fairfax, turned the floor over to Sen. Jill Holtzman Vogel, R-Fauquier, to start the discussion.
Calling the bill "a significant policy change," Vogel said senators would be wise to send the bill back to committee, so it could be studied by a commission that's being planned. She also said she was concerned that the bill could "overwhelm" the Department of Elections and State Board of Elections.
"It's definitely an area that I think we have to look at," Surovell said. "There's all kinds of difficulties though in the wording."
Sen. Barbara Favola, D-Arlington, said she wanted the issue studied so the legislature could adopt a framework in a bipartisan way.
Sen. Creigh Deeds, D-Bath, said the Senate was making a mistake by not passing the bill.
"The reality is for many years our constituents have been asking us" for this, he said. "It's been embarrassing for all of us."
"I am sorry that there are many people who think we can't go forward with this."
The only time a Virginia lawmaker can't use campaign funds for personal reasons is when closing out a campaign committee.
A state commission already studied the issue.