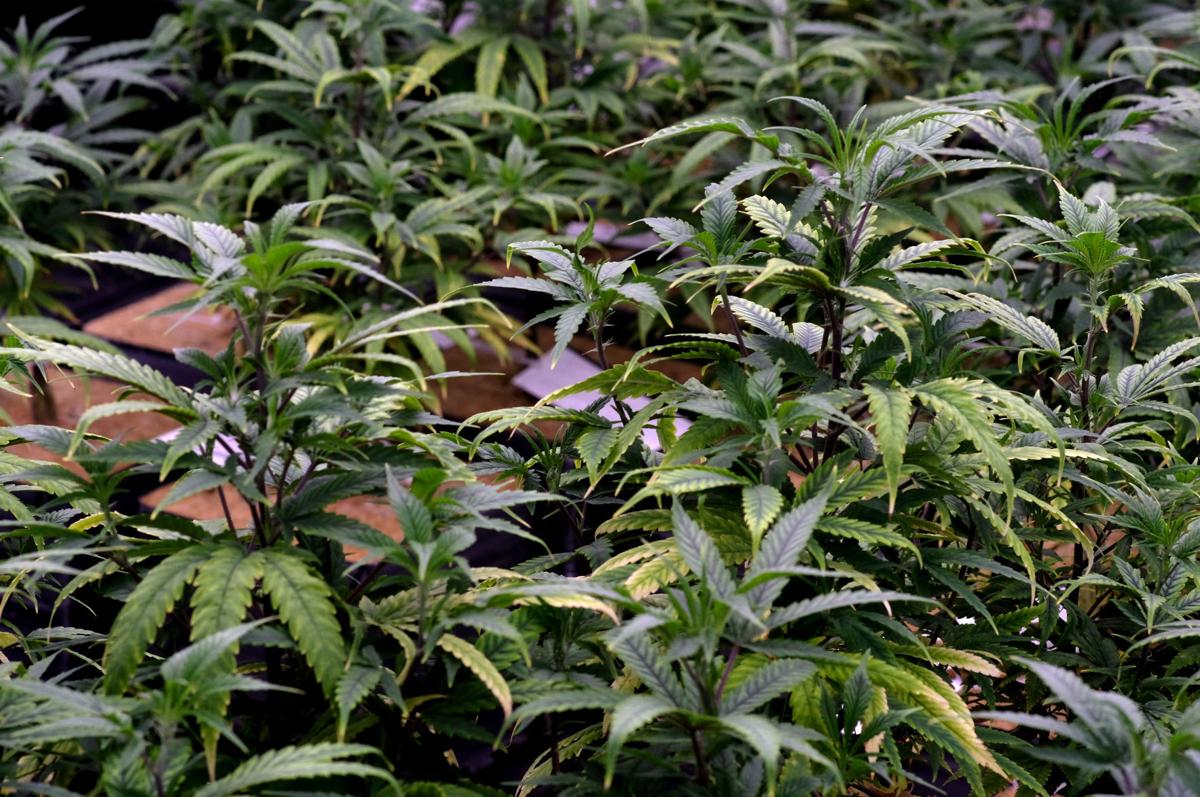 With marijuana legalization on the horizon, a broad coalition of Democrats in the Senate say it would be wrong to continue penalizing Virginians for possessing small amounts of the drug — even if no legal market exists.
That view is reflected in legislation that cleared the influential Senate Judiciary Committee on Monday on a 9-5-1 vote, which would legalize marijuana on July 1 and call for the creation of a regulated market by 2023.
Democrats in the legislature and Gov. Ralph Northam broadly pitched marijuana legalization as a necessary step toward ending the disparate criminalization of people of color, particularly Black Virginians, due to the ban on marijuana. Sen. Jennifer McClellan, D-Richmond, who led the push to jump-start legalization, said ending the disparate enforcement can't wait for a legal market.
"If we've already made the moral decision that possession shouldn't be a crime, then it's more equitable to say we're not going to continue punishing people for it," said McClellan, who is running for governor, in an interview. "We should go ahead and end prohibition. There's consensus in the Senate around that."
That view conflicts with what Northam originally proposed and what House Democrats are advancing through that chamber. Both call for ending a civil penalty on less than an ounce of marijuana once the regulated market is set up — a behemoth task expected to yield legal sales in 2023 or 2024.
If the legislature adopts the Senate plan, it would also accelerate the implementation of new penalties related to marijuana use designed for a legalized state.
That includes stiffer penalties for people under the age of 18, and between the ages of 18 and 21, who are found in possession of the drug. It also includes a ban on consuming marijuana or marijuana products while in a moving car, in a public place, on school grounds or while operating a commercial vehicle.
The Senate Judiciary panel on Monday also agreed to a change that would nix the removal of a lawmaker from office due to a marijuana-related offense.
Legalization in the summer under the Senate proposal would not come with a range of new freedoms that would be enacted once the regulatory scheme is set up. It would still be illegal to cultivate and distribute the drug, and to manufacture products from it.
Sen. Richard Stuart, R-Stafford, who opposed the marijuana legalization bill, is against the idea of legalizing marijuana this year without also legalizing individuals' ability to grow the drug.
"We're going to legalize marijuana, but it's going to be a penalty to grow it? That is absurd," he said Monday.
Under provisions moving through the legislature and as proposed by Northam, Virginians would be allowed to grow marijuana plants in their own homes once the regulations and safety guidance are implemented. People would be limited to two mature plants and two immature plants per household, not per individual.
Working drafts of the legislation show that penalties for possessing more than the limit range from a $250 civil penalty to 10 years in prison and a $250,000 fine.
The ACLU of Virginia says creating new penalties around marijuana consumption could result in a different system for criminalization with the same effect: Black Virginians and other state residents of color disproportionately affected.
"What we're trying to do, to the best of our ability, is limit the unintended consequences and the harm that marijuana prohibition has had on Black and brown communities in Virginia. Instead of concentrating on the real problem — racial justice — we're concentrating on a tough-on-crime mentality," said Ashna Khanna, a lobbyist with the ACLU.
Khanna said much of the discussion around legalization in the legislature has focused on how to prevent the illicit market from thriving, or how to extinguish it — instead of ending criminalization for people harmed and redressing that harm.
"There was a black market that existed before. And it will continue after. Right now, we need to stop the harm," she said in an interview.
In the House, the timeline toward legalization is still aligned with the creation of a new market. But a key amendment to the bill made its penalties stricter for possession of above an ounce.
Lawmakers on the panel agreed to lower the amount that would trigger a criminal penalty from the Northam administration's proposed 5 pounds down to 1 pound.
Del. Terry Kilgore, R-Scott, said such a high limit would encourage people to sell without licenses.
"Might that be a way around the licensing? We may have set that 5 pounds too high," he said.
Majority Leader Charniele Herring, D-Alexandria, suggested she was looking at a photo of 5 pounds of marijuana buds and agreed she was amenable to the change.
Del. Don Scott, D-Portsmouth, supported the change to 1 pound before criminal charges, but urged the House Courts of Justice panel to focus on eradicating the inequities in the system rather than the new system of penalties related to marijuana.
"I just want to continue to remind everyone that I'm really torn around penalties and incarceration being used to try to continue to deal with what everyone believes is a failed war on drugs. These marijuana laws specifically had devastating impacts on and for marginalized communities, especially of color," Scott said. "I don't think we should be really focusing a lot of our energies on how do we continue to penalize and punish people for marijuana use."
Under the administration's proposal, and what is broadly in both chambers' bills, purchasers would have to be at least 21 years old and present valid photo identification. Sales would be limited to an ounce of marijuana, or 28 grams. All sales would be taxed at an overall rate of around 30% — a 21% excise tax levied by the state, stacked on top of local sales taxes and an additional tax of up to 3% that localities could levy.
The legislation would create a licensing program for individuals and entities that fit that category, giving them preference for licenses, making them eligible for some low- and no-interest loans, waiving some fees and connecting them with business support.
The measure also includes automatic expungements for many marijuana-related offenses from criminal records.
(804) 649-6254
Twitter: @MelLeonor_