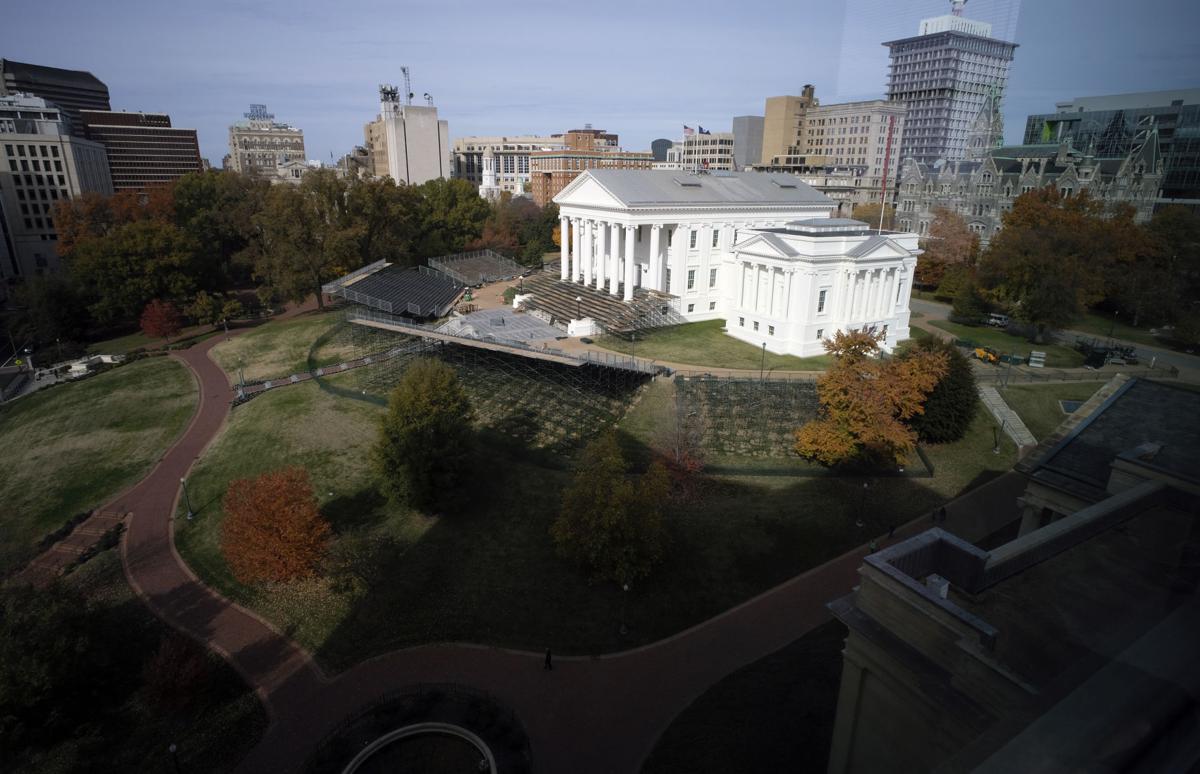 Virginia will get additional federal emergency relief for Medicaid through the end of March on top of more than half a billion dollars that the state saved in reduced spending in the last fiscal year, primarily because of an abrupt decline in use of medical services during the COVID-19 pandemic.
U.S. Secretary of Health and Human Services Alex Azar announced late Friday that the federal government would extend the public health emergency through late January, ensuring that the federal government will pay an additional 6.2% share of Virginia's Medicaid costs through March 31, state Medicaid officials told legislators on Monday.
The state has not quantified the net savings, but the higher federal share should help offset potentially higher Medicaid costs because of soaring enrollment during the pandemic as Gov. Ralph Northam looks ahead to the revised budget he will present to lawmakers in mid-December for the General Assembly to begin considering in January.
"Absolutely good news," said Del. Mark Sickles, D-Fairfax, vice chairman of the House Appropriations Committee, after a meeting on Monday morning of the Joint Legislative Audit and Review Commission, on which he serves.
Separately, JLARC heard mixed results from the latest report on the state's embattled IT agency. The report found that the Virginia Information Technologies Agency had finally completed its transition to a new model for serving 66 executive branch state agencies while providing critical assistance to allow state employees to work remotely during the pandemic.
But the report also found that nearly two-thirds of the agencies served by VITA remain dissatisfied with their ability to connect reliably to internet networks and with the IT agency's slow response to problems, including an outage at a Virginia Department of Transportation field office that took 47 days to repair.
Chairman Ken Plum, D-Fairfax, said the performance of the 16-year-old public agency would not be acceptable in the private marketplace.
"We would be bankrupt in no time with that kind of response," he said before the commission adopted a resolution directing its staff to conduct a comprehensive assessment of VITA's organization, staffing and ability to recruit and retain qualified employees.
On Medicaid, JLARC staff reported that Virginia spent $558 million less than expected in the fiscal year that ended June 30, almost all of it from federal funds. State spending was $35 million less than had been projected in the last fiscal year.
The savings do not include nearly $319 million in additional federal aid under the Families First Act that Congress adopted and President Donald Trump signed in late March.
In the current fiscal year, which began on July 1, Virginia was already projected to save a net $242 million in state funds because of the higher federal share of Medicaid bills. The extension will reduce Virginia's share of Medicaid costs for an additional three months and relieve pressure on the general fund budget, which is supported by state tax revenues to pay for core public services such as education, public safety and health care.
"General funds are precious dollars that we need for K-12, early childhood and our higher education system now," Sickles said.
The House of Delegates and the Senate are preparing to negotiate differences in their versions of the state budget that Northam introduced on Aug. 18 at the beginning of a special legislative session to deal with a projected $2.8 billion general fund revenue shortfall in the two-year budget.
The General Assembly adopted the state's two-year budget on March 12, the same day the governor declared a public health emergency.
The assembly has yet to agree on changes to the budget in the special session, now in its seventh week. But Northam is already preparing for a new revenue forecast and budget for the legislature to consider in a 46-day session scheduled for early next year.
Medicaid costs are expected to be a big part of the next budget because of increased enrollment in the health insurance program for the poor, elderly and disabled. A preliminary Medicaid forecast is expected next week with a final estimate of costs due on Nov. 1.
Medicaid currently serves nearly 1.7 million Virginians, including about 470,000 who have enrolled because of expanded eligibility under the Affordable Care Act since Jan. 1, 2019. Virginia paid about one-third of the cost of the $13.7 billion program in the last fiscal year.
The reduction in spending in the last fiscal year reflects lower use of hospital emergency rooms and other medical services, primarily because of Northam's executive order on March 25, which prohibited elective surgeries to preserve hospital capacity to handle COVID-19 patients.
The governor ended the order a month later, but state officials said utilization of Medicaid benefits remained low from March through May, reflecting what Senate Minority Leader Tommy Norment, R-James City, called public "avoidance" of hospital and medical care during the pandemic.
In response to a question from Norment, Medicaid Deputy Director Ellen Montz said the decline in utilization of Medicaid services also had reduced revenues for hospitals, which are paying the state's share of the costs of expanding eligibility for the program last year. But she said a portion of those losses were offset by federal emergency aid given to hospitals and other medical providers under the CARES Act.
Virginia hospitals say they lost more than $1.8 billion in revenues through June while receiving more than $800 million in direct federal aid through July.
"Our members are basically still about a billion dollars in arrears, and that's only half of the year," said Julian Walker, spokesman for the Virginia Hospital & Healthcare Association.
The association has not yet received any additional aid from Virginia through the state's $1.8 billion allocation under the CARES Act, although hospitals are asking the state for $219 million to compensate for direct expenses on responding to the pandemic during the governor's prohibition on elective surgeries.
From April 1 through June 30, Virginia hospitals say emergency room visits by Medicaid recipients fell by more than 90,000, or 43%, compared with the previous three months. But they expect to pay more than $400 million this year under a provider assessment to pay the state's share of Medicaid costs, Walker said.
In a separate report on VITA, JLARC said the IT agency had made significant progress in managing a new multivendor system for serving 66 state executive branch agencies to replace the $2.4 billion, 13-year contract with Northrop Grumman Corp. that the state terminated early two years ago. The report also praised VITA for "providing critical assistance to state agencies during the COVID-19 pandemic."
But the report also found that 60% of the state agencies served by VITA are dissatisfied with the service they receive, especially for reliable connection to the internet. State agencies also are still unhappy with the slow response by VITA to resolving service problems and what JLARC called a lack of sufficient focus "on meeting customer needs."
Still, Chief Information Officer Nelson Moe said he welcomed the report, a year after JLARC members blasted the IT agency for delays in carrying out the new service model and slow response to outages at state agencies.
"I am gratified that the report recognizes and details the tremendous progress made at VITA over the past year," said Moe, adding that "We are committed to continued improvement in our service model and partnerships with our customers."