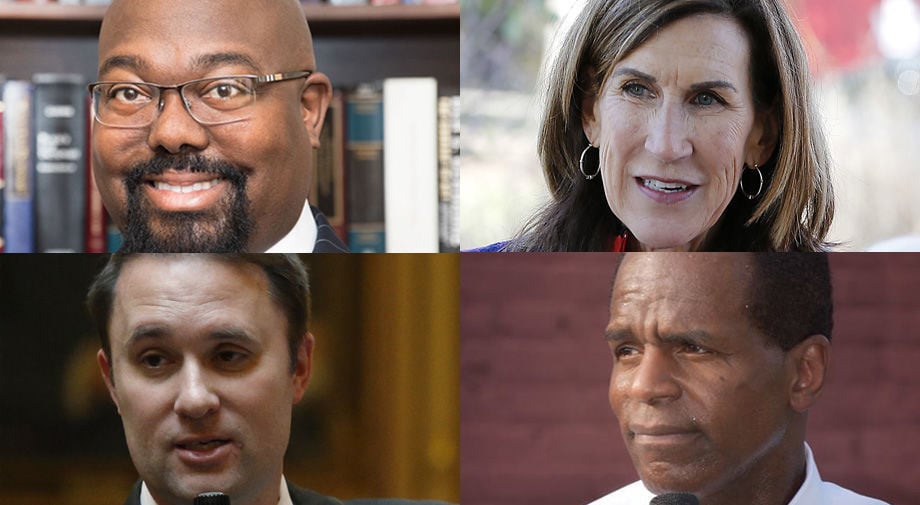 The four Republican candidates for attorney general broadly agree on certain policy issues — such as holding the Virginia Parole Board accountable and opposing the ending of qualified immunity for police officers.
But they tout significantly different life and work experiences that they say make them their party's best bet in the May 8 convention and in the November election.
The GOP candidates are Leslie Haley, a member of the Chesterfield County Board of Supervisors; Del. Jason Miyares, R-Virginia Beach; Chuck Smith, a former head of the Virginia Beach GOP; and Jack White, a former clerk for Supreme Court Justice Samuel Alito who is a partner at a Tysons Corner law firm.
The contest for attorney general comes a year after a Minnesota police officer's murder of George Floyd prompted months of protests in Richmond over police brutality and systemic racism in the criminal justice system. The legislature's Democratic majority has passed a series of reforms and says there is more to be done. Republican officials have broadly criticized what they see as anti-police sentiment among Democrats.
The candidate that GOP convention delegates select May 8 will face either incumbent Mark Herring, a Democrat who is seeking a third term, or Del. Jay Jones, D-Norfolk. Democrats will pick their statewide nominees in a June 8 primary. Republicans, who have not won a statewide election in Virginia since 2009, held the attorney general's office from 1994 to 2014, when Herring took office.
Here, in alphabetical order, is a look at the four GOP candidates.
Haley, a Chesterfield supervisor since 2016, believes that she is "probably the most electable candidate" in the GOP field, citing her "strong local government experience" and her background in law and business.
She is a partner at the Park Haley LLP law firm, which focuses on ethics and business law. She served as the senior assistant ethics counsel at the Virginia State Bar for 14 years and is chair of the Greater Richmond Partnership, which seeks to boost the region's economy.
Haley says her extensive ties in central Virginia and throughout the state would be a plus for the GOP ticket and that her gender would be, as well. Haley notes that state Sen. Jill Holtzman Vogel, R-Fauquier, who lost the 2017 contest for lieutenant governor to Democrat Justin Fairfax, ran ahead of the rest of the GOP ticket.
Haley says her service on the Chesterfield board "brings a vast expanse" of knowledge and experience, "both in advocating for issues like returning students to school," and for public safety, especially during the COVID-19 pandemic.
She says her government experience also informs her understanding of "the breadth and the vast challenges that our citizens have been facing during this pandemic, with the executive orders" and the impact on businesses and families.
Haley said that if she is elected, her top priority would be "looking at so many of these issues that exist in these executive orders and in the recent legislation that ... violates and impugns our constitutional rights."
She said her second major concern would be "looking at the culture that exists in that office and ... bringing that culture back to one of service to the citizens of the state."
The attorney general's office has vast reach, from consumer protection to "taking stances on accountability in other state agencies, which we have not seen," Haley said, alluding to the state's parole board scandal.
As to whether the attorney general's office should look into use of force by police departments, Haley said locally elected commonwealth's attorneys "have direct responsibility to the citizens who elect them to do their jobs in the investigative nature of all of these matters."
Haley said she believes "there should absolutely be accountability for our police," but she raised concerns that "overreach by the attorney general's office is impeding the constitutional authority of those offices." She said the attorney general's office can play a role in advocating for uniform standards of training for police officers across the state.
She said qualified immunity "still does not protect the bad actor," a police officer who "steps outside the bounds and engages in ... outright criminal conduct."
Haley says she is not a "career politician" but a public servant. "That's what this is for me," she said, "bringing back the integrity to this office that I feel is lacking right now and being the attorney general for the citizens of Virginia."
Miyares says his story does not begin in Virginia Beach, but in Cuba, where his mother, Miriam Miyares, boarded a plane in 1965 to flee communism.
"And almost 50 years to the day that she fled, in the fall of 2015, she was able to vote for her son to represent her in the oldest democracy in the Western Hemisphere, the Virginia House of Delegates," Miyares said, terming it "the American miracle."
Miyares, a former Virginia Beach prosecutor, says he is the best candidate for the job because: "I think ultimately right now you have a criminal-first, victim-last mindset in Richmond that has made Virginians less safe and secure."
He touted his geographic base, asserting that "if you're going to win statewide, you're going to have to win Virginia Beach by 10 points." He said he has "won consistently in my district with an average of 60% of the vote," citing his work, his values and his "consistent conservative voting record in the General Assembly."
Miyares said that if he is elected, he would first look at whether any public schools remain closed. He said education is one of the great equalizers, "but we've literally closed that avenue of success."
If he is elected attorney general, he said, and any school board has not reopened its schools by the time he is sworn in, he will "bring a lawsuit on behalf of those families, on behalf of those kids, saying you're in clear violation of the Virginia Constitution."
He said his second priority would be to investigate the parole board, which he said "is literally breaking the law to let out violent criminals and murderers and rapists back on our streets."
Miyares said that when he was a prosecutor in Virginia Beach, he could tell crime victims that if they took the witness stand and endured a cross-examination, and the judge or jury convicted the accused, that the perpetrator was "going to go away for a very long time" and would not harm anyone else. He said prosecutors cannot say that to victims anymore.
"And what they've done to the victims of crime, to ignore their pleas, with this parole board and a host of other legislation that is now law ... I think it's just unconscionable."
As for use of force by police, "I think we all recognize ... we want to keep and encourage good cops and go after bad cops," Miyares said.
"Obviously, in a civil and free society we need to hold law enforcement to a high standard," he said. "You think about it: They're the only people in society, with very few exceptions, that have a monopoly on the use of violence."
But "trying to get rid of things like qualified immunity would literally force the good cops to leave and the bad cops — who can't do anything else — they'll stay," Miyares said.
"So I think you can have both. You can hold accountability for law enforcement, but you can also ... avoid passing legislation that's actually going to drive good cops to leave the force."
Smith, born on the 4th of July, enlisted in the U.S. Marine Corps at 17 in 1970. He retired in 2008 as a commander in the U.S. Navy's Judge Advocate General's Corps, known as the JAG Corps.
Smith, who is fluent in Spanish, is former chairman of the Virginia Beach GOP. He lost a 2010 congressional bid to Rep. Bobby Scott, D-3rd; sought the GOP nomination for attorney general in 2017; and ran for state GOP chairman in 2018.
Smith says he believes he is the best candidate because of the breadth of his legal and military experience. He says he has practiced law longer than any other candidate for the post — from his Republican rivals to the Democratic incumbent.
He says his top priority, if elected, would be "enforcing the Constitution."
"We live in a time where the derision of the Constitution seems to be sacrosanct, and I think number one is getting our laws enforced — otherwise, why do we have them? — and also standing up for the rights that Virginians have."
Smith says he would be "a law-and-order attorney general," a "rule-of-law attorney general."
Asked whether the office should play a role in oversight of police use of force at the local level, Smith said the attorney general must have "a policy where Virginia will hold people accountable. And it doesn't matter whether you are Black, white, Asian, Hispanic. It doesn't matter whether you're a police officer, commonwealth's attorney or an ordinary citizen. If you do wrong, then you should have some accountability."
Smith added that he thinks "our police officers, by and large, do a fine job." He says he thinks people want more law enforcement, not less.
"Yes, there are bad actors, there are bad players, and those people will be held accountable, as they should." He said he thinks it's wrong "to demonize all of law enforcement somehow, to think that people do not have the right to be defended, or they don't have the right to defend themselves."
Smith urged Republican convention delegates to look anew at their party and nominate a different kind of candidate.
"You've got a situation now where we have run the same type candidate on the Republican side 10 elections in a row and they have all lost," he said. "They have been well-funded — they still lost. Thousands, millions of dollars, they've lost. We've run candidates who've had the endorsement of every single conservative group — they have also lost."
He said that what he represents, "not just for the Republican Party, but for Virginians, is qualifications unlike any other candidate, number one, who has ever run for this job in Virginia history — but certainly unlike any candidate currently running."
Smith said his message to the GOP is: "If we continue doing the same thing, we're going to continue getting the same result."
White, a partner at FH+H in Fairfax, describes his law practice as multifaceted. That could describe his career, as well. He is a West Point graduate, an Army veteran, a former law clerk for Alito and a minister ordained in the Church of Christ who has served as pastor of congregations in Savannah, Ga., and in San Francisco. He has celebrated marriages and presided at funerals.
He also has served as a Trump administration appointee to a panel that looked into sexual assault and sexual harassment in the Army.
White said that while his law practice is varied, ranging from business issues to constitutional matters, "primarily what I do is represent companies through change," whether startups or public companies worth millions or even billions of dollars.
"The issues facing the people of the commonwealth of Virginia require sophistication in representation, not singularity of focus," he said. "I have the leadership experience, the courtroom experience and the legal acumen requisite to addressing the issues of our time in ways that nobody else does."
White said his first priority, if elected, would be to foster "a focus on professionalism within the office of attorney general." He says he would move the office "away from special interests and political agendas and focus on the needs of the people of the commonwealth of Virginia."
He said he also would focus on reopening schools and businesses. He said what he calls government-imposed impediments to "full-throttle business operations" must be removed.
White, who has represented police officers, says "our men and women in blue deserve our support." He said officers "need to have qualified immunity," because it "encourages our young men and women to join up to protect and serve our local communities," knowing that "they're not going to be sued for every misstep or for every event that occurs."
"They know that they have immunity, but it's not absolute. It's qualified," he said. "As long as they are not engaged in unconstitutional activities, then they are immune." He said that is "the right answer" because "we want to protect our protectors, but at the same time we do not want anyone to engage in unacceptable activities."
White said his experience in Northern Virginia is another pivotal plus for his candidacy. He has chaired the Fairfax County Public Schools Education Foundation and served on the executive committee of the Northern Virginia Chamber of Commerce. He is now on the executive committee of the Virginia Chamber of Commerce.
White said that while he fights for his clients tenaciously and approaches issues passionately, he believes "we can be collegial and adversarial at the same time."
"I don't think that my ministry has ended just because I'm not in the pulpit," he said. "The law is my ministry. It informs the way that I practice."
(804) 649-6645
Twitter: @AndrewCainRTD