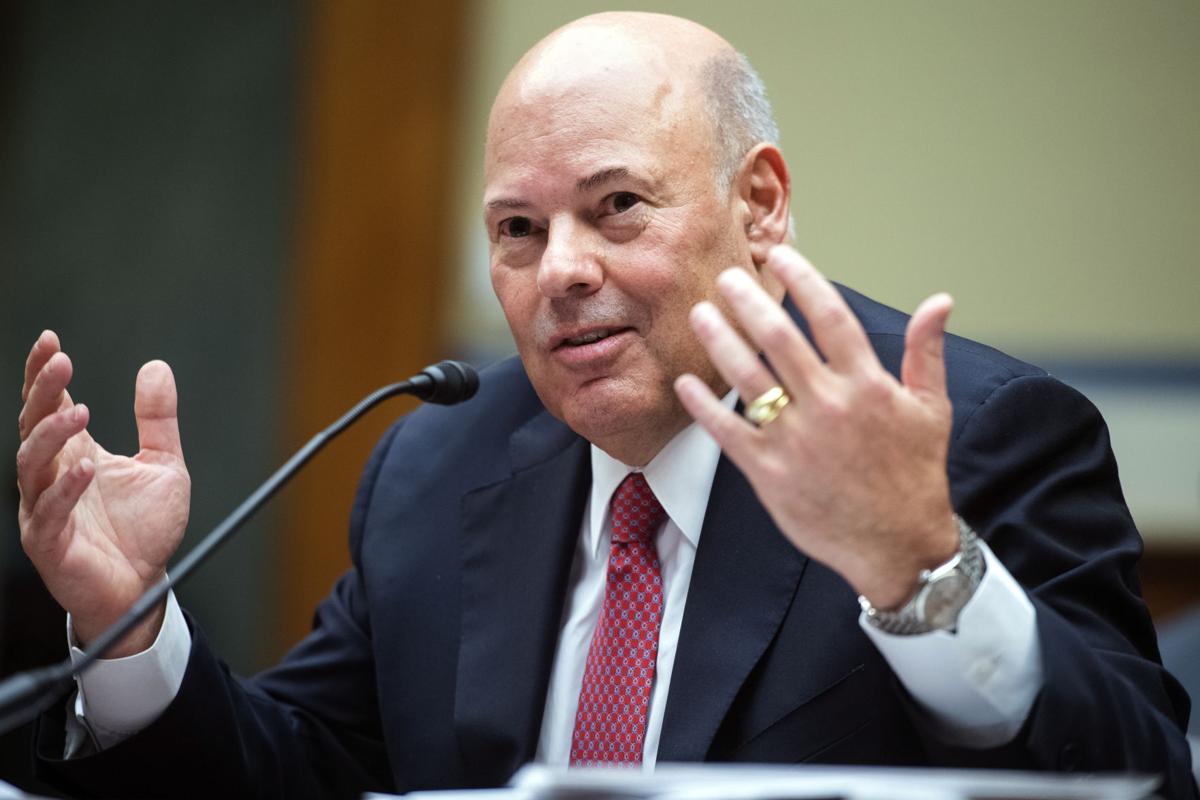 Swamped by thousands of complaints over lost or delayed mail, Rep. Don McEachin, D-4th, is leading an intensifying push in Congress to replace U.S. Postmaster General Louis DeJoy and, if necessary, the entire governing board of the U.S. Postal Service.
McEachin urged the Postal Service Board of Governors on Thursday to replace DeJoy — appointed in May by then-President Donald Trump before a presidential election that relied on record delivery of mail-in absentee ballots that the former president continues to blame for his loss.
DeJoy imposed a series of operational cutbacks that McEachin blamed for a breakdown in service that resulted in just 64% of first-class mail being delivered on time in late December and just 55.1% in the Richmond Postal District, compared with 90% last spring. Late deliveries also affected priority mail, including prescription medications.
"Due to ongoing mismanagement, this American institution has been stretched to its limits, leading to transportation challenges, staff shortages and unacceptable delivery times across the country," McEachin said in a news briefing on Thursday morning.
McEachin also wrote to President Joe Biden on Thursday to urge him to fill three Democratic seats that Trump had left vacant on the Postal Service governing board and, if the board fails to replace DeJoy, replace all of the board's existing members.
Sen. Mark Warner, D-Va., agreed. Biden cannot replace DeJoy by presidential action, but he should "fire the whole board" if it fails to appoint a new postmaster general, Warner said in a separate news briefing on Thursday.
"It is a travesty what has happened to the Postal Service," he said.
McEachin, a two-term congressman who represents a district stretching from Richmond and its suburbs through the Tri-Cities area to South Hampton Roads, said his office received almost 8,000 complaints about the Postal Service from constituents within 48 hours of asking for comments about mail delivery.
"I have heard from my constituents about declining mail delivery service, including instances of priority mail, such as bills and prescription medications, being delivered weeks late, a serious issue which can have significant and potentially life-altering consequences," he said in his letters to Biden and the Postal Service governing board.
A Postal Service spokesperson did not immediately respond to a request for comment.
McEachin said the delivery problems in the 4th District included a systemic failure at the Postal Service's distribution center in Sandston in eastern Henrico County, as well as local breakdowns in delivery in Chesapeake and Suffolk.
The problems were intensified by a surge in demand for delivery of packages during the holiday season because of the COVID-19 pandemic.
Rostov's Coffee & Tea, based in Richmond, saw demand for mail-order shipments increase by 300% over the previous year, but the company began hearing customer complaints soon after the Thanksgiving holiday.
"That's when people started calling that they hadn't seen their packages," owner Tammy Rostov said.
A package sent to Chesterfield County ended up in Maryland. Others bound for Virginia addresses went to Maryland and Delaware. Many languished at the Richmond-area distribution facility in Sandston, according to Scott Huggins, the coffee store's mail-order manager.
"This year was the perfect storm for everything to go wrong for them," he said.
The store ultimately offered to ship packages by UPS for an additional $1, but Huggins was quick to defend postal employees who were dealing with both the pandemic and the surge in shipping.
"It's not the workers, per se," he said. "It's just the system."
McEachin and Warner pointed to the politics of the Trump administration as the "proximate cause" of the deterioration of mail service prior to an election that the former president claims, without verified evidence, was stolen from him because of a huge increase in absentee voting during the COVID-19 pandemic.
McEachin said the Postal Service was "not immune" to staffing shortages caused by the spread of the virus among essential workers, but that "those positions could have been filled, should have been filled and have not been filled."
"I do believe that this was born out of the Trump administration's desire to weaken people's confidence in the Postal Service so they wouldn't vote by mail," McEachin said. "It didn't work."
Separately, Warner blasted DeJoy as "a completely incompetent postmaster general" and "a political hack" who had undermined service by cutting back on overtime for after-hours mail delivery, collections and the number of machines for processing mail.
McEachin, in his letter to the Board of Governors, acknowledged that DeJoy had temporarily halted some of his operational cutbacks before the election, but blamed the deterioration of mail service on the postmaster general's "failed leadership."
In his letter to Biden, the congressman said DeJoy "has taken every possible step to dismantle and sabotage" the Postal Service.
"The Postal Service is an indispensable American institution, and all actions, however bold, must be considered to preserve it," McEachin wrote the president.