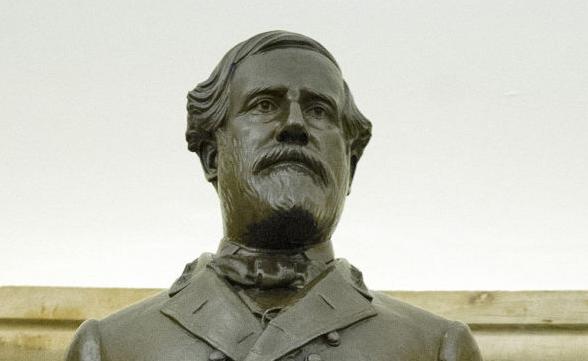 A state panel charged with recommending a replacement for Virginia's Robert E. Lee statue at the U.S. Capitol will hold a virtual public hearing Tuesday to hear Virginians' suggestions.
The hearing by the Commission for Historical Statues in the United States Capitol is scheduled to start at 9 a.m. and to last for several hours. The first 80 people who sign up to speak will get to make their case for up to 3 minutes each.
Following the public hearing and the Nov. 27 deadline to submit written comments, the Virginia Department of Historic Resources will present to the panel a list of five finalists. The commission will pick one of the five to recommend to the General Assembly in December.
Notable Virginians suggested most frequently in recent written comments submitted to the commission include:
, Army chief of staff during World War II, perhaps best known for the Marshall Plan to rebuild Europe after the war. A graduate of Virginia Military Institute and longtime Loudoun County resident, he also served as Secretary of State and as Secretary of Defense.
, the 16-year-old schoolgirl who led the walkout at Farmville's Moton High School in 1951 to protest the school's substandard segregated facilities. The Prince Edward County case became part of Brown v. Board of Education, in which the U.S. Supreme Court declared government-segregated schools unconstitutional.
of Richmond, the entrepreneur and civil rights leader who was the first African American woman to charter a bank in the U.S. Walker was a bank president and newspaper editor and ran for superintendent of public instruction on an all-Black ticket in 1921.
, born in Amelia County, an administrator at Hampton Institute who followed Booker T. Washington as leader of Tuskegee Institute and had a long career in public service and civil rights.
, a U.S. Army physician born in Gloucester County who led a team that confirmed yellow fever was spread by bites of infected mosquitoes. The Walter Reed National Military Medical Center in Bethesda, Md. is named in his honor.
, an important translator and bridge builder between Native Americans and the English. Some historians question John Smith's claim that Pocahontas, a daughter of Powhatan, chief of a confederation of tribes, interceded to prevent Native American warriors from killing him. But they say Pocahontas, who later married John Rolfe, played a key role in history.
, born in King William County, a highly decorated U.S. Marine who was awarded five Navy Crosses as well as the Army's Distinguished Service Cross.
, born in Hampton, America's first law professor at the College of William & Mary and a signer of the Declaration of Independence. He also attended the Constitutional Convention in Philadelphia.
Recent written suggestions to the panel have featured some Virginians who might not be as well known to the public. They include:
, born at Mount Vernon, who fled enslavement by America's first family in 1796 as President George Washington and first lady Martha Washington planned to return from Philadelphia to Virginia. Judge later lived in New Hampshire, where she died in 1848. (Virginia's other statue in the Capitol's Statuary Hall collection depicts George Washington.)
, born in Louisa County, who was Virginia's first African American member of Congress, the first dean of Howard University's law school, U.S. minister to Haiti and the first president of what became Virginia State University.
James Armistead Lafayette
, born enslaved in New Kent County, a spy during the Revolutionary War who aided the Marquis de Lafayette. He gained entrance to British camps by posing as a runaway slave.
, born in Alleghany County, a pioneering scientist and the first African American woman who earned a doctorate in zoology.
To register to attend the hearing, go to the Department of Historic Resources website at dhr.virginia.gov and scroll down to the section on the Commission for Historical Statues in the United States Capitol.
People who wish to speak must register by 5 p.m. Monday, the evening before Tuesday's hearing. The panel will accept written suggestions until 5 p.m. Nov. 27 at USCapitolCommission@dhr.virginia.gov.
(804) 649-6645
Twitter: @AndrewCainRTD