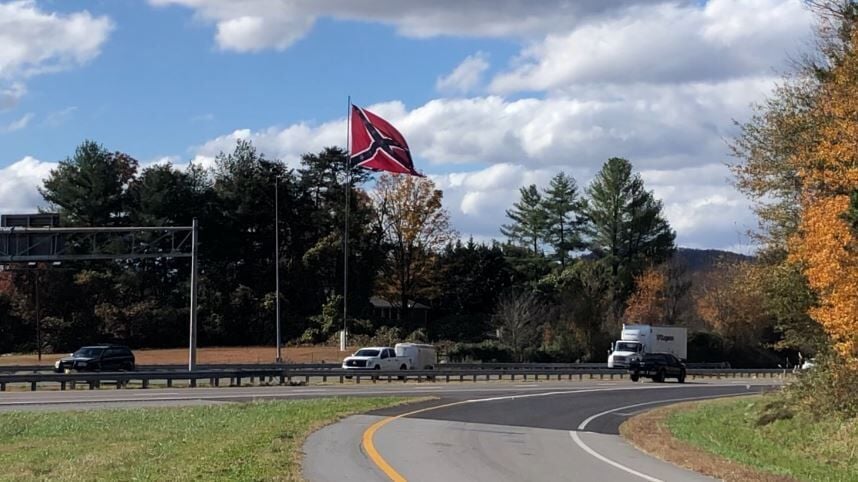 MORGANTON, N.C. — For the second time in nearly two months, the flags flying over Interstate 40 have been swapped out in favor of different ones.
The Confederate flags flying above Exits 94 and 119 that were removed in early September were reinstated this past weekend.
In early September, the Confederate flags above Exits 94 and 119 at the tail ends of the county were replaced with Christian flags and American flags.
The change occurred on Saturday, according to Smitty Smith, a member of the Old North State Flaggers.
Smith said the group put up three new flagpoles at the Disabled American Veterans Chapter No. 43 in Morganton on Saturday and Sunday.
"Of course, they wanted them up before Veterans Day next week, because I am a veteran," Smith said. "It's an American flag, a North Carolina flag, and a (Prisoners of War) flag. We're veterans and we want to support our veterans."
The News Herald asked Smith about the group's curious decision to remove the American flags above the interstate only days before Veteran's Day.
"We'd already planned to keep them up until after the election," he said. "That was our plan – to put them back up (after the election.) The reason the flags are down on the interstate was because we wanted to support our veterans and our local churches during election time. That's why we took them back.
"The Confederates are veterans, too," Smith said. "We took them down for the churches and to honor our Veterans Day up until Election Day. This is America, and we want to honor everybody here. It's just time to put them back up after the election."
Smith said the flags will remain up "for the time being."
Smith, a former member of the Sons of Confederate Veterans, was asked about Old North State Flaggers.
"During the Civil War, North Carolina was called the Old North State," Smith said. "We put up Confederate flags and we honor our veterans."
According to Smith, the group is mostly self-funded.
On its Facebook page, the group said it is "dedicated to replacing old flags and to erect new large flagpoles on highways." The page had 862 followers as of Monday afternoon.
The News Herald asked Smith whether the organization's decision to reinstate the Confederate flags was politically motivated.
"No, not really," he said. "We just wanted to honor our veterans and our churches. We thought it was a good gesture for that. We don't want to cause any division because of the flag.
"We planned this three months ago," Smith said. "It didn't make any difference what way the election went. We just don't want to try to use a Confederate flag to influence elections. We just wanted the poles to be neutral during the election. "
Smith said ONSF did not currently have plans to put up more flags.
"We don't have any plans right now," he said. "It's not like we're not going to, we just don't have any on schedule right now."
Hildebran mayor Wendell Hildebrand said he had not heard anything about the flags being replaced as of Monday afternoon.
"I was happy when they put up an American flag (in September,)" Hildebrand said. "I think most people liked that also, because it represents everybody.
"Now they're going back to the Confederate flag again," he said. "I just don't understand what they're up to."
Since the flag above Exit 119 is on private property and is not violating any town codes, Hildebrand said "we really can't do anything about it."
Still, Hildebrand worries that the Confederate flag may detract potential business owners from wanting to set up shop in the town.
"One businessman called me," Hildebrand said. "He owns a factory in town, and he wanted to put an outlet store with his factory. He felt like the flag would hurt his outlet store. Then when he saw the American flag, he thought to go ahead forward with his store. So I don't know what he's going to do now. I'm sure I'll be getting a call from him again.
"I just feel like the Confederate flag doesn't represent everybody," Hildebrand said. "I know some people like it, (and) some people don't. I've sure got enough calls about it either way. People have told me both sides. But from my perspective, I would prefer to have an American flag up to represent everybody."