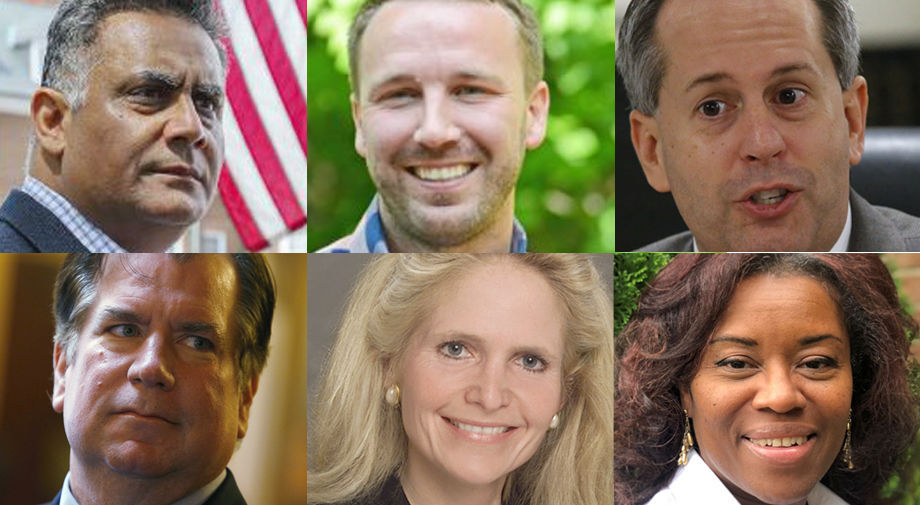 Six Republicans hope to earn a part-time salary to preside over the state Senate starting next year.
The job is lieutenant governor. And the $36,321 salary isn't the draw, it's holding an office that puts the occupant one step from the Executive Mansion.
The lieutenant governor votes to break ties on most legislation in the Senate. Many Virginia governors once held the job, among them current Gov. Ralph Northam; U.S. Sen. Tim Kaine, D-Va.; Democrats Doug Wilder and Chuck Robb; and Republican John Dalton. The last Republican to hold the office was Bill Bolling, who served as lieutenant governor from 2006 to 2014.
Here, in alphabetical order, is a final look at the six candidates for lieutenant governor Republican delegates will consider during Saturday's convention. Voting will be held at locations across the state and could take several days to tally. All six hope that, should they win the nomination, enough voters in Virginia are turned off by exclusive Democratic control in Richmond that they'll elect the first Republican to win statewide since 2009. (Democrats will choose their nominee for lieutenant governor from six candidates in a June 8 primary.)
He is a lobbyist who is managing partner of New World Strategies and a consultant with The Livingston Group.
In his campaign, he's focused on protecting small businesses and the coal industry, job creation across the state and mental health funding.
"When you see the American way of life and the American dream — especially the American privilege — under peril, especially the onslaught by the Democratic policies and the socialist Democrats ... we are under attack," Ahluwalia told WMAL-FM, a Washington-area talk radio station, in an interview this week.
Ahluwalia, originally from India, said that as an immigrant, he wants to preserve the American dream. "The American dream of freedom, growth and opportunity is under threat."
Ahluwalia lives in Northern Virginia and became a U.S. citizen 14 years ago.
Allen is an Air Force veteran from Fauquier County who has cited in his campaign his parents' struggles with addiction and domestic violence, saying he wants to give voice to those who don't have one.
He supports more money for policing.
"I feel like our voices are not being heard," he said in a campaign video. "The battle is happening now. Gov. Northam and liberals in the capital are reckless with power — overreaching, acting like dictators."
Sen. Amanda Chase, R-Chesterfield, a candidate for governor, said in a video on Allen's Facebook page that while she had endorsed Winsome Sears as a Republican for lieutenant governor, she also endorses Allen. She said Allen reminded her of her biggest hero, former President Donald Trump.
Davis, an entrepreneur, has represented Virginia Beach in the House of Delegates since 2014. He first ran for lieutenant governor in 2017 and placed third in a three-person GOP contest. He's back on the trail, pushing conservative issues and campaigning as the only candidate with the business experience to move Virginia forward economically.
Davis' campaign has come under attack from some of his rivals. Tim Hugo, a former Republican lawmaker from Northern Virginia, used a photo of Davis at the gay rights event PrideFest in a campaign mail attacking him. That was followed by an anonymous series of text messages to convention delegates falsely saying Davis was a "gay Democrat."
Hugo denied any connection to the texts.
Davis filed a lawsuit to find out who the sender was, and said he'll clean up unethical behavior in the state GOP.
Hugo, an Army veteran, served in the House of Delegates for 17 years before losing a re-election bid in 2019 to Democrat Dan Helmer in a district that includes parts of Fairfax and Prince William counties.
He summarized his campaign in a Facebook post this week, saying he is an "authentic and consistent conservative."
"For 17 years, I voted to protect life and the unborn. For 17 years, I voted to protect your Second Amendment rights," he wrote. "For 17 years, I voted against the tax increases and even passed a billion dollar tax cut before I left office. And for 17 years, I protected our Commonwealth from the liberal policies that are now destroying our Commonwealth and always supported our Republican nominees because I knew they would stand alongside me in that fight."
Rigler, of McLean, is the president, CEO and owner of Securus Capital in Alexandria.
"Election Integrity is the most important issue to me and my fellow conservatives," she told the Richmond Times-Dispatch by email.
"Last November, I was on President Trump's legal team deployed to North Carolina to ensure election integrity. After returning, I did not hear my opponents speak up forcefully against voter fraud. That's why I entered this race. If we do not protect election integrity, all of the other issues important to conservatives ... will be defeated if we do not have free and fair elections."
There is no evidence of widespread voter fraud in the 2020 election, or evidence that Trump's defeat was a result of fraud.
In a campaign video, Rigler said she is "not going to allow illegal immigrants to come into Virginia and basically be able to vote like the Democrats want."
Sears in 2001 became the first Black Republican woman elected to the Virginia General Assembly. She emigrated from Jamaica at age 6, is a Marine veteran and lives in Winchester, where she owns a plumbing, electrical and appliance repair business.
She served one term in the state House, and lost a race for Congress in 2004 to Rep. Bobby Scott, D-3rd. Sears also ran a write-in campaign for U.S. Senate in 2018 to provide an option for Republican voters unhappy with party nominee Corey Stewart.
One of Sears' focuses in her campaign is convincing Republicans she can win a general election because she's the only GOP candidate who can speak to and win votes of Black voters, including Democrats. That's what she said she did when running for the General Assembly, saying she proved herself to Black voters and asked for their votes.
She said other candidates aren't looking for minority votes and would lose in November. "They're going to keep doing the same thing that they've always done and we're going to get the same results we've always got ... and that is losing."
Rival candidate Davis has attacked Sears on gun issues. Sears' Facebook profile photo shows her holding a large firearm.
Is it hers? "A girl never tells," she told The Times-Dispatch. She added: "We're a family of gun owners."
(804) 649-6061
Twitter: @patrickmwilson