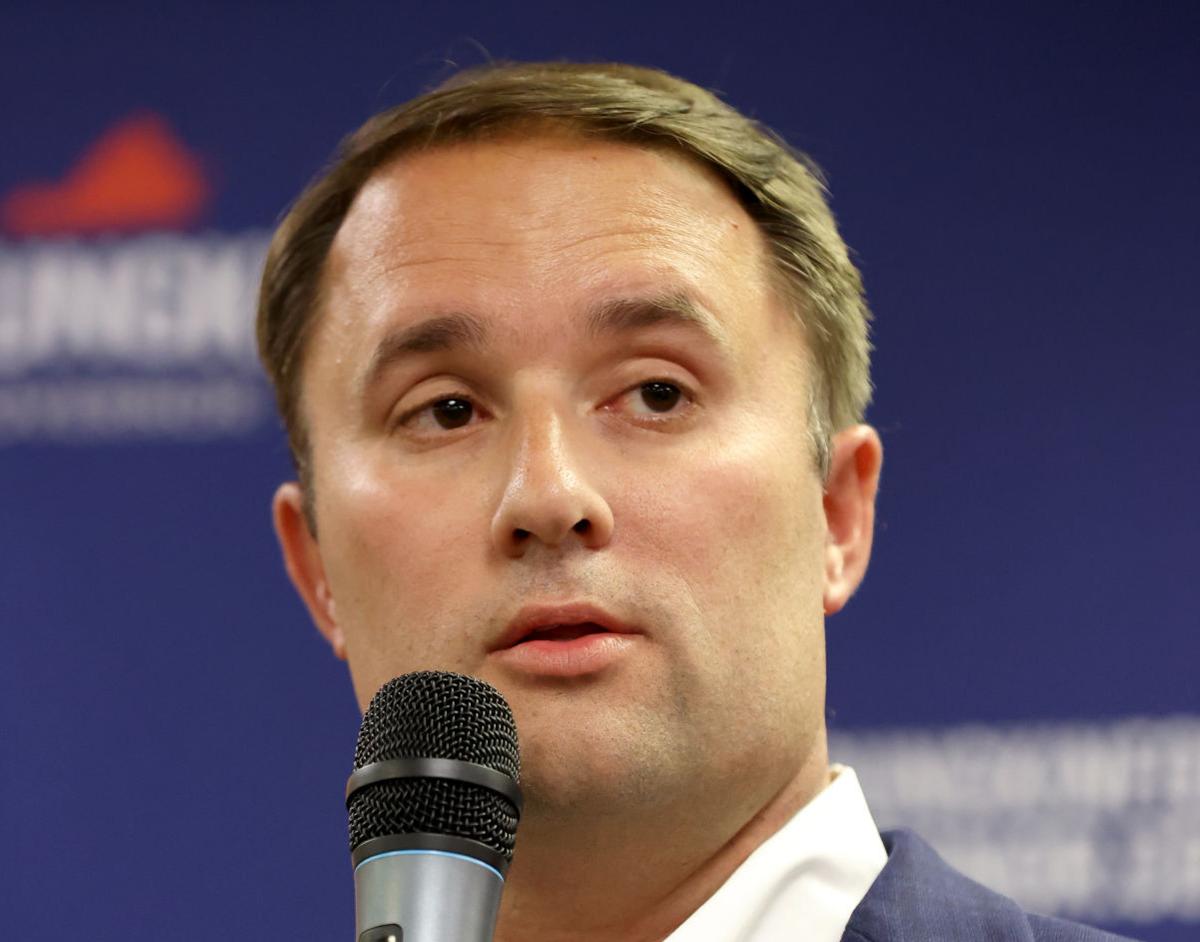 The statewide GOP ticket mates are listed as featured guests Saturday at an "election integrity" rally at Liberty University, but two of the candidates say they aren't attending.
Del. Jason Miyares, R-Virginia Beach, the GOP nominee for attorney general, and former Del. Winsome Sears of Winchester, the nominee for lieutenant governor, won't be attending, their campaigns confirmed Tuesday.
Miyares posted on Twitter on Monday that he and Sears will be doing an event Saturday evening in Fairfax County for Harold Pyon, the Republican candidate challenging Del. Dan Helmer, D-Fairfax, in the fall election.
GOP gubernatorial nominee Glenn Youngkin's campaign would not say whether he still plans to attend the event at Liberty University in Lynchburg, which is coordinated by the 5th congressional district Republican committee and includes a banquet on Friday and forums on Saturday. Asked if he was still scheduled to speak, campaign spokeswoman Macaulay Porter declined to answer on Tuesday and sent the Richmond Times-Dispatch a statement attacking Democratic nominee Terry McAuliffe.
Miyares' tweet on Monday followed days of Democrats attacking the GOP nominees for agreeing to appear at the event, and calling on them to withdraw.
"Glenn Youngkin will headline a rally inspired by Donald Trump's conspiracy theory that led to a deadly insurrection at the U.S. Capitol," McAuliffe said in a statement July 27, accusing Youngkin of "peddling Donald Trump's lies."
The Miyares and Sears campaigns said they'd never actually committed.
"We never actually publicly said that we were ever going to attend," said Miyares spokeswoman Victoria LaCivita. "It was just scheduling conflicts."
She added that Miyares, who is challenging Attorney General Mark Herring, the Democratic nominee, had been planning on attending the Fairfax event "for a while now."
Sears campaign manager CJ Jordan said, "We were triple overbooked."
She said Sears didn't have any concerns about the nature of the election integrity event but wanted to help Pyon in a House race the GOP is targeting. Sears faces Del. Hala Ayala, D-Prince William, in the lieutenant governor's race.
Election integrity has become a major issue in the statewide campaign.
Trump made baseless claims of election fraud that preceded the deadly Jan. 6 insurrection at the U.S. Capitol. The former president and many other Republicans have continued to question the legitimacy of the presidential election, even though it wasn't close and there's no evidence of any widespread fraud.
The Liberty event also features Rep. Bob Good, R-5th, who has falsely said the coronavirus pandemic is "phony."
"Terry McAuliffe and his allies in the liberal media sure do love to twist my words beyond recognition," Youngkin said in the statement.