A Pilot Mountain woman convicted of illegally entering the U.S. Capitol on Jan. 6, also brought her 14-year-old child to the riot and took the child into the building, federal prosecutors said in court papers filed Thursday.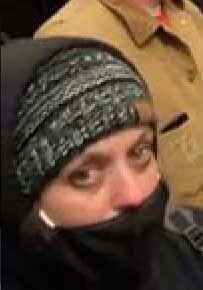 Prosecutors also said Virginia Marie Spencer, 38, confronted a counter-protester and walked into a suite of offices belonging to House Speaker Nancy Pelosi, 
In September, Spencer became the first person from the Triad to be convicted of a charge in the Jan. 6 insurrection, where hundreds of people stormed the U.S. Capitol and assaulted law-enforcement officers in an effort to stop the U.S. Congress from certifying the presidential election. They falsely believed that the election had been stolen from former President Donald Trump due to voter fraud. There is no evidence that there was voter fraud and there is no evidence that Trump won the election. 
Spencer pleaded guilty on Sept. 9 via Zoom in U.S. District Court in Washington, D.C., to one misdemeanor count of parading, demonstrating or picketing in a Capitol building. She had been facing three other misdemeanor charges that federal prosecutors have agreed to be dismiss as part of the plea arrangement. Her husband, Christopher Raphael Spencer, faces similar charges. His case has not yet been tried.
Virginia Spencer faces a possible six-month prison sentence and her sentencing is scheduled for Jan. 7, 2022. 
In a sentencing memorandum filed Thursday, federal prosecutors are urging a judge to sentence Spencer to three months in federal prison and three years of probation. She would have to pay $500 in restitution. 
Allen Howard Orenberg, her attorney, could not immediately be reached for comment Thursday. 
Assistant U.S. Attorney Douglas G. Collyer said in court papers that Spencer and her husband took their 14-year-old child (court papers don't identify the child as either a boy or a girl) into the Capitol. He also said she sought to minimize her involvement when she spoke to FBI agents after she was arrested. 
The Spencers first attended a rally where Donald Trump alleged the election was stolen due to fraud and urged supporters to march to the Capitol. As they walked down Pennsylvania Avenue, they fell behind a group of Proud Boys, a nationalist organization known for violent clashes at rallies, protest and other events. A number of Proud  Boys leaders, including Kernersville resident Charles Donohoe, have been charged in connection to the Jan. 6 attack.
Virginia Spencer, prosecutors said, joined a smaller group that confronted a counter-protesters. Christopher Spencer told the person, with the couple's 14-year-old child there, "Easy to talk s*** behind the cops!" 
Virginia Spencer said, "Look who's protecting you ...(indiscernible) behind the f***in' police!" Washington, D.C. Metro Police officers broke up the encounter, which was captured on body-camera. 
Despite seeing barriers blocking the steps to the Capitol and seeing law-enforcement officers shooting tear gas and using percussion grenades, Virginia Spencer, her husband and the child went toward the building. They climbed the northwest steps near the inauguration stage, went through the courtyard and entered the building through the Senate Wing Door about 2:19 p.m. That was six minutes after the initial breach of the building, according to court papers. 
And according to prosecutors, they stayed for 30 minutes, wandering through the building. Christopher Spencer live-streamed via Facebook and Virginia Spencer took selfies with her phone. 
At one point, Virginia Spencer, prosecutors said, took a phone call. 
The couple was part of a group that overwhelmed law-enforcement officers near the Crypt, a large circular room underneath the rotunda. Then they briefly entered the suite of officers belonging to House Speaker Nancy Pelosi before turning away, which was captured on Christopher Spencer's livestream, court papers said. 
In Statuary Hall, the Spencers joined another group of people outside the House Chambers as they tried to get inside. Members of Congress were inside at the time. Prosecutors said Virginia Spencer was not at the front and was not vocal but the group of rioters chanted "Stop the steal! and "Break it down!" While this was being done, Virginia Spencer lit up a cigarette. 
In a video from her husband, Virginia Spencer is seen talking to a Capitol police officer. Virginia Spencer later told her husband captured on video that she told the police officer, "This is not only for us; this is for y'all too." 
The officer reportedly replied, "I know, but the point's been made...the point's been made." Virginia Spencer, according to court records, said, "Well, it's bulls***."
Officers used tear gas near the House Chamber's entrance and the Spencers went past a stairwell and into a hallway east of the Chamber, lingering while alarms blared, prosecutors said. Officers tried to move down the hallway but were attacked by a rioter. Christopher Spencer joined the group, saying "Smile m*****f*****! Smile b****!" Other rioters moved furniture toward the officers, according to court records. 
---