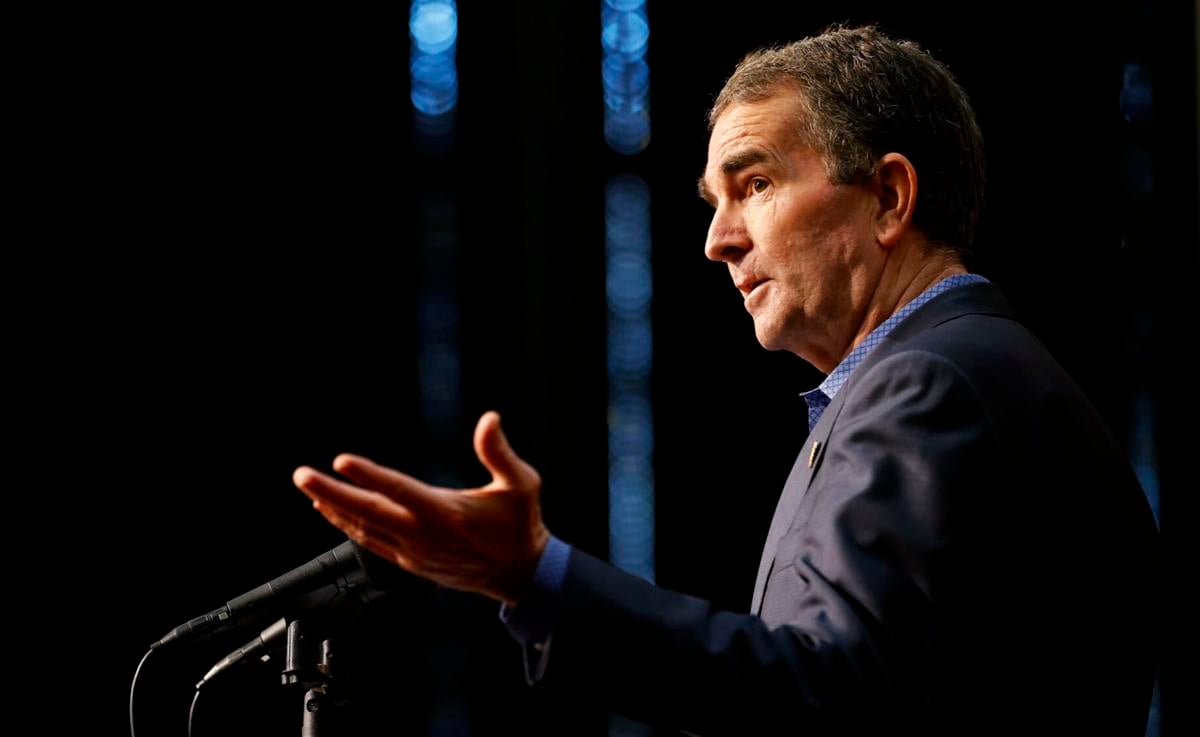 ---
Gov. Ralph Northam said Monday that he is considering further COVID-19 restrictions this week following upward trends since Thanksgiving and a weekend that saw the highest number of daily coronavirus cases ever recorded in Virginia, with 11,490 new infections coming in since Friday.
"We took some aggressive measures prior to Thanksgiving, and we're watching the data every day, but our numbers have trended up, especially over this past weekend," Northam said in an interview with CNBC on Monday. "We're actively discussing on how to mitigate the numbers, and we'll take further measures if we need to this week."
Less than a month ago, the governor's administration restricted private and public gatherings to 25 people and the selling of alcohol for on-premise consumption past 10 p.m. ahead of the Thanksgiving holiday.
The Virginia Department of Health reported 3,817 new COVID-19 cases Monday, the second-highest increase of new daily cases recorded since the start of the outbreak. The peak was Sunday, which saw a 3,880-case jump.
On Saturday, it was 3,793.
This brings the state's total to 258,870 cases and the seven-day average for new cases to 3,005.
Of the 258,870 cases, 226,426 cases were classified as confirmed and 32,444 were deemed probable, meaning people were symptomatic with a known exposure to COVID-19 but had not yet received a positive test result. More than 20% of total cases are in the 20-29 age group.
Virginia also surpassed 4,200 deaths on Monday, with an increase of 48 new deaths since Friday, VDH data show.
The Virginia Hospital and Healthcare Association reported Monday that a total of 25,401 people had been hospitalized for COVID-19 and released throughout the pandemic, and 1,885 people are currently hospitalized with the virus or have test results pending.
At one point over the weekend, 1,969 people were hospitalized and awaiting test results or were hospitalized with COVID — yet another pandemic high that the VHHA has reported on its COVID-19 dashboard, which presents data back to March 28.
The current seven-day moving average is 1,861 people hospitalized.
According to the VDH's COVID-19 dashboard, 15,356 people have been hospitalized statewide for the coronavirus and more than 53% are Black or Latino, though the VDH website notes this figure under-represents the total number of hospitalizations.
VDH shows the percentage of positive results from COVID testing is 10.8%, the highest it's been since May and a 1.3% increase from Friday. When the state was entering Phase 1 on May 15, the positivity rate was 14.4% and the state was averaging around 7,000 tests. Now Virginia averages more than 20,000.
Lifting public restrictions then depended on a 14-day sustained decline of hospitalizations and percentage of positive tests — a trend not seen since the end of September.
Nearly 35,500 cases are associated with the state's 1,605 outbreaks. The VDH classifies an outbreak as at least two lab-confirmed cases.
Richmond has had 7,176 cases, 511 hospitalizations, 82 deaths and 90 outbreaks — the second-highest number of outbreaks in the state.
The Chesterfield Health District, which includes Chesterfield County, Powhatan County and Colonial Heights, has had 11,037 cases, 582 hospitalizations, 167 deaths and 75 outbreaks.
Henrico County has had 9,137 cases, 612 hospitalizations, 260 deaths and 85 outbreaks. Hanover County has had 2,733 cases, 167 hospitalizations and 56 deaths.
The VDH dashboard operates on a 16- to 17-hour delay in the reporting of statewide numbers. Figures on the website might not include cases or deaths reported by localities or local health districts.