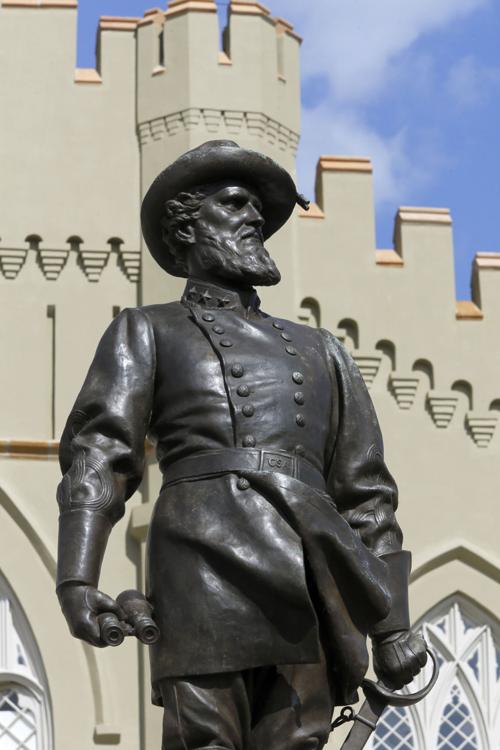 Gov. Ralph Northam on Monday ordered an independent investigation of the Virginia Military Institute after Black cadets and alumni spoke out against racism they endured while attending the public military college.
A third party will review VMI's "culture, policies, practices, and equity in disciplinary procedures" and share preliminary results by the end of the calendar year, Northam wrote to the college's board of visitors.
In the letter, Northam and 10 other co-signatories expressed their "deep concerns about the clear and appalling culture of ongoing structural racism" at the military college. The letter was sent a day after the Washington Post published a story detailing continuous racism that Black cadets have experienced while attending the nation's oldest state-supported military college. The Roanoke Times first reported over the summer about ongoing racism at the college and alumni's push for change.
"Black cadets at VMI have long faced repeated instances of racism on campus, including horrifying new revelations of threats about lynching, vicious attacks on social media, and even a professor who spoke fondly of her family's history in the Ku Klux Klan — to say nothing of inconsistent application of the Institute's Honor Code," the letter said, referencing the Post story. "In addition, VMI cadets continue to be educated in a physical environment that honors the Confederacy and celebrates an inaccurate and dangerous 'Lost Cause' version of Virginia's history. It is long past time to consign these relics to the dustbin of history."
While the board of visitors has "the ultimate authority for immediately addressing these concerns ... it is clear that internal action alone is no longer sufficient for VMI to join in the commitment to diversity and equity that the rest of Virginia's government is embracing," the letter stated.
The Washington Post story described a hostile, racist environment toward Black cadets, including a lynching threat and a faculty member who "reminisced in class about her father's Ku Klux Klan membership," according to the article.
The topic of racism at VMI was pushed into the spotlight in June after alumni took to social media to recount their experiences, and class of 2020 alumnus Kaleb Tucker published a petition asking the college to acknowledge racism and take down the statue of Confederate Lt. Gen. Thomas "Stonewall" Jackson that sits in front of the barracks. That petition was met with a counterpetition by alumnus Jeremy Sanders, who wrote that VMI had been painted "in a slanderous light," and that "the very core of the Institute is under attack by those who seek to destroy these noble ideas that have made VMI cadets an 'honor to their country and their state'."
The Roanoke Times reported on Tucker's petition at the time it was published and wrote about racism recounted by Black cadets and confirmed by faculty members. Tyriuq Trotman, another class of 2020 graduate, recalled having to get up early the day after his first football game for the New Cadet Oath, during which cadets charged on the New Market battlefield in memory of 10 cadets who died fighting for the Confederacy. Former VMI Assistant Athletic Director for Academics Service and Compliance J.B. Weber said football staff attempted to conceal Lexington's Confederate traditions during his time at VMI from 2014 to 2017.
In July, another group of alumni wrote a letter to VMI asking the school's leadership to create a commission to examine and reassess the school's traditions, monuments, and building names. Shortly after, VMI's leadership published a lengthy letter saying they would not remove the Jackson statue or other monuments but would alter longstanding traditions, like the New Cadet Oath, and emphasize modern history.
Northam, a 1981 graduate of VMI, also wrote in Monday's letter that the state will fund the independent review, and that the board of visitors must meet with the state's chief diversity officer and secretary of education at least three times by the end of the year to "review best practices," discuss funding and provide support to implement a diversity plan.
Last year, it became public that Northam's nickname in the 1981 VMI yearbook was "Coonman." State Senate Minority Leader Tommy Norment, R-James City, also was criticized for his role as managing editor of a 1968 VMI yearbook filled with slurs and pictures of cadets in black face. Northam denied knowing why his friends gave him the nickname, and Norment condemned the photos in his yearbook, saying that he supported integration.
Northam was also at the center of a blackface scandal in early 2019, after he took responsibility for a photo on his 1984 Eastern Virginia Medical School yearbook page that depicted a person wearing a Klan robe and another in blackface. He later said he wasn't in the picture, though he acknowledged he had at one point worn shoe polish to dress as Michael Jackson.