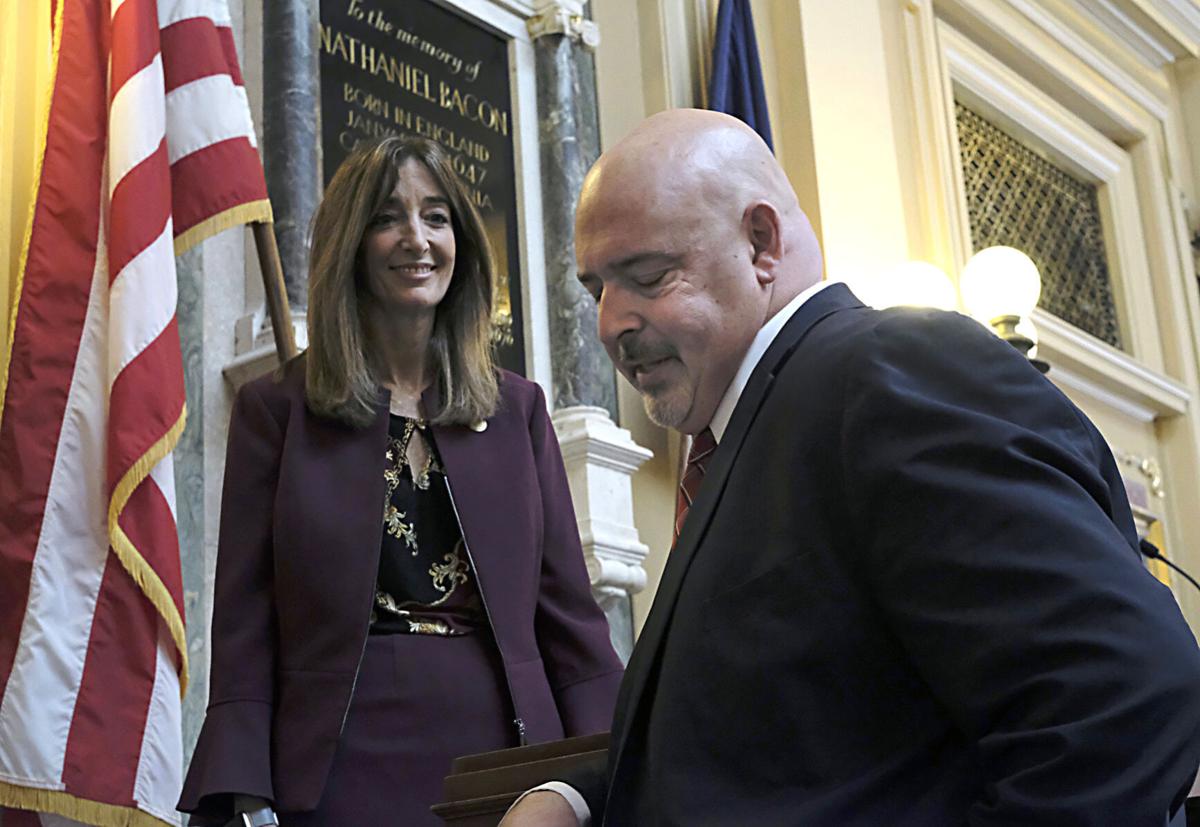 A panel of retired judges on Wednesday selected the eight citizen members of Virginia's new redistricting commission, including Greta Harris of Richmond, president and CEO of the Better Housing Coalition, and Hanover County prosecutor Mackenzie Babichenko.
The list of eight citizen commissioners also includes Marvin Gilliam of Bristol, a former coal executive who has donated nearly $1 million to Republican campaigns.
The judges unanimously voted for the slate of eight citizens, which they had winnowed from 62 finalists submitted by four state legislative leaders. More than 1,200 Virginians had applied for the eight spots. The eight citizens will join eight lawmakers in redrawing the state's legislative and congressional boundaries based on census data. Virginians backed a state constitutional amendment in November setting up the new commission.
As the judges winnowed their lists during a meeting that lasted more than three hours, they repeatedly said they were impressed by the quality of the finalists. The judges said they were striving to represent the state's ethnic, geographic and gender diversity in keeping with lawmakers' directives.
The judges selected two names from each of four lists of finalists submitted by four legislative leaders: House Speaker Eileen Filler-Corn, D-Fairfax; House Minority Leader Todd Gilbert, R-Shenandoah; Senate President Pro Tempore Louise Lucas, D-Portsmouth; and Senate Minority Leader Tommy Norment, R-James City.
From Filler-Corn's list, the judges selected Harris, 60, an African American and a Democrat; and Brandon Hutchins, 39, of Virginia Beach, an African American and a Democrat.
From Gilbert's list, the judges picked Jose Feliciano Jr., 52, a Hispanic and a Republican from Fredericksburg; and Babichenko, 36, of Mechanicsville, who is white and a Republican.
From Lucas' list, the judges selected James Abrenio, 37, an Asian and a Democrat from Fairfax County; and Sean Kumar, 41, a Democrat from Alexandria who is multi-racial.
From Norment's list, the judges picked Gilliam, 64, of Bristol, who is white and a Republican; and Richard Harrell, 74, a white Republican from South Boston, a town in Halifax County, in Southside.
The commission's eight lawmakers are Sens. Mamie Locke, D-Hampton; George Barker, D-Fairfax; Ryan McDougle, R-Hanover; and Steve Newman, R-Lynchburg; and Dels. Delores McQuinn, D-Richmond; Marcus Simon, D-Fairfax; Les Adams, R-Pittsylvania; and Margaret Ransone, R-Westmoreland.
Retired Petersburg Circuit Court Judge Pamela Baskervill served as chair of the Redistricting Commission Selection Committee. The other retired judges on the panel were: Joanne F. Alper, a former circuit court judge in Arlington County; Larry B. Kirksey, a former Bristol commonwealth's attorney, City Council member and circuit court judge; David Pugh, a retired circuit court judge in Newport News; and William C. Andrews III, a retired Hampton Circuit Court judge.
"This was an awesome undertaking," Andrews said. "You almost couldn't go wrong with anybody on our final list."
Kirksey added: "This is a great adventure that Virginia has started on and I'm curious and eager to see how it ends."
The full commission will hold its first meeting Feb. 1.
(804) 649-6645
Twitter: @AndrewCainRTD