Some five months after the Bristol region's first COVID-19 vaccine was administered, less than a third of area residents have been vaccinated and the pace, of late, has nearly stalled.
State health departments report about 37% of Northeast Tennessee and Southwest Virginia residents have received at least one dose — compared to 48% of the entire U.S. population — while 31% of this region's residents are fully vaccinated against the novel coronavirus. That compares to 38% fully vaccinated nationwide, according to the Centers for Disease Control.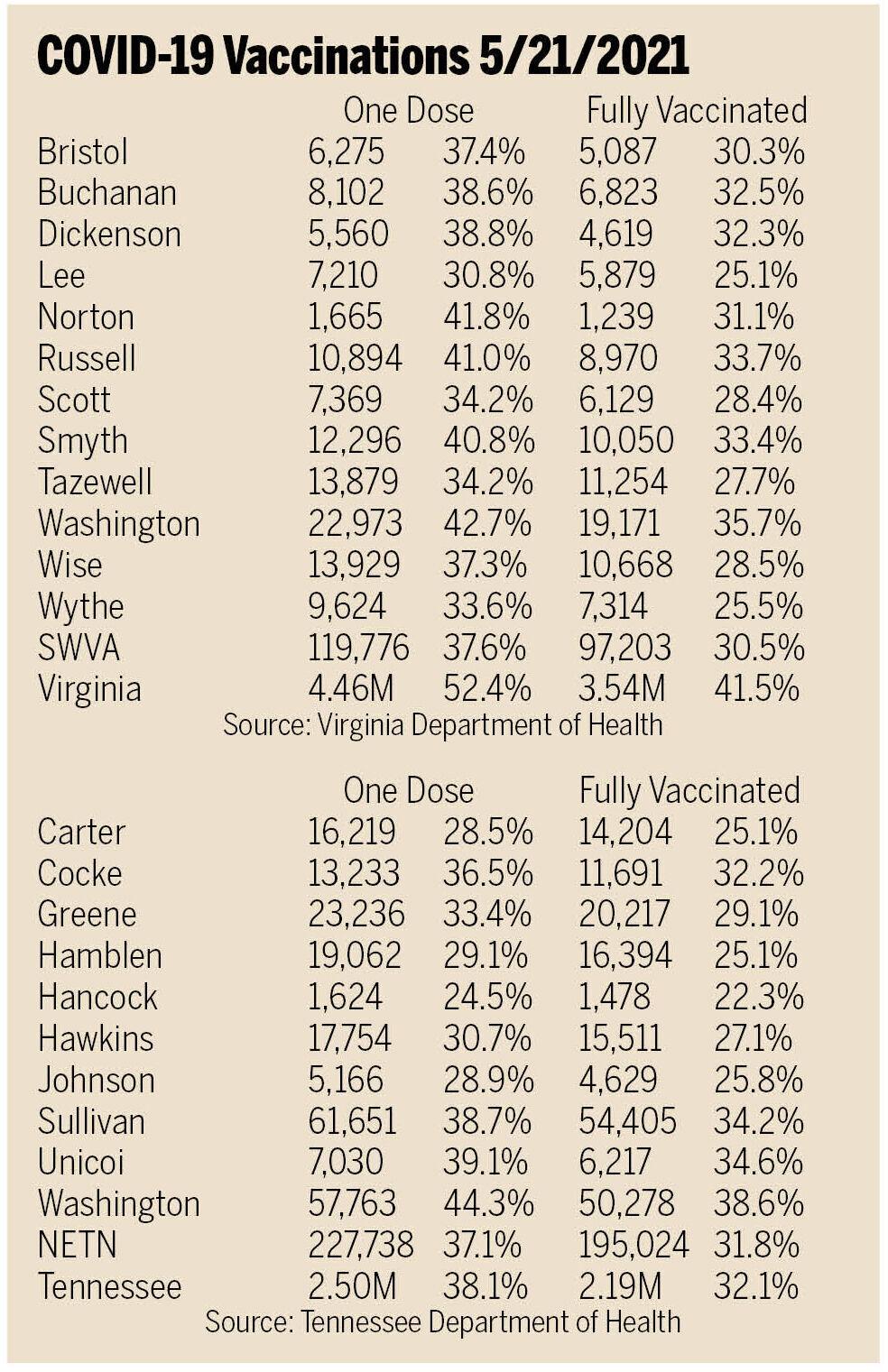 This region's vaccination deficit is widening as totals grew by an average of 1 percentage point across most counties and cities during the past week, a much slower pace than either state reported.
The Virginia Department of Health reported about 3,400 new first vaccinations and about 2,800 second injections during the past seven days across the 10 counties and two cities of far Southwest Virginia, which represents about 0.8 of 1 percent of the population. Corresponding statewide totals grew by over 4 percentage points.
Local gains were even less in Northeast Tennessee, where about 6,900 first doses and less than 1,200 second doses were administered during the past week, representing about a 1 percentage point increase.
Northeast Tennessee has now fallen behind both state averages for the first time. As of Friday, 37.1% of residents of 10 Northeast counties have received at least one dose, compared to 38.1% statewide, while 31.8% were fully vaccinated, compared to 32.1% for a state that ranks 46th in the nation for vaccinations, according to the CDC.
Twenty-one states have at least 40% of their population fully vaccinated and one — Maine — reported being above 50%, according to CDC figures compiled by Becker's Hospital Review.
Washington County in Tennessee tops this region with 44.3% of its residents having at least one injection and 38.6% fully vaccinated, according to the Tennessee Department of Health. Sullivan and Unicoi counties were the only other area Tennessee counties above both state averages while Carter and Hamblen counties have a fourth of their residents fully vaccinated and Hancock County reported the lowest averages at 24.5% for first doses and 22.3% fully vaccinated.
Four Southwest Virginia localities topped 40% on first dose — Washington, Russell and Smyth counties plus the city of Norton — while five have over 30% fully vaccinated, led by Washington County at 35.7%.
This current lack of public response is prompting widespread changes in how health departments are providing vaccines.
"At the beginning of April, Mount Rogers Health District opened to Phase 2 of vaccination, which was everyone 16 and older [now everyone 12 and older]. We know that many who were most eager to get the vaccine were vaccinated under Phase 1, either as an essential worker or someone at high-risk due to age or underlying medical condition," health district Population Health Manager Breanne Forbes Hubbard said. "Our vaccine clinic strategy at that point had been large, high-volume clinics, situated in a fixed community site, and these were most easily accessed by those who had transportation or public transportation.
"The slowdown of appointments at our fixed sites has allowed us to make a few strategy changes. We are transitioning COVID-19 vaccines into the local health department — some of our offices are already doing this, some are starting next month," Forbes-Hubbard said. "We also began mobile clinics at the beginning of May. Mobile units are going out, across far Southwest Virginia, to offer vaccines at times and locations that are convenient for our residents. We know that many people who have not yet been vaccinated simply have not had the opportunity — they might not have transportation available to travel longer distances to a clinic, they may be busy with work or parenting or home life, or they may have questions about the vaccines that they haven't been able to get answered yet."
Department community health workers are being dispatched to farmers markets, local businesses, neighborhoods and gathering places to share information about upcoming clinics and answer questions about the vaccines, she said.
Mobile units have visited churches, libraries, grocery stores and events, she said.
The Bristol Public Library has hosted some of those vaccination clinics, but the last one is planned for May 27 from noon to 2 p.m., according to a written statement. About 200 doses have been administered at that site thus far. The clinic is open to anyone who needs either the first or second dose of Moderna vaccine. Walk-ins are welcome, but appointments are recommended. Call 276-642-7335 to schedule an appointment.
"Some of our mobile clinics have seen larger turnouts, some have seen smaller. We are constantly reevaluating our strategy to make sure we are reaching our community where they are and conveying our message effectively," Forbes-Hubbard said. "We know that regardless of whether we have eight people or 80 at a clinic, every shot we give gets all of us closer to life back to normal."
In Tennessee Friday, the Sullivan County Regional Health Department announced it will deploy "strike teams" throughout its service area to provide either Pfizer or Johnson & Johnson COVID-19 vaccinations at local churches, businesses and other interested organizations.
Also on Friday the department held its final public vaccination clinic at Whitetop Creek Park. Plans are now to administer vaccines at its Blountville office. That is quite a contrast to long lines in January, February and March, when people sometimes waited hours to receive their first and second shots.
Beginning May 25, COVID-19 vaccinations will be given at the Blountville Health Department on Tuesdays, Wednesdays and Thursdays from 8:30 a.m. to 4:30 p.m., according to a written statement. Appointments can be made by calling 423-279-2777, but walk-ins are also welcome.
Federal health officials recently approved providing vaccines to children as young as 12.
"Earlier this month, we went into all our schools and offered the Pfizer vaccine to those 16 and older," Forbes–Hubbard said. "Now that Pfizer is authorized for those 12 and older, we've scheduled clinics this week and next week to go back into the schools and offer Pfizer to this population. We have been pleased with the number of students vaccinated and signed up so far, and we know that many parents have already taken their teenagers to get the Pfizer vaccine at a local pharmacy or health system clinic.
"Being fully vaccinated means you no longer have to quarantine if exposed to someone with COVID-19 and, in most situations, it means you no longer have to wear a mask," Forbes-Hubbard said. "These, in addition to the obvious benefits of reducing severe illness and disease transmission, are great benefits to our community."