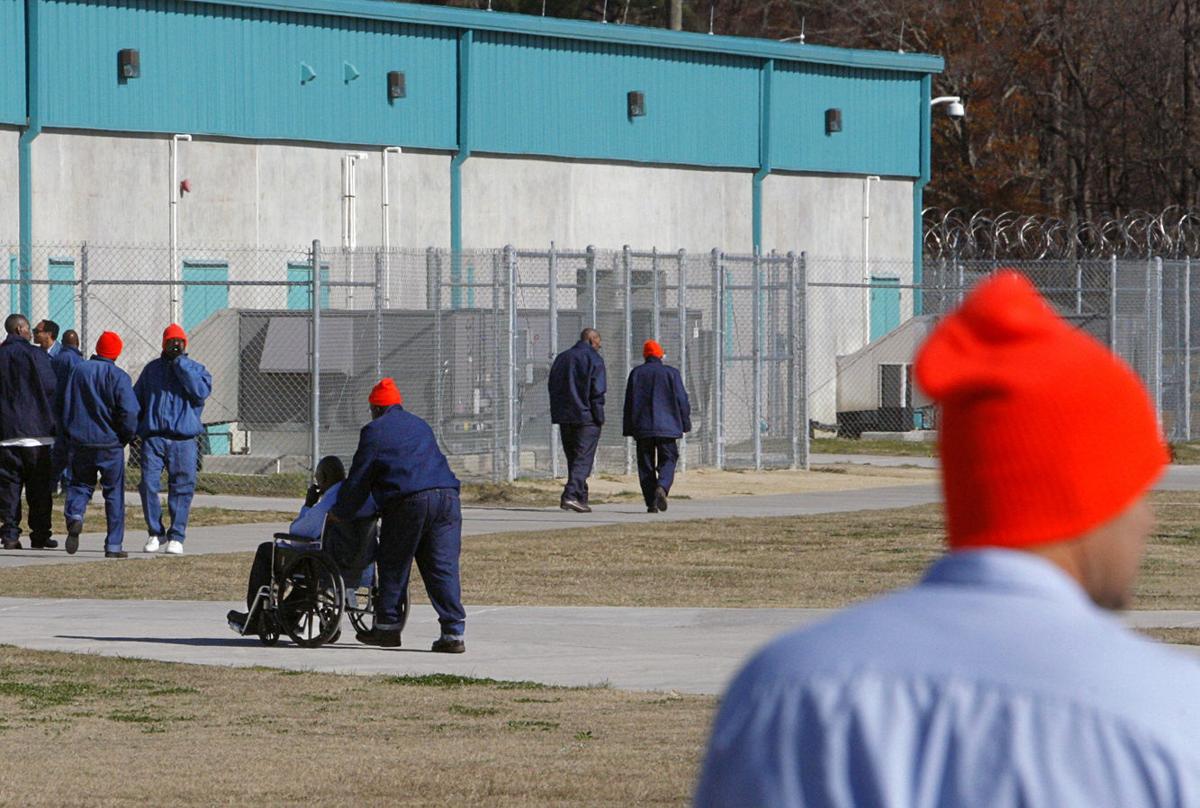 Ten inmates with COVID-19 at the Deerfield Correctional Center have now died. The rural Southside prison holds many elderly and otherwise vulnerable inmates.
With 925 inmates, Deerfield has an assisted living unit and infirmary and holds many of the state prison system's elderly and medically impaired offenders. Many of the inmates at Deerfield sleep in dormitories, making social distancing difficult if not impossible.
Deerfield also has a 235-inmate work center.
The Department of Corrections said in a prepared release Wednesday that it has taken "major steps to manage the COVID-19 outbreak at Deerfield Correctional Center and reduce the spread among a highly vulnerable population of offenders."
Deerfield is home to Virginia's largest cohort of geriatric male inmates, many of whom have serious health conditions and reside in assisted living or nursing home environments, he said.
As a result, the department is handling the outbreak at Deerfield by following the guidelines for nursing homes in addition to guidelines for corrections from the Centers for Disease Control and Prevention and the Virginia Department of Health.
"We responded to the outbreak at Deerfield with months of knowledge and best practices that we've developed since the beginning of the pandemic. As we've witnessed in nursing homes everywhere, the offender population at Deerfield is unfortunately more vulnerable to the coronavirus," said Harold W. Clarke, the director of the Department of Corrections.
Figures posted on the department's website late Tuesday showed that 36 staff members at Deerfield, which is located in Capron, east of Emporia, also currently are positive for COVID-19. Staff from other prisons have been brought in to help run Deerfield.
Lisa Kinney, spokeswoman for the Virginia Department of Corrections, wrote in an email that "some staff have temporarily been moved to Deerfield from other facilities, both security staff and nursing staff."
Kinney reported that additional temporary nurses have been hired and the department has moved medical staff from other facilities to Deerfield. She said all medical and kitchen staff are wearing N95 masks.
Figures posted on the Virginia Department of Corrections website late Tuesday show that, in all, 24 inmates with COVID-19 have died thus far in the pandemic.
The department, which has 27,000 inmates, reports that there are only three major current outbreaks in the system: Deerfield, with 462 inmates and 36 staff with active cases; Sussex I State Prison, with 97 cases; and the Fluvanna Correctional Center for Women, with 113 active cases.
Fluvanna is the state's largest prison for women and is where the most seriously ill female inmates are held.
With 10 deaths, Deerfield has the most for any facility. Because of the number of inmates with serious medical problems and elderly offenders being held there, Deerfield has been a concern of inmate advocates and corrections officials since the pandemic began.
Four have died at the Buckingham Correctional Center and two each at the Dillwyn and Greensville correctional centers and at the State Farm Correctional Complex. One inmate each has died at the Virginia Correctional Center for Women, Sussex II State Prison and the Lawrenceville and Haynesville correctional centers.
The department said testing was performed on 605 offenders and 232 staff at Deerfield on Aug. 31 and Sept. 1. "These were individuals at Deerfield who had not tested positive in the three months prior," said the department.
The testing team returned to Deerfield on Sept. 14 and tested offenders in three housing units, including the assisted living quarters and the infirmary. On Sept. 16, the department collaborated with the Virginia Department of Health and the Virginia National Guard to conduct testing of 445 inmates and 183 staff members.
Routine, clinical testing of symptomatic patients and entire housing units was conducted as ordered by the facility's medical director. In addition, weekly testing of infirmary and assisted living staff began in response to a recently added VDH testing requirement for nursing homes, said the department.
Family members of offenders being held at Deerfield complain about virus-related staff shortages there have required bringing in officers from other parts of the state.
Conrad Burke, an inmate at the Haynesville Correctional Center, wrote in an email that staff from his prison are working at Deerfield and when they return to Haynesville, they pose a risk of spreading COVID-19 there and in nearby communities.
"Prisoners [have] no control currently to protect ourselves from these staff that is going to an infected environment then returning back to their home facilities," Burke wrote.
Kinney said that staff movements, including staff going back to their home facility, follow guidance for corrections from the Virginia Department of Health and the CDC .
"Careful consideration is being given to the security staff's post assignments," she wrote in an email. "No outside security staff is in a red zone."
Red zones are where known COVID-19 cases are held.