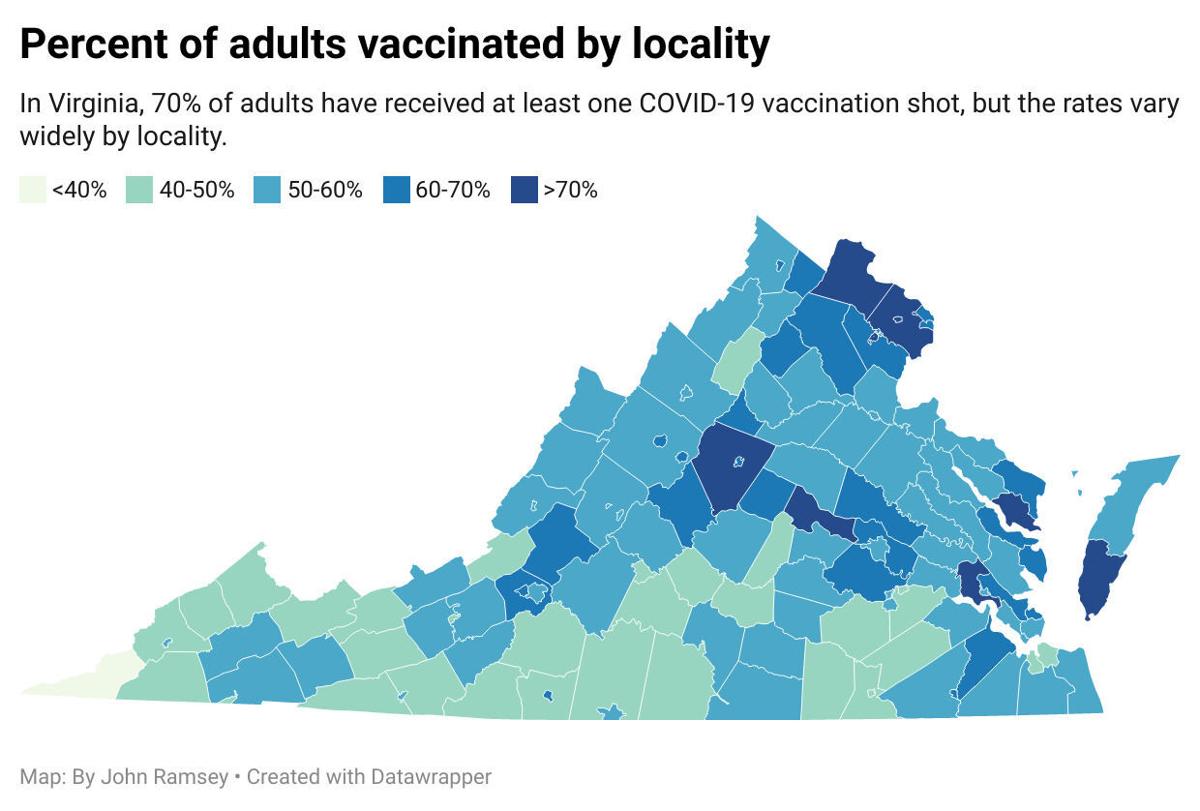 Seventy percent of Virginia adults have received at least one coronavirus vaccine, a milestone reached two weeks ahead of President Joe Biden's goal to hit the mark nationally by July 4.
Data from the Virginia Department of Health on Monday still showed that 69.9% of adults were partially vaccinated, though state officials chalked that up to reporting delays on the heels of a holiday weekend. As of Monday, only 15 other states had already met the deadline.
The increase in vaccinations has sent case numbers plunging, with an average of 131 new infections and six COVID-19-related deaths per day. In mid-January, the average number of new cases reached 6,100. More than 80 people a day were dying.
But vaccination rates vary widely throughout the state. The wealthiest cities and counties are among the only 10 localities that are at or above the 70% number that is hailed by state and health officials as a sign that the virus is retreating.
Eight of those 10 localities have median household incomes exceeding Virginia's average of $74,222. Four are in the top five richest localities in the state — the cities of Fairfax and Falls Church along with the counties of Loudoun and Fairfax — which have median household incomes of $111,000 to $136,000.
In far Southwest Virginia's Lee County, which is the least vaccinated locality with 39.2% of adults receiving at least one dose, median household income is about $33,000.
The city of Fairfax is the most vaccinated locality, at 81% — more than double Lee County's rate despite having similar population sizes. Lee County has reported 2,436 COVID-19 cases since the start of the pandemic, four times more than the city of Fairfax.
Of the 30 localities with the lowest median income, only one has had at least 60% of its adults partially vaccinated. Half have yet to pass 50%.
At 53.6% of adults partially vaccinated, Richmond has the lowest vaccination rate among adults compared with nearby Chesterfield, Henrico, Hanover and Goochland counties — all of which have much higher median incomes than the city.
The count does not include more than 1 million vaccinations, such as for federal doses and those given to Virginians out of state. Dr. Danny Avula, the state's vaccine coordinator, has said in past interviews that this figure could nudge numbers in southern Virginia. He noted that people living near the Virginia border may have been vaccinated in neighboring states.
Victor Chen, a Virginia Commonwealth University sociology professor specializing in inequality and poverty, said the varying vaccination rates are likely due to the heavily intertwined role income and education level play in determining health and access to resources — giving more affluent individuals a head start in the early months of the vaccine rollout and widening the gap between rich and poor neighborhoods.
Education can influence salary; where a person lives; access to internet and medical care; skepticism of government entities; and the availability of accurate COVID-19 information, Chen said.
Higher paychecks are also frequently tied to having paid sick leave, which Chen said can result in people with more financial security not worrying about whether having vaccine side effects could affect wages.
In each category, the city of Fairfax in Northern Virginia and Lee County in Southwest Virginia are nearly complete opposites.
In Fairfax, the U.S. Census Bureau estimates 94% of residents have graduated high school and 61% have a bachelor's degree or higher. In Lee County, 77% of residents graduated high school and 11% are college graduates.
While 95% in Fairfax city have a broadband internet subscription — which was helpful in the months Virginia required an appointment through its online vaccine registration system — less than half of Lee County residents reported the same. More than 1 in 4 residents in Lee are in poverty; fewer than 1 in 10 residents live in poverty in the city of Fairfax.
"We tend to think in these kind of Republican, Democratic and other sorts of lenses, but the major divide in our country is class and race," Chen said. "And we're seeing those things really play out and really determine both COVID mortality and now COVID vaccinations."
A VDH report from June found that among the 35-to-54 age group, people in high-poverty census tracts were up to 2.3 times more likely to die from COVID-19 than those in low-poverty areas.
Those who are unvaccinated remain susceptible to contracting the virus, a risk made more worrisome as the Delta variant spreads faster in states with lower inoculation rates. On Friday, the most recent VDH update available showed the Delta variant accounted for 41 COVID-19 infections and six hospitalizations across the state.
There are 2,623 cases, 149 hospitalizations and 32 deaths currently linked to variants in Virginia, but without monitoring every sample of a person who has tested positive, it's difficult to know the true number.
While lauding the strides the state has taken to beat the Fourth of July deadline, Gov. Ralph Northam on Monday acknowledged the variants' threat to progress.
"As long as there are vectors, as long as there are individuals walking around, existing, that have not been vaccinated, then that's where those variants like to go to live," said Northam, speaking outside of Hope Pharmacy in Church Hill. "The more people we can get vaccinated, the better. We're going to do everything that we can."
Northam quickly shut down the possibility of cash incentives in Virginia on Monday, saying that "we just expect people to do the right thing."
The state is shifting from mass vaccination clinics to support more targeted efforts in places whose vaccination rates continue to lag behind. For Richmond and Henrico's health districts, spokesperson Cat Long said the localities are changing the definition of success away from percentage of people vaccinated to "making sure we create new points of access to people who need it."
Long noted that the health districts prioritized redistributing vaccines to Black-owned pharmacies, faith communities and safety-net providers early on in the rollout when supply challenged their approach.
"But it weighs on us that we could have always done more," she said. "We could've always done more community engagement. If we had more time, and more foresight on what was going to happen, we could've done more. Now is the time for us to do more. ... It's really the time for us to ramp us those efforts."
Outside of vaccinations and equitable distribution, VCU sociology professor Chen said the disparities indicate a need for changes in policy, health care and financial assistance to help close the gaps that will linger long after the pandemic is over.
Chen also said inequities have been related to lower life expectancies, drug overdoses, suicides and worse health outcomes among the working class even prior to COVID-19.
"We see this steady growth in death rates among the working class before the pandemic," Chen said. "I think this is something that hopefully will just open our eyes to these broader longer-term trends that are pretty stark and disturbing."
"The pandemic is something that should open our eyes to the importance of how much inequality is shaping our lives in ways that can have stark outcomes as a result," Chen said.
To find vaccines nearby, text GETVAX to 438829 or VACUNA to 822862. COVID-19 vaccines are free and available to anyone regardless of immigration status or whether an individual has health insurance.
(804) 649-6103
Twitter: @sabrinaamorenoo
Staff writer John Ramsey contributed to this report.